Radically styled new BMW flagship gets next-level tech, including a roof-mounted 31.1-inch, 8K 'cinema' screen for the rear passengers.
BMW has finally taken the wraps off the seventh-generation 7 Series sedan, which will go on sale internationally in the coming months and could come to India sometime next year.
All-new BMW 7 Series will get electrified petrol and diesel options 
Based on BMW's heavily reworked CLAR platform 
Petrol-electric plug-in-hybrid offers pure EV range of upto 80km
New BMW 7 Series: bold exterior design
To give it the visual impact to go with its elevated positioning, BMW has provided its Mercedes-Benz S-Class rival with a bold new exterior design. The new look, driven largely by customer feedback in markets such as China and the US, instantly differentiates the new 7 Series from the sixth-generation model, launched in 2015.
Up front, the grille, consisting of two elements as on all recent BMW models, is even larger than before and comes with BMW's 'Iconic Lighting' treatment, which was first brought to the facelifted 8 Series. The separation of the headlamps, with the LED running lights positioned above and the main beams in a separate recess below, add greater presence while providing close visual ties with the recently facelifted BMW X7 – part of a concerted effort by BMW to more obviously link its two luxury cars.
A three-box silhouette with familiar long-bonnet proportions characterises the overall shape, which features smooth and largely unadorned surfaces throughout. Only two feature lines are evident along the flanks, which have a pronounced shoulder running from the outer tip of the running lights through to the tail-lights. As on the BMW iX, door handles with an internal touchpad and electronic mechanism replace traditional handles.
At the rear, the boot line angles down slightly. The horizontal LED tail-lights, meanwhile, mimic the look of those used by the iX, giving the new 7-Series added visual width.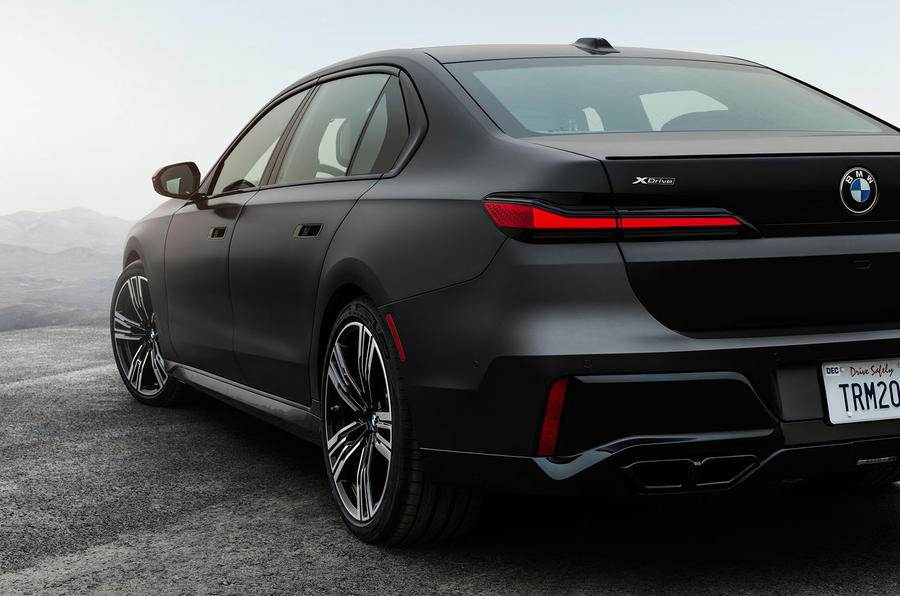 Three different M packages add performance-inspired styling cues – M Sport, M Sport Pro, and M Performance. There is also a choice of chrome and blackened styling elements, and wheels range from 19 inch as standard up to the optional 22 inch as part of the M Performance styling package.
The all-electric i7 variant brings its own subtle touches, including a blanked-off grille with a BMW i brand logo, as well as decorative elements within the bumpers and sills.
The 7 Series has increased in length by 130mm, to 5,391mm, its width has increased by 48mm, to 1,950mm, and it is also 51mm taller, at 1,544mm. It no longer offers the choice of two wheelbases. Instead, all new 7 Series models have the same 3,215mm wheelbase – a 5mm increase on that of the earlier long-wheelbase model.
New BMW 7 Series: interior and tech
Inside, the 7 Series picks up on developments brought to recent new BMW models, including a curved digital display running the company's latest iDrive 8 operating system, as seen in the i4 and iX. It sits atop a newly styled dashboard featuring a full-width light band and houses a 12.3-inch instrument display and 14.9-inch infotainment screen. There's also a new flat-bottom steering wheel. Between the front seats is a control panel with a gear selector, a traditional rotary iDrive controller, and other touch-sensitive controls. Among the options is a radical 31.3-inch, 8K 'cinema' screen. Mounted within the roof, it folds down to offer video streaming via Amazon Fire TV in 16:9, 21:9 and 32:9 formats.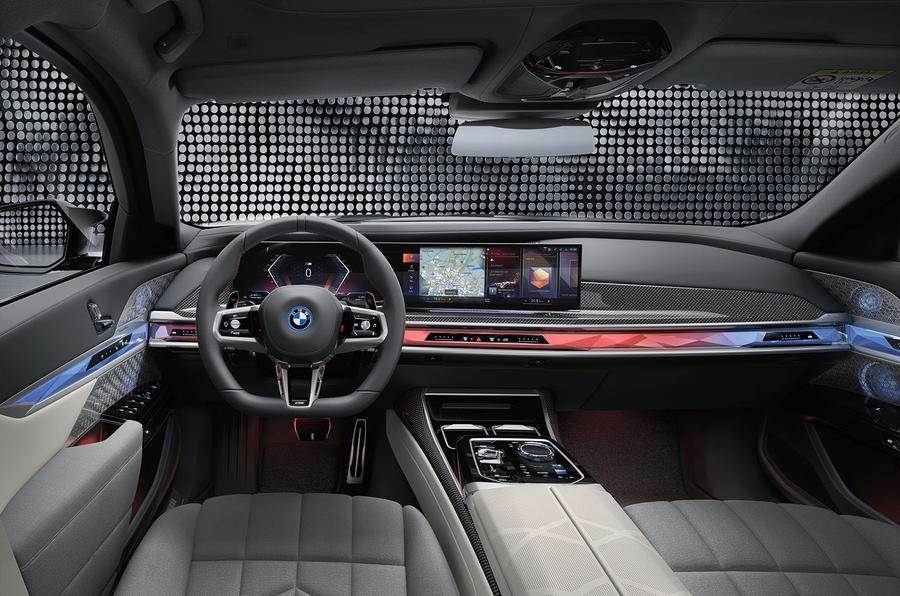 Boot capacity varies according to the driveline. Conventional internal-combustion-engine models get 540 litres, with the plug-in hybrids offering 525 litres and the i7 500 litres. An electrical fold-out towbar is available and the maximum towing capacity is 2,100kg.
New BMW 7 Series: engine and powertrain options
BMW's flagship four-door sedan will be produced with a range of different drivetrains, including mild-hybrid petrol and diesel, as well as a plug-in hybrid and pure-electric units – all powering both axles as standard. In fact, BMW has decided to drop petrol engines completely for European markets. They will be indirectly replaced by new petrol-electric plug-in hybrid drivetrains offering electric ranges of over 80km. 
The sole diesel in the line-up, the 740d xDrive, will arrive internationally in April 2023. It has a newly developed version of BMW's turbocharged 3.0-litre straight-six diesel with mild-hybrid assistance and Euro-6D compliance. With a combined 299hp, it is claimed to provide BMW's four-door flagship with a 0-100kph time of 6.3sec and a top speed limited to 250kph.
There will also be 750e xDrive and M760e xDrive in the global line-up. The two petrol-electric plug-in hybrids run the latest evolution of BMW's traditional turbocharged 3.0-litre in-line six-cylinder petrol engine in combination with a gearbox-mounted electric motor.
Combined outputs are put at 489hp and 698Nm for the 750e xDrive and 570hp for the M760e xDrive. BMW quotes 0-100kph times of 4.9sec and 4.3sec, respectively, and a governed 250kph top speed for both models. In combination with a new 18.7kWh battery, the electric range is put at 83-91km for the 750e and 80-83km for the M760e, with the top speed in electric mode limited to 140kph in each. Other new 7 Series models, including six-cylinder 735i and 740i models, as well as a V8-powered 760i xDrive, will be sold in some markets.
New BMW 7 Series: platform details
The basis for the new 7 Series is BMW's CLAR platform. It has been heavily reworked for the new model. The carbon core measures brought to the previous generation to save weight have been dropped to make way for a new material mix that includes more traditional steel, aluminium and titanium.  
Underpinning the new car is an air suspension system with adaptive damping and the ability to raise the ride height by 20mm when required on rough roads. All new 7 Series models also receive the latest version of BMW's Integral Active Steering, which provides up to 3.5 degree of steering angle to the rear wheels. Among the options is Executive Drive Pro – an active roll stabilisation system that uses electric motors to suppress body roll. 
New BMW 7 Series: India launch and rivals
Key rival to the new BMW 7 Series in India will be the popular Mercedes-Benz S-Class, along with the soon-to-be-launched updated Audi A8 L. Expect BMW to introduce the new 7 Series in India sometime next year.
Also see:
2019 BMW 7 Series facelift India review, test drive