Back for 2022 wearing new clothes and a seemingly different demeanour, we get a first taste of KTM's updated little sportbike on track.
Remember what a wonderful place the motorcycle world was in the mid-2010s? In a three-year period from 2014 to 2016, we got truly new versions of the Yamaha R1, the Ducati Panigale, the BMW S 1000 RR, the Kawasaki ZX-10R and the GSX-R1000! This is the era where features like quickshifters and IMU-backed electronics began to come into the picture. Basically, sportbikes were all the rage, and manufacturers diverted a lot of their focus towards them. And that showed at lower displacement and price points too. Because, in 2014, the KTM RC 390 glared at us with its big, round eyes for the very first time.
Here was a little sportbike that was pretty serious and hardcore even by European and American small-capacity standards! And with that explosive performance and angular bodywork, it was a hit here in India, too. Since then, though, litre-class superbikes have fallen pitifully out of favour, being unceremoniously replaced by more comfortable and versatile super-nakeds. But even those don't quite match the popularity of the cushier adventure bikes that are ruling the sales charts today. It seems, then, that the world has gone soft. And so too has the RC 390.
2022 KTM RC 390: what's new?
Back for 2022, it wears a snazzy new set of clothes that's just as polarising as its original outfit. And a suit of intent that isn't quite as sharp as before. Kinder ergonomics, comfier seating, a larger fuel tank to tour longer, a bunch of electronic nannies and no more powerful or lightweight than before. Clearly, the RC 390 has outgrown its phase of being a raw, hard-edged, no-compromise sportbike, and is extending an olive branch to those previously put off by its almost one-dimensional focus on performance. A quick spin at Bajaj's test track gives us an idea of how well those new customers are likely to warm to this bike, and whether the purists are going to remain satisfied.
Handlebars can be dropped by 14.5mm for a more aggressive seating position.
The more comfortable, more approchable nature of this new machine is apparent the moment you climb aboard – sure, it's still plenty sporty, and you sit in a position that makes you feel connected to the bike in the way only a sportbike can. But it's nowhere near as hardcore or extreme as before, with a lot less load on your back, neck and wrists. Should you want a more serious experience, KTM gives you the option of lowering the clip-on handlebars by around 14mm for a more aggressive seating position.
New seat is better shaped and padded than before.
Your backside is better taken care of on this new bike, too, by a seat that's better shaped and better padded than before. All in all, the story with the ergonomics here is quite similar to what we saw with the updated RC 200 recently, and we've completed long highway stints in reasonable comfort on that machine, so you can expect a similar tale here too.
2022 KTM RC 390: ride, handling and brakes
And the theme continues once you set off. The outgoing RC has a reputation for being a super-sharp handling machine, but it has always demanded a precise and experienced hand to get the most out of it. This new bike has retained most of that cornering capability, but it's now a lot easier to ride this bike hard. It feels more predictable and natural when approaching the limit, and overall, the RC continues to be an agile, sharp-handling motorcycle that's more neutral and friendly than before.
KTM's literature goes to great lengths to tell you how the new wheels and brakes are a good deal lighter now and how weight has been painstakingly shaved off in areas like the frame and even the chain guard. But the fact is that this bike as a whole has become a good deal heavier since it first arrived, and by the time this new RC is fuelled up and ready to ride, you'll be aboard a 172kg machine. That's 8kg more than it weighed in 2014, but truth be told, you don't feel those extra kilos from the saddle, and the RC still feels light on its feet. I don't think the front end intimately talks to you quite the way it used to earlier, but that's a fair trade-off for the more approachable characteristics, in most people's balance books.
What is a bigger issue, though, are the tyres – specifically the rear hoop – which lets down an otherwise excellent chassis package. The Mezeler Sportec M5 rubber was one of the biggest highlights on the RC when it first arrived, but ever since they dropped from a W speed rating to an H, they've never quite been the same.
You can still lean on the front tyre and hammer it hard in the corner entry phase, but when you get to the exit and begin to feed in the power, the rear end lets go sooner than it should. This is something that many of us felt at the track on this day, and I even had one particularly hairy moment where the rear tyre let go and snapped sideways quite violently without any warning, in a fast corner with an open, steady throttle.
The silver lining here is that this is an area of the bike that a potential buyer can quite easily improve after purchasing it (I reckon Michelin Road 5s would really bring this bike alive), but ideally, such a sweet handling machine should've come with the right rubber to back it up. Besides, if you're not the sort of person frequently taking this bike to the track, this is unlikely to be a major shortcoming for you.
KTM has also gone to work with the suspension on the RC – travel is up by a good deal at both ends. Adjustability has increased as well, like we reported earlier, but not quite as much as we were expecting. The monoshock, which was previously adjustable for only preload, now also gets rebound damping adjustment. But the front fork, disappointingly, is entirely non-adjustable, even though KTM manufactures this bike in India with adjustable front suspension for export markets. Further rubbing it in is the fact that the RC's big rival, the TVS Apache RR 310, offers a very reasonably priced optional kit that adds adjustable suspension at both ends.
Our track ride didn't give us too much scope to assess ride quality on the RC, but the extra travel on offer here, and our time spent with the updated RC 200, tells us that this new 390 should offer a more comfortable ride than before. Here on track, the suspension worked well at keeping mass transfer in check, and the bike remained stable even when flicking from side-to-side.
Brakes are new as well, and pretty radical looking – the front disc has lost its carrier and is now mounted directly to the wheel spokes, which looks quite neat. There are only a couple of hard braking zones at Bajaj's test track, but we did get some idea of what the new brakes are like – they're not going to wow you, but they do seem to have taken a step in the right direction, and work well.
2022 KTM RC 390: engine and performance
Moving from stopping to going, we come to the new RC 390's engine, which is an area where relatively less has changed. Updates are limited to a larger airbox, and consequently, slightly more torque (up from 36Nm to 37Nm). Power remains the same, at 43.5hp, which is still enough for the RC to retain its position as the most powerful motorcycle in this segment. In terms of feel, though, this engine has come a long way from when it started off. Today, it feels more grown up – quite tractable and linear, with no glaring flat spots or spikes in the powerband. Throttle transitions are also smooth, and vibrations seem to be more in check as well, though this is something we'll deliver a final verdict on once we have a chance to try this new RC on public roads.
KTM says that the acceleration to 60 and 100kph has improved over the old bike, and once again, we'll verify that with our VBox when we can. It certainly seems in the ballpark, up to those speeds. But beyond 120kph, the acceleration trails off quite noticeably, and while it's probably comparable to the BS6 motorcycle immediately before it, this new RC doesn't pull quite as hard over 120kph as the old BS4 bike that I've had the pleasure of owning.
2022 KTM RC 390: electronics
If you think the changes to the engine itself are a little on the conservative side, you'll be more impressed by what KTM has done with the electronics on this new RC. The spec sheet makes for pleasant reading – the big news is the addition of an IMU, which means you get cornering ABS. KTM has also capitalised on the existing ride-by-wire system and now offers traction control, and finally, the bi-directional quickshifter that you get on the 390 Duke and Adventure models is now also on the RC.
That quickshifter was a little rough around the edges when it first debuted in 2020, but the unit on this new RC seems to work quite smoothly, at least on track. How well it deals with low RPM, part throttle shifts in the city, is something we'll find out soon enough. What didn't seem to work quite so well is the traction control system. I had a number of moments of the rear stepping out when rolling on the gas out of a corner, and even in the one moment where it snapped sideways severely, there didn't seem to be any significant helping hand from the electronics. Again, we'll know more about how well this system works when we get to ride it on Mumbai's slippery roads, especially with the monsoon just around the corner.
2022 KTM RC 390: features and design
Bluetooth-enabled TFT display is borrowed from its 390 siblings.
Also borrowed from its fellow 390 models is the new RC's Bluetooth-equipped TFT display, so the story is a familiar one. It works smoothly, is bright enough and well laid out. Once your phone is hooked up, you can enjoy features like music playback control, phone call alerts and turn-by-turn navigation, though the latter comes at an extra cost. Headlights were never a cause for complaint on the outgoing RC, but this new version now gets an LED headlight, and if it's anything like the one on the RC 200, it should do a great job of lighting up the dark.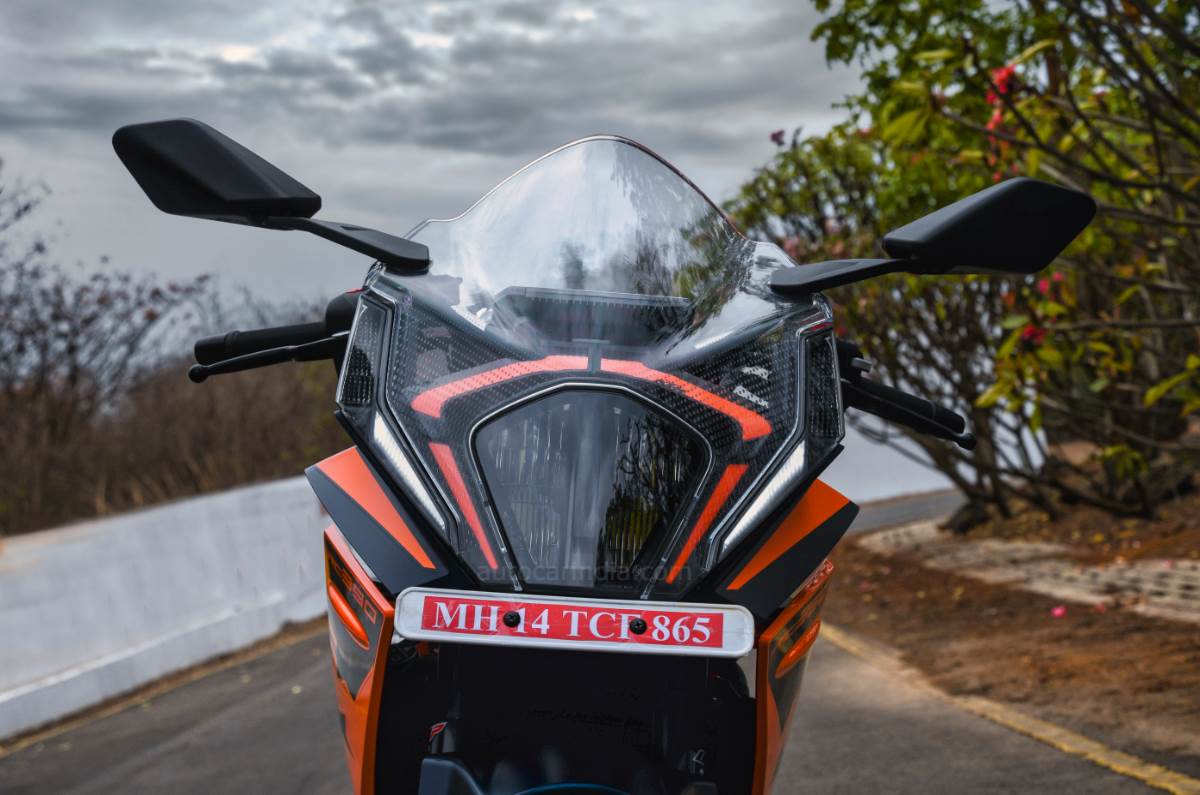 New LED headlight should perform like the RC 200's, which is to say excellently.
And finally, we come back to the new set of clothes that this updated RC wears. The story here is quite similar to what we've said about its smaller siblings earlier: this bike looks a lot nicer in the flesh than it does in pictures; especially here on the 390, because this is the only RC with this neat blue colour scheme, and it looks quite good. It contrasts well against the orange on the rest of the bike, and the satin/matte finish on the blue panels looks great. The bike feels quite well-built and sturdy overall, but finish levels in some areas could improve a little – the switchgear doesn't feel the nicest to operate, it's a bit clicky, and some of the panel gaps are not so tidy as well.
Like it or not, there are some irrefutable benefits that this new look brings – KTM says it's more aerodynamically efficient than before, and the body panels need fewer fasteners than on the older bike. The screen does seem to provide better coverage at full tuck, and we were even able to hit the limiter in 6th gear, at 175kph.
2022 KTM RC 390: verdict
The KTM RC 390 continues to be a nice little machine, but it's now a slightly different kind of nice. It's no longer the razor sharp, raw-feeling machine it once used to be; this update makes it a much more rounded and versatile motorcycle. The focus of this test has been the racetrack, but some things about the bike definitely stand out – in terms of this new RC also being a better road bike, offering a more usable package.
And despite that, it hasn't really made any major compromises in its racetrack abilities. There is enjoyment and learning to be had in riding this bike hard on track, just a different from before. Its one major shortcoming in this department is also something that I, as a potential buyer, can rectify myself, so it isn't really a deal-breaker. To answer the question at the beginning of this review: yes, this new RC 390 is quite likely to be accepted by buyers who previously shied away from its more hard-edged predecessor, and will still keep the purists happy as well.
And so we come to the price. At Rs 3.14 lakh (ex-showroom, Delhi), it's a whole Rs 36,000 more expensive than before. But it justifies this premium quite easily, with all the improvements and extra goodies on offer. The old RC 390 was beginning to become quite expensive for the bike it was, and so, despite costing more, this new RC 390 has actually improved the value for money quotient, especially since it can fill more roles than its predecessor could. But one has to consider that this bike is over Rs 50,000 more expensive than the Apache RR 310, which isn't quite as powerful or quick, but does have many other strengths. Whether the KTM is worth that premium is something we hope to find out soon.