The practical and reliable Maruti Brezza gets a tech boost in a bid to take on newer rivals.
For all its success in the Indian auto market, Maruti's SUV game leaves a lot to be desired. With over a dozen models in its portfolio, surprisingly just two are SUVs, in which the S Cross never really caught on and it's just the Brezza that managed success. The compact SUV bagged our 2017 Autocar India Car of the Year award and since its launch has sold over 7,50,000 units while consistently figuring in the top 10 cars sold in India.
But of late, the Nexon has managed to steal a march over the Brezza, to the extent where it is now the largest-selling SUV across segments and newer players like the Venue and Sonet are also vying for a slice of the pie. So, to keep the Brezza fighting fit, Maruti has given the new car a very comprehensive update, with new exterior, interior, technology and updated powertrains.
The new Brezza is based on the same Global-C platform that underpins its predecessor, but Maruti, however, chose to call it 'TECT' platform, which is more for marketing differentiation and a tragedy really. Many folks call out Maruti cars for their poor GNCAP performance, but the older Brezza performed very well, securing a 4-star rating, and thus the change in platform name has kind of backfired. The new platform nomenclature has already given rise to a lot of confusion, with most mixing it up with the HEARTECT platform and lamenting the switch, which simply isn't the case. Thus, as it stands, the new Brezza is indeed underpinned by the Global-C platform, and while it has not been crash tested, its case looks encouraging.
2022 Maruti Brezza: exterior
Being a major update, changes outside aren't limited to 'soft' plastic parts but sheet metal too. The re-profiled bonnet is more upright and flatter and tops a more radical front end. While the old car had straightforward rectangular headlamps, the new Brezza's units are more slender with a very prominent dual-DRL signature.
New headlights are more slender, with a very prominent dual-DRL signature.
The bumper too is all-new, with small fog lights inset. And there's liberal use of cladding which extends over to the sides, where it's quite prominent, and along with the large wheel arches, it dwarfs the new 16-inch alloy wheels.
Large wheel arches and massive cladding dwarf the 16-inch alloy wheels.
The rear quarter glass is redone and has a larger glass area. Its doors too are new, with the rear ones carrying a very prominent shoulder line that runs into the rear fenders and tops the tail-lights. Like the headlights, the tail-lamps are slender, look quite striking, and bracket the 'Brezza' lettering (the new car is no longer the 'Vitara Brezza'). The rear bumper also has large cladding and a silver-finished faux skid plate.
Like the headlights, the tail-lights too are slender and look quite striking.
At 3,995mm in length, 1,790mm in width, and with a 2,500mm wheelbase, the new Brezza measures exactly the same as the previous model. Only its height has increased by 45mm, to 1,685mm, but that's on account of the shark fin antenna. As for colours, like before, Maruti offers a dual-tone paint scheme, and the Khaki and White combination on our car looked quite neat.   
2022 Maruti Brezza: interior
Layered dashboard design is nice, but the look and feel is plasticky.
On the inside, the dashboard is all new and the layered design looks neat. Quality levels though have remained the same, which means a lot of it looks and feels plasticky. Maruti says the dashboard is slightly flatter than before and that, along with an increase in the front seats' travel, gives you a little more room inside what was already a spacious interior. Overall space is certainly a strong point of the Brezza, especially in the rear where there is ample head and leg room.
Seats are comfortable but soft, so it remains to be seen how supportive they are on long journeys.
Rear-left passengers, though, will find that the mild-hybrid's battery, located under the front seat, prevents them from pushing their feet all the way forward. This, however, is a small issue, as you sit quite comfortably in a natural position with ample space around. The seats are comfy too, though the cushioning feels soft, and it remains to be seen how supportive they are on a long journey.
Overall space is a strong point, especially at the rear with its ample head and leg room.
Storage space is also sufficient and boot space comes in at 328 litres. And while it's smaller than in others, it's wide enough and can also be extended via a 60:40 split-folding seat that folds flat.
New Maruti Brezza: features and technology
The Brezza is now the first and only Maruti to feature a sunroof.
Tech and features are increasingly playing a big role in car purchases today, and while the earlier Brezza was lacking against its rivals, the new car makes up a lot of ground. There's now the crowd favourite, the sunroof, making the Brezza the first and only Maruti to feature one, as well as connected car tech with an onboard 'Hi Suzuki' voice assistant. The new Brezza also gets ambient lighting and a larger 9.0-inch SmartPlay Pro+ touchscreen, and while there is no branded audio set-up, the system has been tuned by Arkamys and sounds really nice.
Larger 9.0-inch touchscreen has connected car tech, along with on-board voice assistant.
Where the new Brezza scores one over its closest rivals is with the addition of a head-up display and a 360-degree camera, even if bits like cooled seats and a branded audio set-up are missing. The HUD is the same unit from the Baleno and besides the speed read-out, it can display a lot of other info like the gear you're in and rev counter, as well as warning lights.
360-degree cameras have clear feed, and dynamic guidelines are present in rear view as well as top 360-degree view.
The 360-degree camera is also a handy bit to have, and what's nice is that it offers a very clear, high-resolution feed and has dynamic guidelines that show up in the rear view as well as the top 360-degree view. In terms of safety, the new Brezza now gets six airbags, and where earlier only the auto had ESP, the manual too now gets the stability tech. Further, the auto now gets paddle shifters.
New Maruti Brezza: engine and performance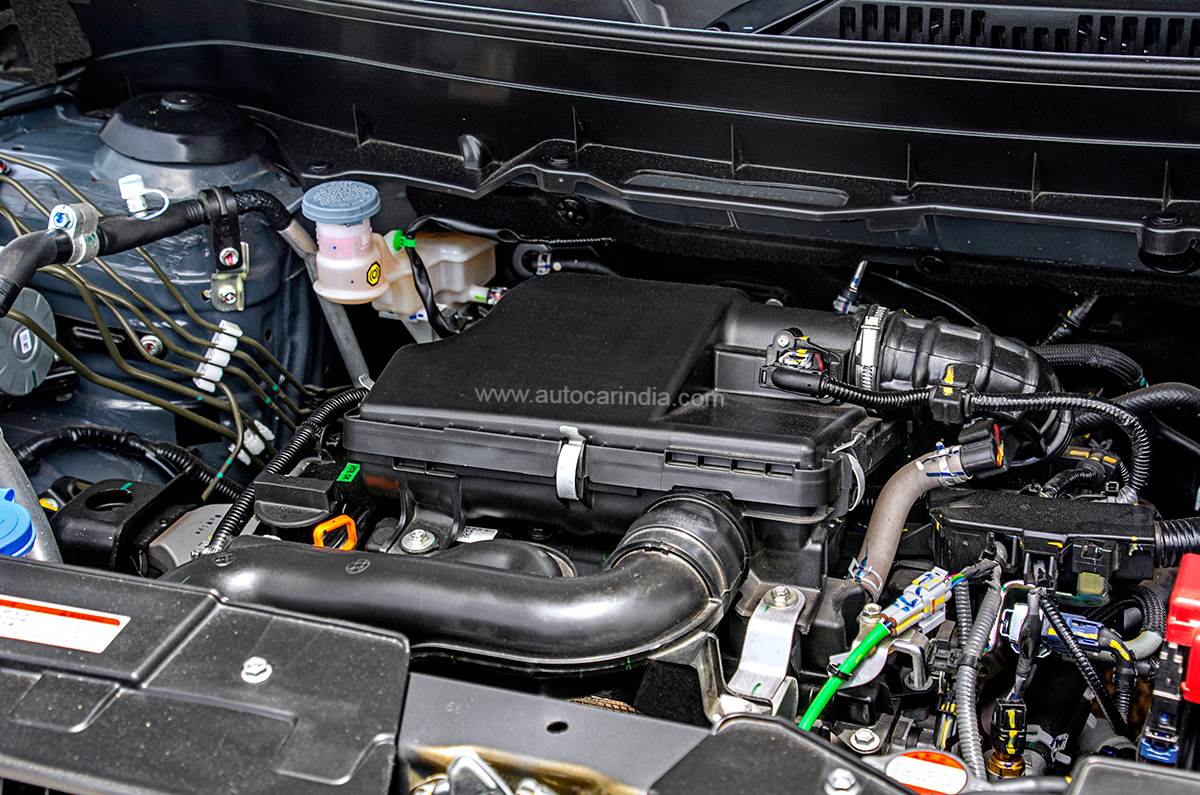 Updated K15C engine has dual injectors for each cylinder, which boosts efficiency.
As before, the new Brezza comes with the same 1.5-litre engine, however, it's now the upgraded K15C series as against the earlier K15B. Max power and torque figures are 103hp (2hp lower than before) and 137Nm (1Nm lower than before), respectively. Where it's improved, though, is in its tech designed to improve efficiency. The earlier single-injector set-up has now made way for dual injectors in the new engine. While it's still an indirect-injection system, there are two injectors for each cylinder and this improves fuel efficiency significantly.
Where the earlier car claimed a maximum of 17.03kpl for the manual and a higher 18.06kpl for the auto – on account of the mild-hybrid system – the new Brezza claims 20.15kpl for the manual and 19.80kpl for the auto, with both cars now equipped with the mild-hybrid set-up.
Ride over broken surfaces is nice and cushioned.
While we'll soon put the new Brezza through our instrumented Autocar India Road Test to find out the real-world figures, they are likely to be very good. What's not, however, is the mid-range and top-end performance. At city speeds, the car feels fine and overtaking slow traffic is easy, but on open roads, getting by faster vehicles is quite a challenge. Put your foot down and there's very little change in pace. And while it does rev all the way to a limited 6,200rpm, there's really no point in stretching it, as power delivery and response are very relaxed and linear. Clearly, it's set up for a laid-back driving experience, and those looking for a punchy SUV feel will have to look elsewhere. Refinement, however, is good and the start-stop system is very quick to respond and vibrations are well controlled. On the manual, the clutch is also light and the gearshifts feel positive and smooth.
New 6-speed auto now comes with paddle shifters.
On the automatic, the gearbox is now a 6-speed unit, while the earlier car's was a 4-speed one, with both being torque convertor set-ups. It's expectedly smooth and part-throttle response is good, however, try and rush it and you will be disappointed, as it never feels eager to hurry up like you want it to. There are paddle shifters, but the engine's weak mid-range means you can't really extract much performance. Like the manual, the auto too is best driven in a laid-back manner.
Engine is smooth and refined, but has a weak mid-range.
The ride and handling set-up is comfy, with the emphasis laid on a smooth, cushioned low-speed ride. As a result, broken surfaces in the city aren't a bother for the new Brezza, and while the softer springs mean there is some pitch and squat, it is minimal and you'll really appreciate the car's overall cushioned ride and its good high-speed stability. In the city, the steering feel is light and easy, but like with many Marutis, it frustratingly does not return to centre.
New Maruti Brezza: price and verdict
It feels odd to write this, but the new Maruti Brezza is not a value for money offering. While base variants haven't gone up by much – starting at Rs 7.99 lakh, which is only Rs 15,000 more than its predecessor – they also miss out on all the new goodies. Bits like the sunroof, larger touchscreen, HUD, 360-degree camera, six airbags and wireless charging, among others, are only available on the top-spec ZXi+ version, which costs about Rs 2.5 lakh more than the outgoing model. Furthermore, the Brezza ZXi+ AT, priced at Rs 13.96 lakh, is also higher than top-end versions of all of its main petrol-powered rivals, including the Sonet (Rs 13.19 lakh), the recently updated Venue (Rs 12.57 lakh), the popular Nexon (Rs 12.39 lakh), and even the XUV300 (Rs 13.06 lakh).
What makes it pricey is perhaps its 'larger than 1.2-litre' petrol engine – which means it does not qualify for the lower 'small car' excise duty benefits – as well as the updates and added tech.
Pricing aside, the weak engine performance will also not satisfy those looking for a punchy SUV feel. But that does not mean the Brezza has little merit. There's, of course, the Maruti assurance that will appeal to many, and then there's the fact that the new Brezza is a decently equipped car with plenty of comfortable space and a very good ride to boot. The latter is especially true in the city, where the low-speed ride is nice and cushioned. Clearly then, it's as Maruti's own tag line states 'a city-bred SUV', and there it does really well.
Also see: