The new Range Rover is better in every way and takes this iconic SUV's appeal to another level altogether.
For Jaguar-Land Rover (JLR), it doesn't get any bigger than this. Literally! Let's first talk about the size. The all-new Range Rover (L460) is a very big SUV, much bigger than the previous one in every dimension. The standard-wheelbase model is around 5m long and the extended wheelbase variant is stretched by a further 200mm, all of which goes into making the cabin that much bigger.
But it's not just about the size. A new Range Rover is also big news for two reasons. Firstly, it's JLR's flagship – the Tata-owned British brand's most expensive, luxurious and technologically advanced car with everything thrown into it. Secondly, a new Range Rover comes along every decade or so, and that means not only does the latest model have to leapfrog all the competitors that came in between, but it also has to future-proof itself for the next decade.
The new Range Rover is a cleaner design, with flush door handles, tight shutlines and fewer creases.
But, looking at the new Range Rover, you wouldn't think it's anything revolutionary or futuristic. And that's the point. Continuity and an uninterrupted visual link to past Range Rovers is part of its enduring legacy and exactly what most owners want. And to that end, the designers have done an outstanding job of retaining the familiar look, but injecting lots of modernity in the details.
The 'less is more' dictum of design boss Gerry McGovern is taken to another extreme with the new Range Rover's incredible simplicity of form. It's a much smoother, cleaner design with flush door handles and fewer cuts and creases. The shut lines are tighter, which further enhances the smooth surface. A metal piece fixed on the front door gives some relief to the slab-sided body and again is a typical Range Rover design element. Other Range Rover cues are there too, like the blacked out pillars that give the gently sloping roof a 'floating' effect, the strong horizontal waistline and the characteristically upright stance for a confident and stately look that Range Rovers are known for.
The new LED headlights are slimmer but have exquisite detailing and look like cut glass. The slim fog lamps are neatly integrated into the horizontal lines below the bumper, so you don't really notice them. You also don't notice the rear tail-light because they look like black strips surrounding the split tailgate and are hidden until lit.
Stand some distance away and you can't help but think that the smoother and more rounded shape has taken away some of the tautness of the previous model. However, it's clearly a Range Rover and it's clearly a Range Rover for the future.
And that future is most evident with a new platform and high-tech underpinnings. The monocoque aluminium body is around 35 percent stiffer, the hydraulic adaptive anti-roll bar has been replaced by a fast acting electronic system, there's a new five-link rear suspension and for the first time, the Range Rover gets rear-wheel steering. At low speeds, the rear wheels can turn up to 7 degrees in the opposite direction (of the front wheels) and this slashes the turning radius to just 11 metres, that's less than other SUVs in Land Rover's line-up! This new platform is also future ready for full electrification and is engineered to take a pair of motors and a large battery pack. A pure-electric version is due in 2024.
THE INSIDE STORY
The new Range Rover's sumptuous cabin can rival the best luxury sedans, but what could trip it up as a replacement for a luxury sedan is the high step into the cabin. Even by selecting Access mode, which gets the height adjustable air suspension to lower the body right down to the wheels, getting in and out of the cabin isn't as easy as in a sedan.
This could make for an inelegant entry and exit from the cabin for some elderly folks and women in sarees. You can tick the optional foot rest to make ingress easier, but it's still a tad high.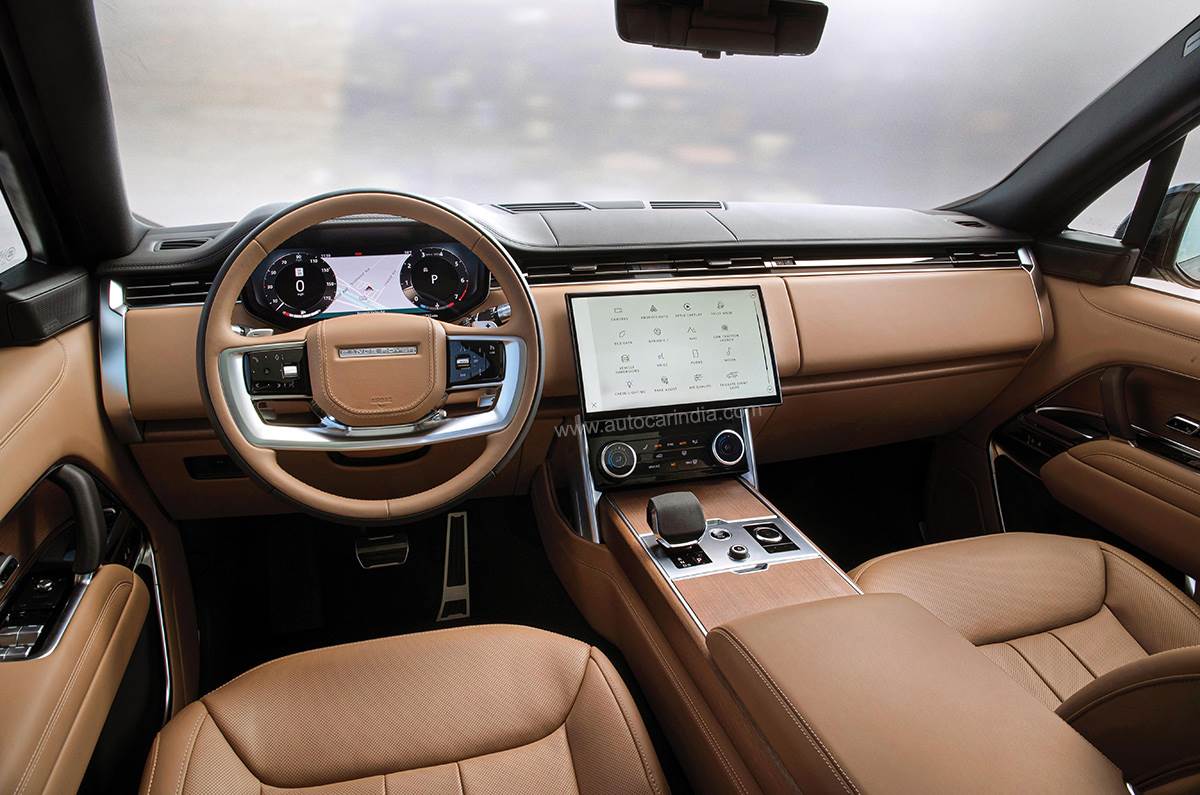 Once you haul yourself inside, you'll be gobsmacked by layer upon layer of quality that surrounds you. There is genuinely not an average bit in sight. Everything you touch and feel is simply top class in all variants.
Most Range Rover owners opt for the extended wheelbase version and the flagship SV variants are the epitome of luxury and opulence. The SV is available with 'Serenity' and 'Intrepid' themes, which are essentially pre-specified configurations with a bespoke colour and trim combination. In addition, customers will be able to configure their own exclusive car as well with endless customisation options to choose from.
Four-seater SV variant feels like a first-class cabin.
For the ultimate luxury, the 4-seater Range Rover SV is the one to go for. The rear executive seats will satisfy any big honcho. They come with 24-way power adjustment including a one-touch operation that simultaneously moves the unoccupied front passenger seat forward, drops a foot rest, raises the leg cushion and, of course, reclines the back rest for maximum comfort. And if that's not enough to indulge you, there is a massage function and seat cooling as well.
Equally impressive is the way the centre console electrically folds down and how coolly the electrically powered cupholders and centre-folding table glide up and down. In fact, what blows you away is that every function, no matter how small, is electrically operated and actuated by a raft of silent and smooth servo motors. You really feel you are in the lap of luxury, where every command is at the tap of a finger on the removable touchscreen controller housed in the central arm rest.
Rear passengers can access all functions via an 8.0-inch touchscreen.
Rear passengers can also be entertained via a pair of optional 11.4-inch touchscreens that run off the Pivi Pro operating system. These large screens impede your forward view a bit, especially in the standard wheelbase models, so unless you are the kind who is happy watching Netflix in a moving car, it's best not to tick this option. The touchscreen in the armrest takes care of all the functions you need to operate.
The long-wheelbase models also come with a three-row, seven-seat option, which is a first for the flagship Range Rover (the slightly smaller Range Rover Sport has a third row). It goes without saying that all seats are powered, the middle seats glide forward for easy access to the rear seats, which are also powered to fold flat into the boot floor when not in use. The third row has generous knee and head room, but the high floor means you sit in a knees up position. By Range Rover standards, third row comfort is pretty compromised and Land Rover expects only a small percentage of buyers to go for this variant, with most opting for the five- or four-seat configuration.
Access to the third row in seven-seat variant is very good.
In India, demand is mainly for the long-wheelbase version, but Land Rover India expects some takers for the standard-wheelbase car too. You can feel that the sense of space and luxury in the standard-wheelbase Range Rover is certainly a notch down from the longer-wheelbase model, but in isolation, it's luxurious enough. However, the standard wheelbase is more for those who prefer to spend a good amount of time in the driver's seat, which also is a great place to be.
TAKE IT EASY
The driving position is what sets the Range Rover apart from other SUVs. You get a balcony view from the incredibly comfy, elevated seats and outside visibility is simply fantastic. In fact, sitting so high automatically gives you a better sense of control and makes it easy to judge the extremities of this behemoth. Plus, 360-degree cameras and even a camera under the car makes the job of manoeuvring this car, on or off road, that much easier.
13.7-inch touchscreen, the largest on a Range Rover yet, stands out from the minimalist dashboard.
The dashboard is again classy and functional, with a 13.1-inch screen taking centre stage. The new curved glass screen houses an improved version of the Pivi Pro infosystem and is the largest yet on a Land Rover product, but sitting alone on the expansive and uncluttered dashboard, it felt a tad small. Maybe Land Rover is saving a larger screen for a later lifecycle refresh.
The new touchscreen though is superb to operate and the bugs the earlier Pivi Pro systems were riddled with have all gone. The graphics are sharp, it's quick to respond and the haptic feedback feels great. The instrument cluster too is a sharp, high-contrast 13.7-inch screen and highly customisable.
On-board air purifier doesn't have to work hard in clean California.
There are features galore, more than you know what to do with, especially on the top-spec SV models. You get a 34-speaker, 1,600W Meridian Signature sound system with an active noise cancellation system to improve NVH; a pair of 11.4-inch screens mounted on the front seat backs; four-zone automatic climate control; a head-up display (HUD); a ClearSight camera-based interior rear-view mirror; and the 'Executive Class Comfort Plus' rear seats that get power adjustment, heating, ventilation and massage functions.
The good thing is that key controls are not embedded in the touch screen, a trend common among all auto manufacturers these days. Instead, air-con and ventilation have a separate set of buttons and knobs sitting below the screen. The mix of leather, brushed-metal finishes, soft-touch plastics and overall fit and finish is simply outstanding. If you don't like leather, you can also choose from more eco-friendly and sustainable materials which look just as classy.
REV READY!
A wide range of engines can be found under the clamshell hood of the new Range Rover, which includes petrol, diesel and plug-in hybrid options and, as mentioned earlier, there will be an EV version in two years. All IC engine models will come with the brilliant ZF 8-speed automatic. So, as far as powertrains go, the new Range has them all covered. For India, the engines will be limited to the 400hp 3.0-litre P400 petrol and a 300hp 3.0-litre D300 diesel. The flagship P530 petrol, a BMW-sourced 4.4 litre twin-turbo V8 that produces 530hp and has a deliciously sporty exhaust note, is sadly not coming to India in the launch phase.
The 3.0-litre petrol is refined and strong, so if outright performance is what you are looking for, then this is the best option. In fact, the P400, which I drove in the bigger and heavier extended-wheelbase version, surprised me with its willingness to rev, its linear power delivery and strong top end.
Heavy Range Rover drives with a verve that belies its 2.5-ton weight.
But it's the D300 diesel that impressed me the most. It's as quiet as the petrol, which says a lot about its refinement and you'd be hard pressed to tell there's an oil burner under the hood, until you rev it to its 4,000rpm limit where it sounds a little gruff but in a sporty sort of way. So whilst the D300 can't rev as high or easily as the P400, it's actually much nicer to drive because of its higher torque and stronger mid-range. The strong oomph between 2,000rpm and 4,000rpm gives the big Range Rover a gratifyingly relaxed character. The D300 would be more fuel efficient too, but that would hardly matter to owners. But what would matter is that the diesel's better efficiency gives the D300 better range than the P400.
On Northern California's picturesque coastal road that hugs the Pacific, the lighter P400 is more fun to punt along. The lower weight in the nose (in comparison) has a big impact on handling. Driving the P400 in the longer SV spec, I was amazed with the sharp and responsive front end. Okay, the new Range Rover is no sportscar, but for a car that is decidedly overweight (despite the company's efforts to shed kilos), it is quite eager to change directions. The steering is absolutely brilliant and a big reason for the Range Rover's handling prowess. It has a good on-centre feel, reacts immediately to steering input and faithfully communicates the road surface to your fingertips.
Massive 23-inch wheels, the largest yet on an SUV.
The Range Rover is amazingly nimble for a car so big, so heavy and so tall, and this agility can also be attributed to the new rear-wheel steering. It's only on twisty tarmac that you can feel every kilo of this 2.5-ton beast. Despite all the electronic trickery to keep the high-riding Range Rover on an even keel, when it's pushed hard it rolls a fair bit in corners, even in Dynamic mode.
The ride quality too is sublime and can genuinely rival the best luxury cars in the world. Riding on 23 inchers, the largest wheel option (21 and 22 inches are also available), the Range Rover snuffs out the road surface with a wonderfully pillowy ride. Refinement levels too are incredible and there is virtually no engine, road or wind noise. At high speed, you do hear the outside mirrors shredding the air which kind of breaks the silence, but that's because everything else in the car is so quiet.
Travelling across difficult terrain in complete luxury is what the Range Rover does best.
No Range Rover drive can be complete without an off-road sortie and to showcase its skills, the Land Rover team curated some lovely off-road trails in the wooded Napa valley region. Playing around with the various Terrain Response settings, the new Range Rover shrugged off everything that was thrown at it. Steep inclines, heart-stopping drops, ruts, rocks, boulders and the like were tackled on a Sunday drive. The Range Rover's ground clearance and massive wheel articulation allows it to go almost anywhere.
And it's this duality of character of an ultra-luxurious cabin sitting on top of hardy mechanicals, which can take you to the most inhospitable terrain and yet isolate you from it, that makes the new Range Rover fascinatingly attractive. It's equally happy taking you to a Bollywood premiere as it would to a desolate mountain pass. The only constant is the pampering owners would get on every drive.
With a starting price of Rs 2.56 crore for the 3.0-litre diesel powered SE, rising to an eye-watering Rs 3.43 crore for the petrol-powered seven-seater, the new Range Rover, when it's launched in July, will be significantly costlier than all its German rivals. That brings a bit of exclusivity to the new Range Rover, but is it worth such a premium? There's nothing quite like the Range Rover, which is more of a lifestyle experience than just a car.
Also see: