Here's all you need to know about the 2022 update of Toyota's flagship hybrid sedan.
Toyota's flagship sedan in India, the Camry Hybrid, underwent a generation change in 2019, and is currently in its eighth-gen avatar. Not only does this iteration of the Camry retain its core strengths, like a hybrid powertrain, oodles of space and comfort, and loads of equipment, Toyota has also adopted a more flamboyant design philosophy, and enhanced its driving dynamics, thus making it much more exciting than the older versions. For the Camry Hybrid's 2022 mid-life update, it gets minor cosmetic changes, both on the outside and inside, along with an all-new infotainment system.
2022 Toyota Camry Hybrid: what is new outside?
It takes a keen eye to distinguish the 2022 model from the pre-facelift version, due to subtle exterior changes, primarily at the front. The grille with the 'T' badge is a bit slimmer now and doesn't dip into the air-dam like before. The Camry's prominently defined inverted hexagonal air-dam is in line with Toyota's modern design philosophy (also seen in the Innova Crysta), however the air-dam further extends into the fog lamp housings and is flanked by C-shaped chrome elements that add more flash to its styling. In addition, it gets attractive new two-tone multi-spoke alloys.
2022 Toyota Camry Hybrid: what is new inside?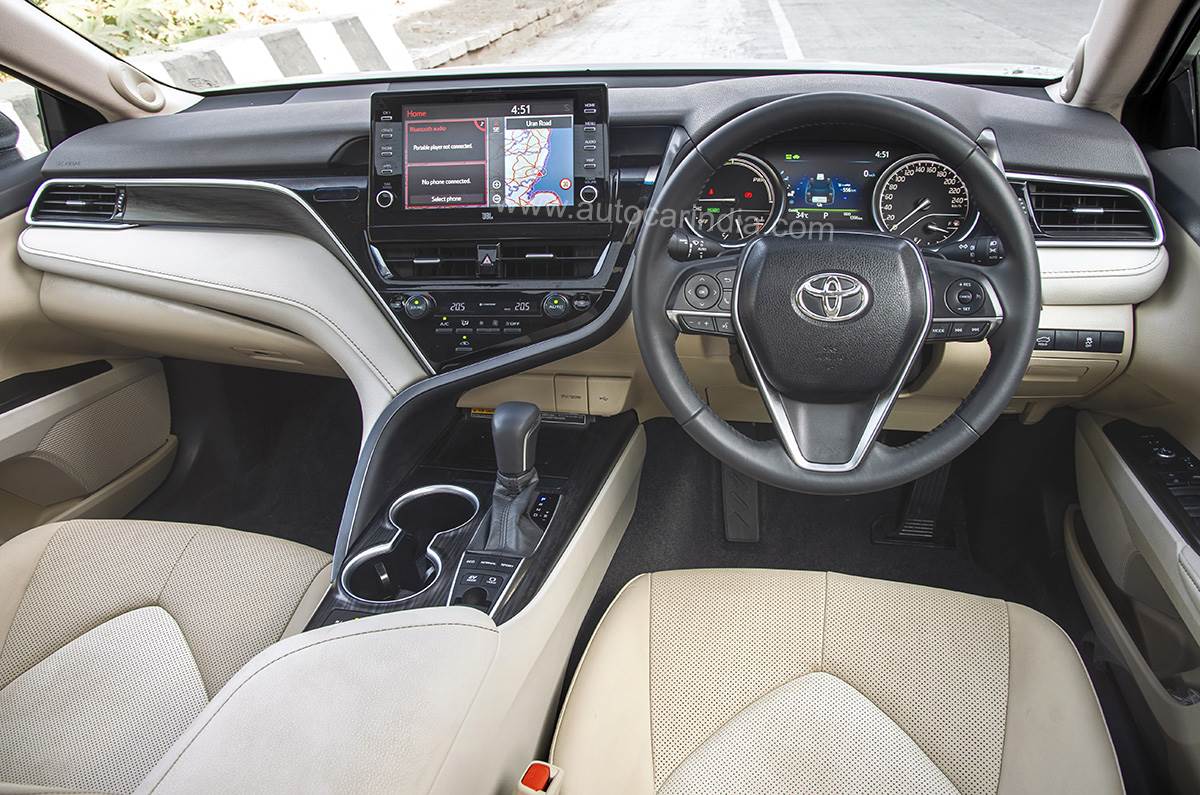 Styling revisions on the inside surround the all-new 9.0-inch free-standing touchscreen infotainment system, which finally gets Android Auto and Apple CarPlay connectivity. The system still doesn't feel up-to-speed with the competition, due to dated fonts and resolution, and the display isn't sharp enough, especially under bright afternoon sunlight; however, going through the menus is straightforward, and it includes in-built navigation too. To accommodate the new screen, the centre air vents have been repositioned below (they were earlier located above it). The only other cosmetic change inside is to the faux wood trim, which is a bit darker than the outgoing version.
2022 Toyota Camry Hybrid: is it feature-rich?
The Camry Hybrid continues to offer an expansive set of features, which includes auto LED headlamps, a head-up display, electric front seats with memory for the driver, ventilated front seats, a 9.0-inch touchscreen with Android Auto and Apple CarPlay, in-built navigation, nine-speaker JBL sound system, electric reclining rear seats, three-zone climate control, cruise control and a sunroof, being the prominent ones.
2022 Toyota Camry Hybrid: hybrid drive experience
The Toyota Camry Hybrid's unique selling proposition is its hybrid powertrain, which comprises a 178hp and 221Nm, 2.5-litre petrol engine and a 120hp and 202Nm motor generator, both of which combined produce 218hp. The beauty of this system is that, with gentle throttle inputs, and at city speeds, users can drive in full EV (electric vehicle) mode without using a single drop of fuel, so long as the battery has enough charge. The petrol motor only kicks in to recharge the battery, or when there is a need for brisker acceleration. What enhances the experience is the utterly seamless transition between the petrol and EV modes – only a faint purr from the bonnet is an indication that the petrol unit is in action. The Camry's e-CVT is largely smooth in its operation, and only exhibits the typical rubber-band effect under hard acceleration.
It offers three driving modes – Eco, Normal and Sport. Eco mode goes well with this car's calm and relaxed persona, and its hybrid system will even reward owners with budget hatchback-rivalling fuel efficiency numbers, unreal for a luxury sedan. Sport mode sharpens responses and makes it feel a lot brisker, capable of sprinting from 0-100kph in a reasonable 9.56sec.
The Camry's suspension is really compliant, and it absorbs road shocks and rounds off sharp edges very well. It doesn't feel as dull to drive as the previous iterations either – it feels quite confident and composed when driven with verve; although, it isn't quite as sporty as the Skoda Superb.
2022 Toyota Camry Hybrid: Is it worth considering?
The 2022 Toyota Camry Hybrid is priced at Rs 43.45 lakh (ex-showroom, Delhi), which is Rs 7.60 lakh more than the top-spec Skoda Superb and hence comes across as grossly overpriced in comparison. But don't strike it off your shortlist just yet. Apart from being loaded with premium features, the Camry exudes a genuine luxury car vibe, with supremely comfortable seats, a compliant suspension set-up and an utterly seamless drive experience. Its hybrid powertrain gives it some green credentials and it'll also keep a check on running costs, with fuel efficiency that can even put some budget hatchbacks to shame. Toyota's legendary reliability and dependability further strengthen its case, and if you are willing to forego snob value some German marques command at a similar price, the Camry Hybrid is so good, it could just win you over.
Also read:
2019 Toyota Camry Hybrid first drive