Published On May 07, 2022 09:00:00 AM
A heavily modified Honda Civic felt at home on this challenging race track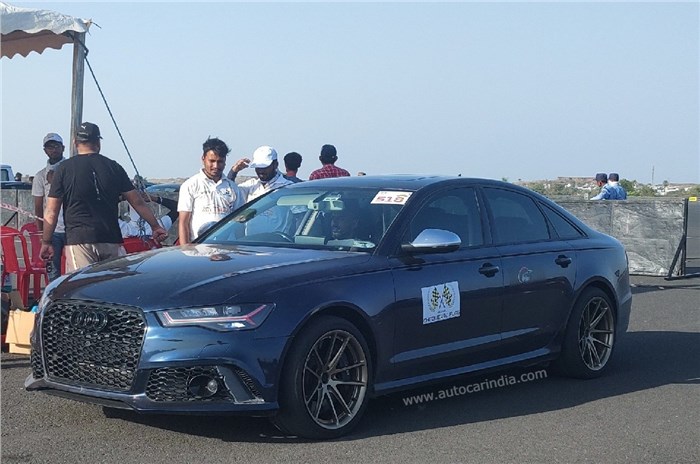 The Audi S6 took on its more powerful sibling – the R8 – at the drag strip
There were quite a few well-maintained first-generation Honda Citys
The three-day event was divided into four competitions with 74 cars and 22 bikes participating.
Spread across almost 3,000 acres, with a dozen different tracks and a slew of test labs, the National Automotive Test Tracks, or the NATRAX facility, at Pithampur, Indore is a boon to automotive manufacturers to carry out their vehicle testing.
However, it is safe to say these proving grounds have also been on every petrolhead's radar as many of the tracks are open to the public and can be rented out for supercar/bike owners to drive their machines safely and to levels not permissible on public roads.
And on one Saturday afternoon, we got to witness just that. As part of the Madhya Pradesh Auto Expo, we joined Chequered Flag India and watched several participants from across the country competing and pushing their machines to limits on some of the facilities at NATRAX Indore.
The Event
The Madhya Pradesh Auto Expo was divided into three clusters, each consisting of a set number of events. The first was the NATRAX tour, which took the attendees on a tour of the facility to give them an idea of the various tracks and test centres available. Second was Public Engagement where attendees got to drive All Terrain Vehicles (ATVs) and Go-Karts, and also experience NATRAX's Fatigue track. Third, was the race events that took place on four different tracks of the facility. We were part of the race events, which were divided into four challenges – Time Attack, V-Max, Off-road Event and Natdrag. The Time Attack and Natdrag were organised by Chequered Flag in collaboration with Indian Automotive Racing Club (IARC).
Time Attack
Modded Maruti Swift taking on the tight corners
The Time Attack was at NATRAX's two- and three-wheeler track – the first of its kind in the country. Here, participants were expected to successfully navigate the difficult curves and complete the lap in the shortest possible time. There was an eclectic collection of cars – from the roaring Lamborghini Urus to a humble Maruti WagonR. Only the humble WagonRs weren't quite so. Instead, they were heavily modified and tuned machines, and so were others, like the many Maruti Swifts and first-generation Honda Citys.
Most participants managed the challenging track with ease, but some did make erroneous moves too, resulting in their cars skidding off the track and getting stuck in the gravel. 
The fastest to cover the lap was Vidyut Jain with his Audi RS6 setting the lap time of 2:57:101 seconds. Achintya Mehrotra took both second and third places with lap times of 3:04:878 seconds  and 3:05:976 seconds in his modified Maruti Suzuki Ignis and Volkswagen Polo.
The cars completed a total of 311 runs, while motorbikes did 38 runs in this event.
V-Max
Sports cars like the Porsche 718 attempted to hit top-speeds in V-Max challenge
The V-Max challenge was held at the 11.3 km high-speed track; one of the unique features of this track is its perfectly symmetrical 2.6 km parabolic curves with large radius and a shallow banking which seamlessly transitions into the long straights. This makes driving at ultra-high speeds effortless. In fact, we crossed 300kph in a Mercedes-AMG GTR in July last year.
At the event's hot conditions, there weren't many participants willing to test the top speeds of their vehicles. Amongst the few cars which lined up for the run were a Porsche 718 Boxter, Lamborghini Urus, Porsche Cayenne, BMW X6, and even a previous-generation Mercedes-Benz S-Class.
Strapped with V-Box testing equipment, the participants had just one goal to aim – to drive as fast as possible around the track. Sean Rogers from Vizag took the top honour, courtesy of his Audi R8 that crossed the 300km/h barrier by officially recording 329.8kmph on V-Box device.
In addition to the trophy-winning R8, 37 more runs were completed by cars, and 18 runs were attempted by motorbikes.
Off-Road Event
The Mahindra Thar took on the off-road course with great ease
The off-road track – made on the previous BAJA SAE India site – had mucky Ford Endeavours, Maruti Suzuki Gypsys and Mahindra Thars. Consisting of slush, inclines and berms, the track is meant for hardcore 4X4s. A total of 123 runs were completed by the SUVs on this track.
The stock Mahindra Thars took on the terrain with ease, and modified Gypys seemed like they were begging for more, while a Land Rover Defender acted as a tow car for those participants that got their 4X4s stuck.
The competition was segregated into three classes – SUV, Modified and Stock. On day three, Shreyans Jain grabbed the top spot for SUVs, while Jitesh Puri and Shawak Singh won the trophy in Modified and Stock class respectively. 
NatDrag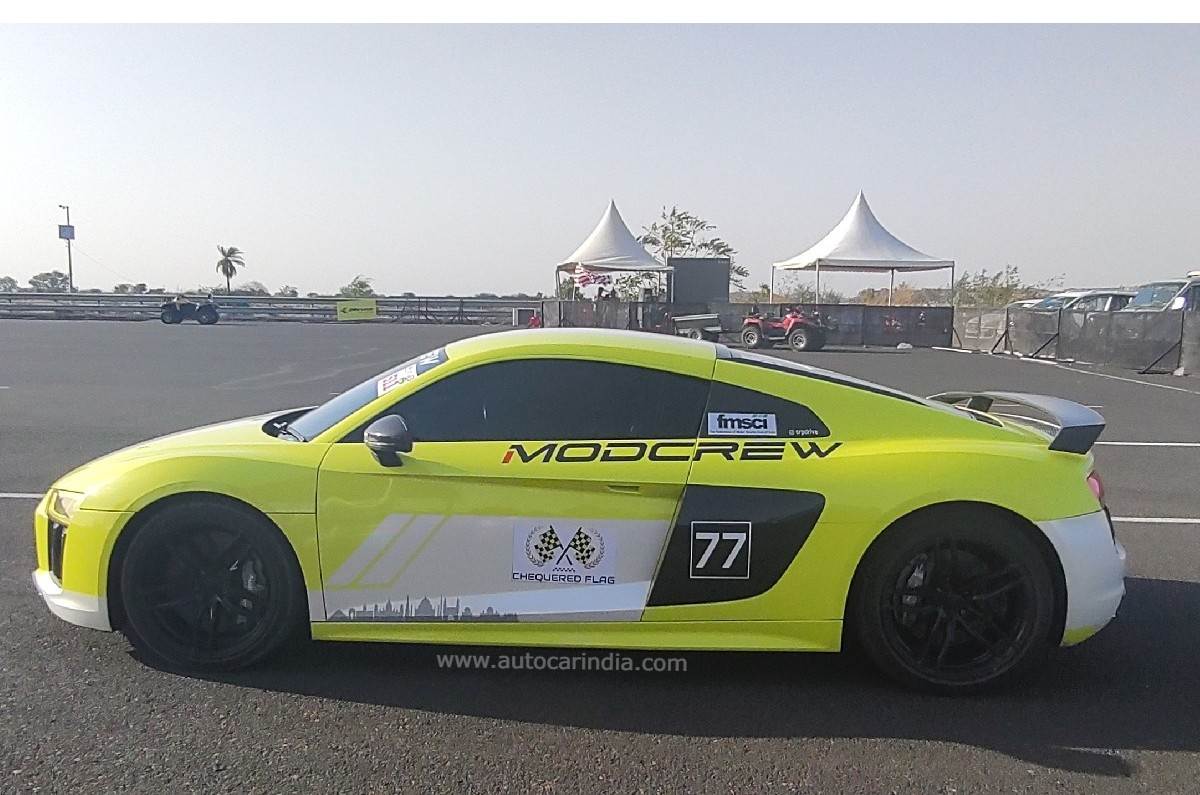 The Audi R8 was the star performer at the drag-strip
The drag strip is a part of NATRAX's Dynamic Platform. The 1.5 km straight leading to the round platform is made on zero percent gradient. Several supercars, tuned cars and super bikes were a part of this event.
A modified Audi S6 took on the Audi R8, tuned first-generation Honda City, a Skoda Laura, and in one lighthearted round, the R8 raced a stock Hyundai Santro!
The fastest to finish the drag race was Sankar Daryani in a Porsche Taycan with 11:023 seconds on the clock. Sean Rodgers came second in his Audi R8 with 11:346 seconds. The third place was also taken by him with 11:353 seconds on the clock.
About Chequered Flag India
Established in 2001, the Chequered Flag India started conducting races at Nariman Point in Mumbai. At its peak, the club boasted more than 1,000 members, including Narian Karthikeyan and Asif Nazir. Eminent motorsport personalities have conducted sessions on various aspects of Formula One racing for the club, which has also held vintage and classic car rallies.
More recently, Chequered Flag has been behind supercar events at NATRAX for brands like Mercedes-AMG and Malwa Supercar Club. Plus, since 2017, it has organised Baja SAEINDIA endurance races.
Also see:
Supercars at NATRAX ft. Throttle 97 video
Dr N Karuppaiah on establishing NATRAX, project challenges and more
Copyright (c) Autocar India. All rights reserved.