India-bound next-gen GLC gets massive updates under the hood and new PHEV variants.
Mercedes-Benz has globally unveiled the second-generation GLC SUV. The new Mercedes-Benz GLC is marginally larger in dimensions, features a more luxurious interior, and gets a new range of engines, including three new plug-in hybrid drivetrains – all claimed to provide it with an electric range of over 100km.
All petrol and diesel engines on new GLC are electrified
Underpinnings largely shared with the Mercedes C-Class sedan
Rivals the likes of BMW X3, Audi Q5 and Jaguar F-Pace
Since the first generation of the luxury SUV was launched in 2015, Mercedes-Benz has seen global sales of the GLC grow to almost 2 million, making it one of the German carmaker's strongest selling models.
New Mercedes-Benz GLC: exterior design
The styling of the new GLC is more evolutionary than revolutionary. It features smoother surfacing and new detailing, but does not stray too far from its predecessor. As before, the new model will be offered with the choice of two body styles – the GLC SUV pictured here and a successor to the sportier Mercedes-Benz GLC Coupe, due out in 2023.
Key exterior cues include a larger grille and a more prominent three-pointed star up front. The headlamps (optional with Mercedes-Benz's Digital Light function) are also reshaped, while the bumper in the optional AMG spec features aggressive detailing. The rear receives slimmer tail-lamps with LED graphics, joined by a contrasting trim element that adds greater emphasis to the width of the tailgate. Wheels range from a standard 18-inch up to optional 20-inch.
At 4,716mm length, 2,075mm width and 1,650mm height, the new GLC is 60mm longer, 21mm narrower and 4mm lower than its predecessor. It also receives a 15mm longer wheelbase at 2,888mm.
New Mercedes-Benz GLC: electrified petrol and diesel engines
Overseas, the new GLC will initially be produced with two four-cylinder petrol and diesel engines across six different models, all featuring standard 4Matic four-wheel drive.
The GLC200 and GLC300 variants run a mild-hybrid version of Mercedes-Benz's M254 designated turbocharged 2.0-litre petrol engine, with the former developing 204hp and 320Nm and the latter 258hp and 400Nm; both also get an added 23hp from a 48V integrated starter motor. Meanwhile, the GLC220d receives the new OM654M turbocharged 2.0-litre diesel engine, which develops 197hp and 440Nm in combination with the same integrated starter motor as its petrol siblings.
The second-gen GLC also receives three new standard plug-in hybrid drivetrains. The petrol-electric GLC300e and GLC400e are built off the GLC200 and GLC300 with the same turbocharged 2.0-litre petrol engine developing 204hp and 251hp. A gearbox mounted electric motor also provides an additional 136hp, giving a system output of 313hp and 550Nm to the GLC300e and 381hp and 650Nm to the GLC400e.
The diesel-electric GLC300de also receives the same turbocharged 2.0-litre diesel engine as the GLC220d with 196hp. The gearbox mounted electric motor adds another 136hp, similar to the GLC300e and GLC400e, giving it total reserves of 335hp and 750Nm.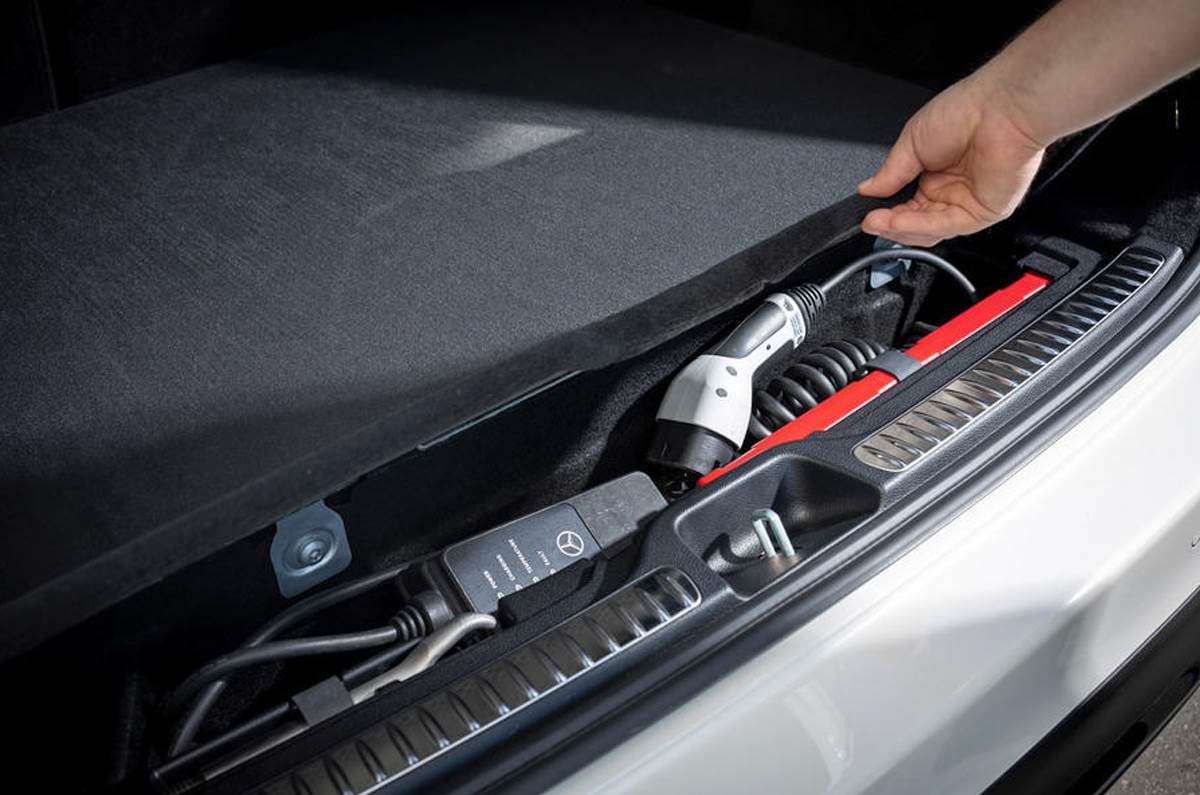 All the plug-in hybrid variants feature a 31.2kWh battery pack, and are capable of a pure electric range between 105-120km (GLC300e and GLC400e) and 102-117km (GLC300de). Charging can be achieved at up to 11kW on an AC system or at up to 60kW on a DC system – the latter claimed to provide a full charge in less than 30mins.
New Mercedes-Benz GLC: AMG models coming in 2023
Also planned for launch in 2023 are two four-cylinder AMG badged models. They include a new 408hp GLC43 with the same mild-hybrid turbocharged 2.0-litre petrol engine as the recently unveiled Mercedes-AMG C43. Positioned above it will be a 500hp plus successor to today's GLC63, with a newly developed petrol-electric plug-in drivetrain based around the turbocharged 2.0-litre petrol engine and a rear axle-mounted electric motor from the upcoming new Mercedes-AMG C63.
New Mercedes-Benz GLC: platform and underpinnings
Developed alongside the latest C-Class, with which it shares a large part of its mechanical package and engine line-up, the new GLC is based on the latest incarnation of Mercedes-Benz's MRA platform. It supports a more advanced electrical architecture than the platform used by its predecessor, providing the basis for a range of new features, including optional rear-wheel steering for the first time, as well as the latest generation of driver assistance systems.
The new GLC is underpinned by the same four-link front and multi-link rear suspension as the fifth-generation Mercedes-Benz C-Class. Unlike the C-Class, though, it receives an optional Airmatic air suspension, which is standard on the plug-in hybrid models, with variable damping control.
New Mercedes-Benz GLC: interior and features
Inside, the new GLC leans heavily on the latest C-Class design. Included is a 12.3-inch instrument display and 11.9-inch portrait style centre screen, together with a multi-function steering wheel and newly styled air vents. Mercedes-Benz says it has provided the new SUV with higher quality materials in a conscious bid to raise perceived luxury and comfort.
Among the options is a new head-up display unit, panoramic sunroof and a 710W Burmester surround sound system with 15 speakers. Boot capacity has also grown by 50-litres to a nominal 600 litres underneath the cargo blind at the rear. Mercedes-Benz's Easy Pack one-touch opening of the tailgate is included as standard.
Back home, the GLC has of course been a strong seller for Mercedes-Benz in India, which means the new one could arrive at our shores sometime next year.
What do you think of the new GLC's design and electrified powertrains? Do you think it will edge ahead of the competition? Let us know in the comments below.
Also See:
Mercedes AMG One supercar revealed in production ready form
2022 Mercedes C-Class review: Feels like a junior S-Class