BMW's latest sportbike is essentially a rebadged version of the TVS Apache RR310, with a few key differences.
About a month since it was first teased, BMW has launched its latest sportbike, the G 310 RR. Its Standard version is priced at Rs 2.85 lakh, while the 'Style Sport' variant will cost you Rs 2.99 lakh. The only differences between the two versions are colour schemes – you get the white, red and blue BMW colours if you shell out more, and a black bike if you don't.
Gets different colour schemes and graphics to Apache RR310
Michelin Pilot Street tyres, unlike Michelin Road 5s on the TVS
Same engine, frame and suspension
This bike is essentially a rebadged version of the TVS Apache RR310, but with some key differences. For reference, prices for the TVS start at Rs 2.65 lakh, but the bike is available with a number of optional extras that can push the price up to Rs 2.87 lakh.
The biggest differences to the TVS lie in the paint and colour options offered on the BMW, as well as the graphics on the TFT display. While the screen hardware seems to be externally the same, it's quite surprising that the BMW doesn't feature Bluetooth connectivity, especially considering its price point.
The one difference that will be felt most on the move is the tyres – the BMW comes with Michelin Pilot Street tyres, which, in our experience, aren't as nice as the excellent Michelin Road 5 rubber offered on the Apache RR310. The Beemer also sports conventional brake rotors in contrast to the petal-type discs on the TVS.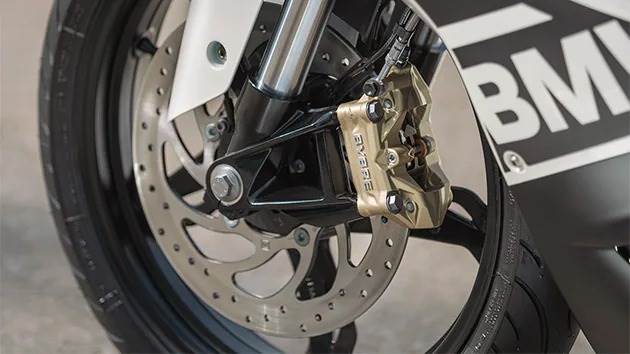 The list of similarities between the two bikes is much longer, with the G 310 RR getting the same engine, frame, suspension and braking hardware as the TVS Apache RR310. In fact, it also gets the same four riding modes that you get on the Apache – Track, Sport, Urban and Rain. Each gets its own unique ABS calibration, and the Urban and Rain modes offer lower engine output.
The engine produces the same 37hp and 27Nm that it does in the TVS, and it has to carry around the same 174kg. The trellis frame is also shared between the two bikes, as is the USD fork/monoshock suspension set-up. Unfortunately, BMW isn't offering the option of adjustable suspension as you get on the Apache, and the only thing you can tweak on the G 310 RR is rear preload.
All things considered, the G 310 RR's biggest asset is the badge it wears on its fairing. If that brand value is important to you, you'll need to be willing to pay Rs 20,000 more than the equivalent Apache. For the thinking buyer, though, the TVS Apache RR310 can be had with adjustable suspension and better performing tyres, for equal or less money.