What makes this bike so revered? We set out to discover just that by riding a funky special edition of the latest BMW R 1250 GS.
That opening photograph is the result of when a bike decides to break traction and snap sideways under acceleration just as it is about to take off from a crest. For a tiny moment in time, I found myself thinking, 'Dammit, why did they give us a GS without engine guards', but this semi-sideways airborne behemoth landed on its electronically controlled suspension in an astonishingly calm and immensely impressive manner. In fact, those two descriptions are pretty much spot on for the BMW R 1250 GS, no matter what you ask it to do.
HAPPY ANNIVERSARY
The bike we have here is the Special 40 years Anniversary Edition and that's why it comes in this unusually funky (for a GS) black and yellow colour scheme. I like most of it, and even the dull gold handlebar doesn't look out of place, but the bright yellow handguards feel a little plasticky and their colour might be a garish for some – nothing that can't be easily fixed with a more rugged set of aftermarket Barkbusters, though.
This being a top-tier BMW, the finish and quality are most pleasing. While its Italian rival, the Ducati Multi V4, has the occasional flimsy plastics here and there (on an otherwise beautifully detailed motorcycle), you won't find any of that here. There's also the sense of this being a bike that has been unceasingly improved and fine-tuned over the years. This stands out in the smaller details, like just how easily (yet effectively) adjustable the windscreen is, or how thoroughly protected the rear shock is from muck, or even how cleverly the seat height adjust mechanism has been designed. Height adjustable rider seats aren't new, but this GS also lets you move the pillion seat a little forward and back by one position to make the bike more accommodating for really tall riders.
The eagle-eyed among you will recognise that this bike doesn't have the black and yellow single-piece seat, or the smaller yellow windscreen that's seen in the press images of the 40 Years GS Edition bikes. That's because BMW finds that a vast majority of its customers want the split seats and larger windscreen, so that's how the bike is imported. But if you really want all the yellow bits, we're told that a special request can be made.
WHAT MAKES IT DIFFERENT
The GS has always been an out-of-the-box motorcycle, to the point that it has built its own box. That begins just from the way it looks. By no means is it a classically beautiful motorcycle. However, instantly recognisable, immensely eye-catching and, to my eyes, very handsome. But the real like-nothing-else character comes alive with the riding experience.
Everything is centredaround the boxer engine – quite literally. The chassis involves a massive trellis style subframe mounted to the rear of the motor, while the front gets a small frame that connects the engine to the steering headstock and the real party piece of this motorcycle – BMW's unique Telelever front end. This system basically connects the front fork to a frame mounted monoshock via a big wishbone that's hidden away under the bodywork. You'll see this shock lurking behind the fork at the centre of the motorcycle.
DIFFERENT IS GOOD
The more commonly known Telelever effect is that there's very little dive under braking, something you'll soon get accustomed to and even grow to trust and enjoy. What I'm far more impressed with, though, is just how light it makes the handlebar feel. That's because BMW only needed to use a 37mm fork here. In heavy city traffic, or on tricky off-road surfaces, this low effort steering on an otherwise enormous 249kg beast is just wonderful.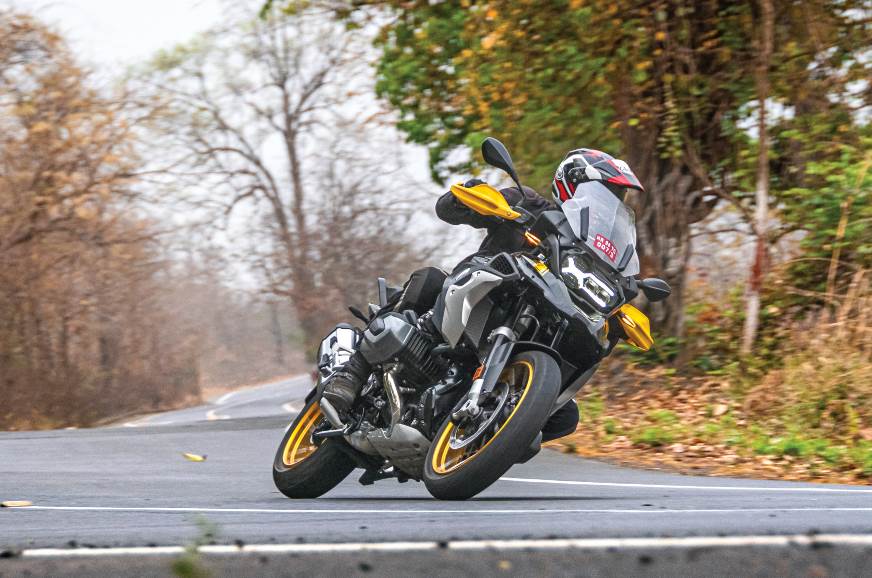 The chassis with its electronically adjustable suspension seems to take anything you throw at it, without a thought. Find a smooth winding road, stick it in Dynamic or Dynamic Pro mode and a well-ridden GS will keep up with any of your sport bike buddies. Want to leave them behind when the road inevitably turns to garbage? No worries, switch it to Road mode, let the suspension soften up and you can hammer straight through without backing off while they all reduce to a crawl to protect their precious backs, wrists and rims.
While we're on the subject, the comfort on this motorcycle is supreme. I'm 6'1" and I enjoyed the neutral seating and standing position, particularly with the seat set to its high 870mm setting. But 5'8" Zaran found it reasonably easy to manage with the seat in its lower 850mm position, even if he was a little on his toes.
KEEPS ON GIVING
And then there's the off-road work, where again, this bike is so, so impressive! The suspension soaks in pretty big jumps with ease, there's a huge amount of power available at a moment's notice and the general sense of low speed balance is amazing, thanks to that low-slung engine. It's the sort of bike that will keep encouraging you to the point that you'll soon be flirting with the limits of ground clearance. You can have a little more of that, along with 20mm more suspension travel, if you go for the R 1250 GS Adventure, but that bike also comes with a huge 30-litre tank that adds 19kg and splays your knees out quite wide. The standard 1250 GS, with its 20-litre, feels more natural and manageable.
With its light steering and low centre of gravity, this is, by some margin, the easiest big ADV I've experienced, when it comes to slow speed off-road riding. That boxer engine plays a big role here too. You can drop the revs very low without it threatening to stall while the clutch is relatively light and wonderfully communicative in its bite point. With 143Nm and BMW's Shiftcam variable valve control system, there's a huge amount of grunt almost instantly available – you need a lot of respect for the throttle off-road, especially if the traction control is fully turned off.
On the road, the motor is wonderfully smooth at low revs and the throttle response is very natural and easy to get along with. There isn't a massive change in engine character between Road and Dynamic mode, and I spent most of my time in the latter, even within the city. What came as a bit of a surprise is that there are some vibrations once you cross 5,000rpm in the handlebar and foot pegs. It's not upsetting, but you'll definitely notice it. The bi-directional quickshifter also takes more effort than I'd like, something we've found in most BMWs. Nevertheless, the engine is quite happy to rev to its 9,000rpm redline, and with 136hp, this is a very quick motorcycle indeed; but then again, it's not ballistic like a Multistrada V4.
No matter, you'll still cover ground at tremendous speed, with very low effort and in complete comfort. Beyond the usual electronic safety assists and riding modes (the usually optional Dynamic Pro and Enduro Pro modes are standard here), some of the more notable features include a tyre pressure monitoring system and a cool adaptive headlamp that not only has a cornering function, but also adjusts itself vertically to compensate for the vehicle's orientation under load or on the brakes.
At Rs 21.65 lakh (ex-showroom, Delhi), BMW asks you for a lot of money, but gives you a lot of motorcycle in return. Ultimately, the R 1250 GS is tremendously capable and I'd go so far as to say this is probably the world's most competent motorcycle. But an out and out thriller this is not – it's far too serious about its responsibilities for that. I kept remarking to myself about how impressive it was, but I never once laughed out loud, or even cracked a big goofy grin under my helmet. If you're like me and it's very important that your bike generates silly, juvenile emotions, then perhaps the GS isn't for you. But folks like us are clearly in the minority because this is still very much the world's most popular big ADV – and it's clear to see why.