The Kia Carens' Robust 10 Hi-Safety package rounds off an accomplished automobile.
Published On Jun 13, 2022 03:58:00 PM
Kids can be quite the handful on a road trip. From unleashing oddly timed hunger pangs to the ubiquitous barrage of 'Are we there yet?' enquiries, road travel with kids is not for the impatient. For once, though, the kids are fast asleep. Perhaps, it's the hushed character of the refined petrol motor, or just how quiet the cabin is even at highway speeds. It could even just be the seamlessly plush ride, but knowing the answer isn't so important. Maybe kids on a road trip aren't such a bad thing after all – as long as they're snoozing! What's just as important, however, is for them to be safe, no matter what.
The Carens' plush cabin makes going the distance a breeze for every member of your family.
The Carens way of life is pleasantly different. When no destination seems too far (and no weekend is to be wasted), your car becomes a sort of second home; ours certainly does. Just like home, we've all got our favourite corners in the Carens. We particularly like the last two rows, although it
must have as much to do with the uber luxurious seats as the USB-C ports! The final layer of relaxation – an invisible blanket of sorts, if you will – comes from the six airbags the Carens offers. It's a comforting thought, to be assured of the safety of your loved ones.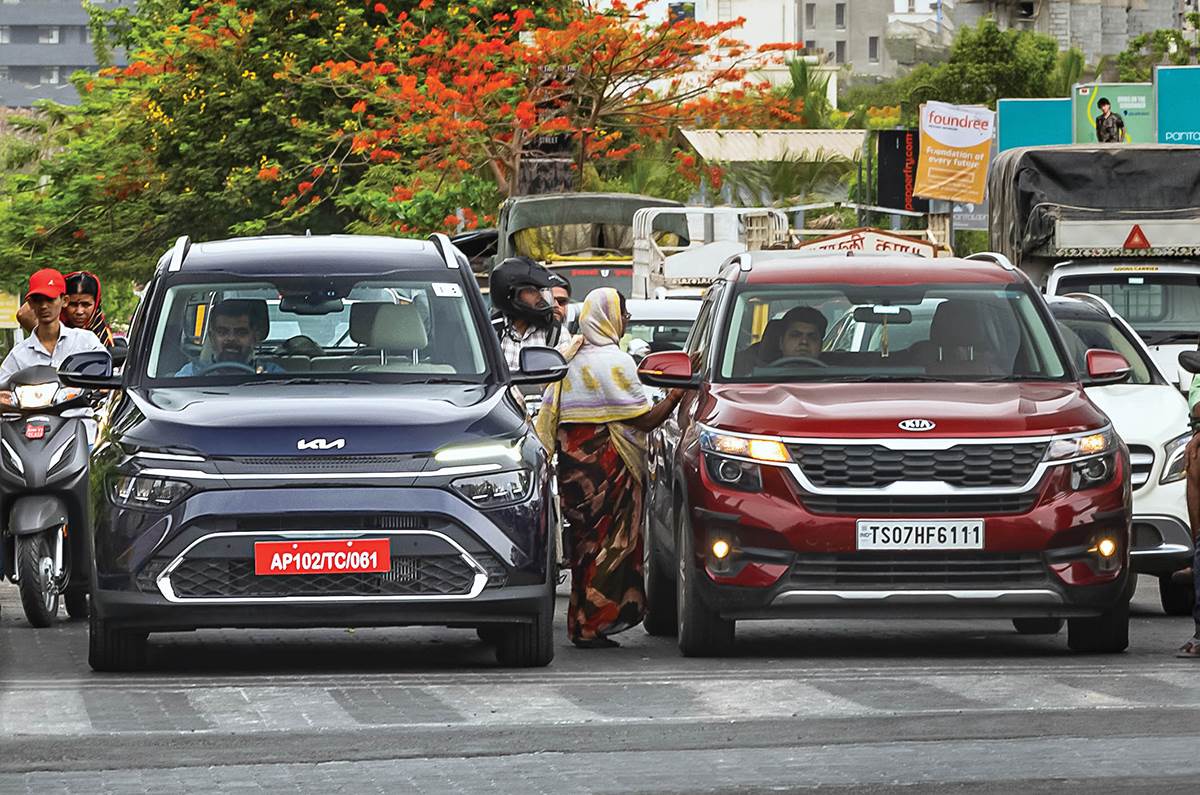 Great all-round visibility, effortless drive experience lets you stay ahead in the city.
This is what makes light work of road trips, which are such a frequent feature of our lifestyle as a family. It's one thing to detach from the daily grind and derive satisfaction from a serene getaway, and entirely another to pursue it just for how blissful the experience can be. There's no dearth of space, to begin with, even for pressing demands such as that of a bicycle or football paraphernalia to be ferried around on holidays. And then there's just the seemingly endless list of creature comforts that, in fact, very often sees us scouting for excuses to chase sunsets down the long, open highway. The sense of safety helps weave our hilariously unpredictable plans together perfectly well.
Neatly integrated TPMS allows you to monitor tyre pressures individually.
It suits us just as nicely that the Carens goes beyond just the essentials and offers you a Robust 10 Hi-Safety Package. In addition to the airbags, every variant of the Carens also gets Electronic Stability Control, Vehicle Stability Management, ABS and brake assist, Hill-Start Assist Control, Downhill Brake Control, disc brakes on every wheel, rear parking sensors and a tyre pressure monitoring system. Also very thoughtful are the ISOFIX child anchors and an impact-sensing door unlock feature. Now you know what made the Carens an easy choice, don't you?
The Carens' park-assist cameras come in extremely handy, especially in a cramped, urban environment.
In a Carens, safety comes through not only in the form of a reassuringly long list but, delightfully, as a dimension of its personality. Be it the calming confines of its airy cabin, the soothing clarity of the Bose sound system, or just how comfortable the seats are – the Carens works like a sort of sensory relaxant. Think of it as a meditation chamber on four snazzy diamond-cut alloy wheels, and you won't be off the mark at all. It's nice how Kia has made safety an attitude in the Carens, rather than approach it as a sort of to-do list. On long trips such as the ones we make, it's no surprise, then, that we often emerge fresher at the end of the journey than when we'd begun!
The driver's seat is always sought after, too; 242Nm of torque and 140PS can make even the most trying of days pretty relaxing, and the 7-speed DCT sure helps make the last traces of stress disappear. Alright, so whether to glide in Eco mode or gobble up miles rapidly in Sport is an endless debate among us, but so long as the Carens' charmingly sophisticated nose is pointed towards yet another seafront – or, as is the case today, rolling green hills – all is truly well.
The Smart Pure Air purifier feature lets you monitor cabin air quality even in the middle row of seats.
The hill-start assist has particularly saved the day for us on many an adventure and downhill brake control lends a helping hand on those ever-so-tricky curves. Another constant reassurance comes from the TPMS, which keeps us informed of the exact state of tyre pressures so we aren't caught unawares in our quest for exploration. The only thing worse than a puncture is having your family stranded by the side of the road thanks to one, wouldn't you agree?
As we blissfully scale yet another scenic hill, gliding gracefully over the twisty and bumpy roads, the silence in the cabin is a telltale sign of just why the Carens is now family. It's not only our favourite way to tour the country but – if the fast asleep kids are a testament – our favourite destination too! In any case, almost everywhere seems agreeable when viewed through the panoramic windows of the Carens.
We've arrived. The clock on the infotainment screen suggests it's been eight hours since we left our home in the city, but it feels like we've been on the road for less than half that. It's this effortlessness, and this constant expression of a safe, comforting environment that the Carens imparts, that makes it so appealing to us. Oh, and the fact that our journeys are a lot quieter than they've ever been!
Copyright (c) Autocar India. All rights reserved.