New French compact car blurs the lines between hatchback and SUV, but can it deliver the best of both?
Few car reviews have hinged so heavily on the price – which, it should be noted, we do not have at the time of publishing (the verdict will be updated once we do). You see, even with the most important products to hit the market, we usually have a general idea of how they will be positioned. However, thanks to some of the choices Citroen has made for its critical, made-in-India, entry-level offering – the C3 – it's hard to put a finger on where it belongs without knowing its price.
Is it an entry level hatchback, a sub-compact SUV, a bit of both, or neither? It's hard to tell. Does that make it a bad car? Not in the slightest. In fact, it shows a radical new approach to what a car, which has the potential to be a hit with buyers, could offer.
2022 Citroen C3 exterior design
The sophomore offering from Citroen sits several segments below its debut product, the C5 Aircross that was launched in 2021, but it embodies a lot of the same principles. The C5 won Autocar India's Best Design & Styling award for 2022, and that same wonderfully eccentric French flair flows through the C3 as well.
The way the chrome grille incorporates the Citroen chevron logo, and then splits off into LED daytime running lamps (DRLs) is just plain cool, and can easily make you overlook the rather simple halogen headlamps nestled alongside. Lower down is a big hexagonal air dam, beneath which sits an X-shaped faux scuff plate in brushed silver. The grille pattern is a grid of rounded squares, and, look closely, and you'll even spot the word Citroen finished in chrome inside the headlamps and tail-lamps.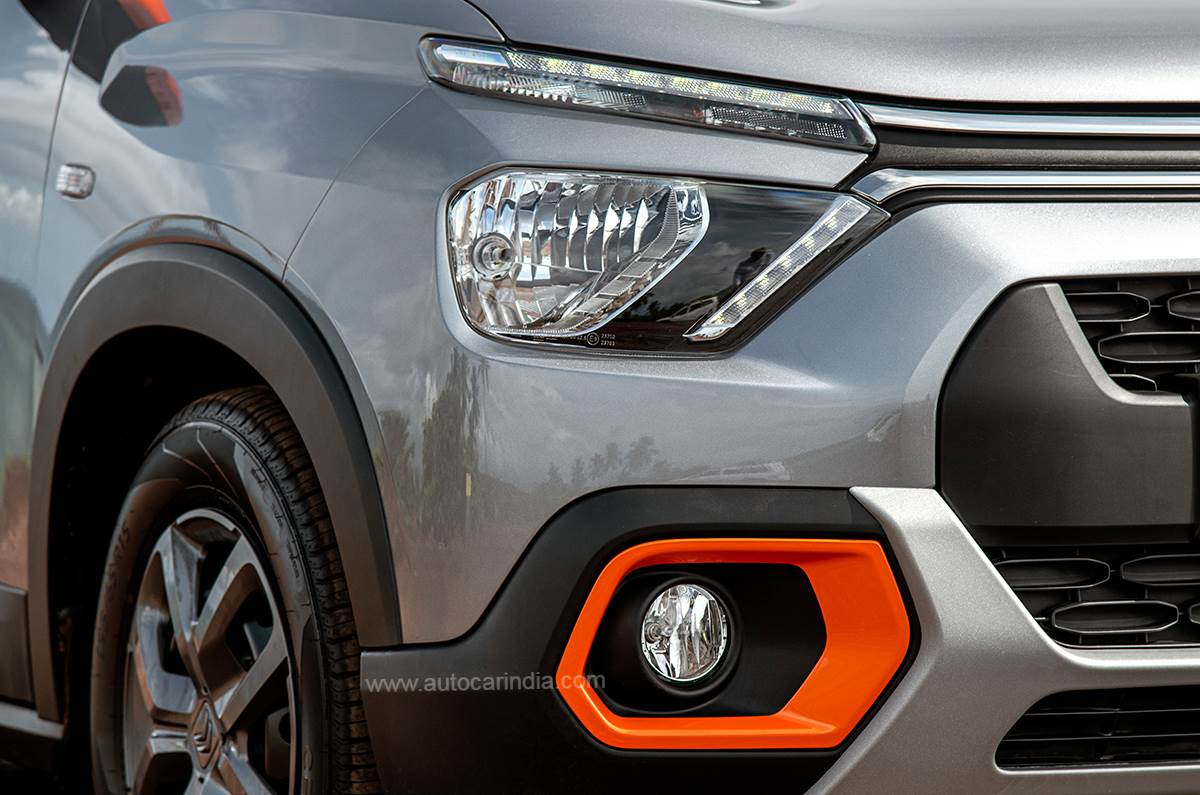 Our test car has one of three optional packs that adds orange accents all round, including the fog lamp housings. The orange accents extend to the wing mirror covers and the styling flourish at the base of the doors and the rear bumper. If orange is not your thing, you can choose chrome or platinum grey with the other two packs. The orange roof isn't part of the pack, but is one of six dual-tone colour options (some options get a black roof instead), and as a result, there are a total of 10 colour combos to choose from, even though there are only four base colours – white, light grey, dark grey and orange.
It's so much more than just the small details, however, that make the Citroen C3's design stand out. The bonnet is heavily sculpted, as are the front and rear flanks, and even the tailgate isn't just a simple flat piece of metal, and incorporates cut-outs for the tail-lamps. These are simple but effective details that tell your brain this is not a barebones car, but conversely, the lift-type door handles, old school exposed-steel lock on the driver's door, and plastic wheel covers on steel wheels tell you otherwise; you can buy alloys as an option though.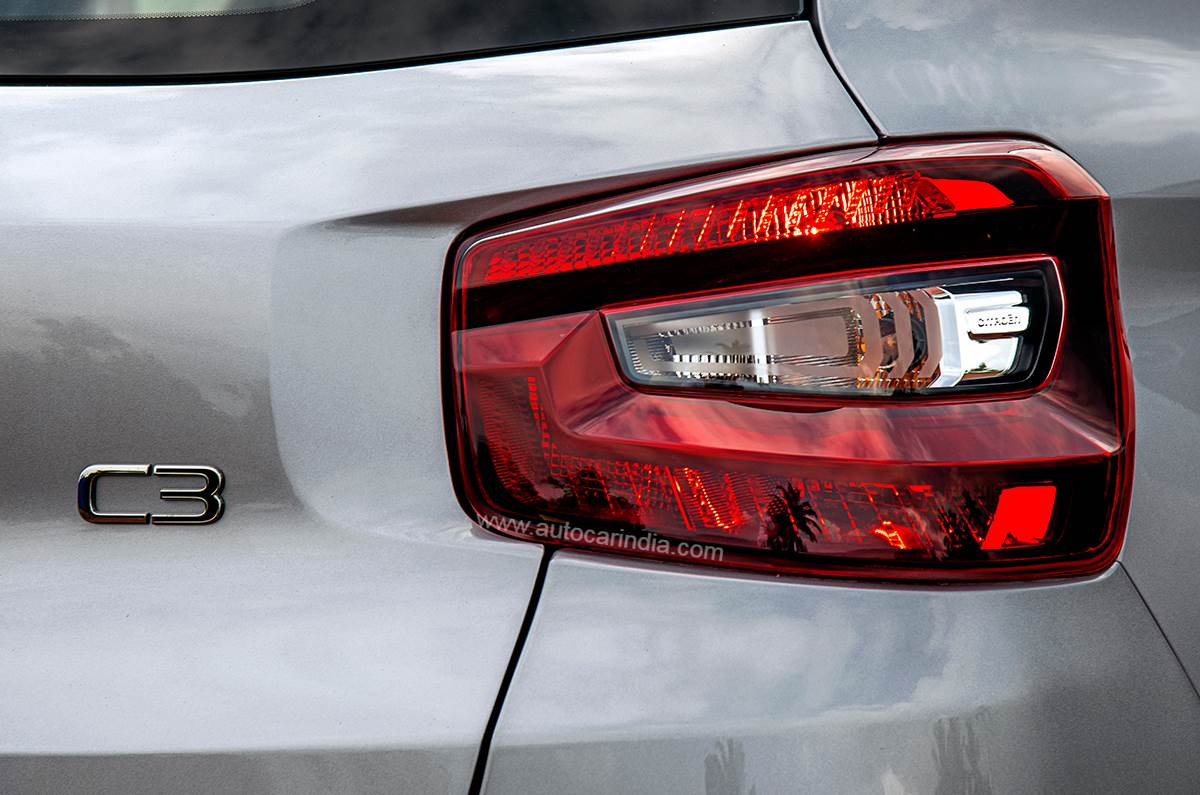 But no, the real big talking point, which serves to confound its positioning all the more, is the shape of the car itself. Citroen, quite accurately if we're being honest, calls it a 'hatchback with a twist'. But to the average buyer, this will look like a sub-compact SUV. Yes, it doesn't have overtly square dimensions, but if you park it alongside a Tata Punch, you'll notice they're virtually the same shape and size. The C3 even has an SUV-like 180mm of ground clearance, and then, of course, there's the black cladding all around and the upright shape of the passenger compartment. Still, Citroen maintains that its first proper SUV will only come next year.
180mm ground clearance means putting wheels off the road is no issue
2022 Citroen C3 interior
The interior, much like the outside, is far from conventional and full of wacky details. Again, you don't have to have the orange dashboard – the other option is anodised grey. Also, this is likely linked to which exterior pack you choose.
With or without the splash of citrus, the dimpled textured surface on the passenger side of the dashboard looks and feels great, as does the slim piece of brushed metal plastic below it. The chunky rotary AC knobs feel satisfying as they click into place and there's a huge storage bay beneath them. Even the AC vents have a funky geometric design, and you can see hints of the C5 Aircross in here.
Plastic quality all round is better than we expected, and it's only when you scout around lower down by the gear lever and cup holders, for example, that you'll find some poorer-built bits. There are, however, other signs that hint that this might belong closer to the budget end of the market, like the absence of any soft material on the door pads to rest your elbows on, manual stalk adjusters for the wing mirrors, empty shells for tweeter speakers in the A pillars and a basic felt roof liner. And then, there are the rear window switches, which won't be found either on the rear doors or on the driver's door. Instead, to save on costs, there is one common pair of switches for front and rear passengers to use, located between the front seats. We'll delve more into this in the equipment list, but it's choices like this that we were alluding to at the start.
Speaking of the front seats, those of larger constitution might find them a bit slim – a move Citroen says it made to give a greater sense of space in the cabin – but there's no doubt they're generously cushioned and comfortable over long distances. There's a good range of adjustment too, and the general seating position is tall, like in an SUV.
The back seat is incredibly spacious and comfortable, again with superbly judged cushioning. It's not as wide as a full-on compact SUV, so seating three adults abreast will be a squeeze, but leg and head room are plentiful. You will notice the lack of a rear centre armrest and adjustable rear headrests, though you do get two USB ports for charging. The 315-litre boot is definitely more in hatchback territory than SUV on paper, and you will have to haul bags over a tall ledge, although it's well shaped. The rear backrest folds, but doesn't split, and doing so is a tedious process of pulling on two basic straps – not levers – on either side of the cabin. However, the backrest can be removed altogether to give a flat floor for pure cargo-hauling use.
2022 Citroen C3 features and variants
The Citroen C3 gets a huge 10-inch touchscreen, which is bound to be a big talking point, if not selling point. It's slick in operation too, with clear graphics and good touch response, and even gets wireless Apple CarPlay and Android Auto. We should point out that our test car's infotainment unit glitched heavily while trying to run Apple CarPlay, and required a hard reset before it worked properly. Citroen says that work is on to remove all software glitches before cars reach customers' hands.
In stark contrast is the C3's digital instrument panel, which is no more than a small, black-and-white trip computer screen that displays a speedometer; there is no tachometer. There are huge blank spaces on either side within the binnacle, which tell you it could have housed a larger, more informative screen.
Considering the big infotainment screen, you would expect a rear-view camera, but there isn't one. One doesn't expect a sunroof for this class of car, but what's glaring is the absence of a rear windscreen wiper and defogger. The inside rear-view mirror doesn't even have a manual day/night function, there's no lock/unlock button in the cabin, and there's no height adjustment for the front seatbelts. A highlight, however, is the four-speaker audio system, which packs more punch than even systems in far larger cars.
Bucking the trend of expansive and convoluted model lines, trim levels and variants that most brands follow, Citroen offers the C3 (and indeed the C5 Aircross) in just two trim levels. However, the lesser C3 'Live' variant is far more stripped down than the top-spec 'Feel' variant we're driving, ditching the touchscreen, audio system, LED DRLs, rear power windows, remote locking, steering adjustment, USB chargers and roof rails, and even deleting the exterior black cladding and the front passenger sun visor. This is hopefully a sign of a very aggressive starting price.
2022 Citroen C3 engine, performance and fuel efficiency
The Citroen C3 comes in two powertrain flavours at launch – a 1.2-litre naturally aspirated petrol engine with a five-speed manual gearbox and a 1.2-litre turbo-petrol engine with a six-speed manual. An automatic option is expected to follow in January 2023. Let's start with the turbo, distinguishable only by a tiny 'PureTech' badge on the tailgate, which makes a solid 110hp and 190Nm! The torque figure, especially, is more than you get in any small-capacity turbo-petrol engine, while the horsepower is right up there with the best, and it shows almost immediately, in this 1,035kg bantamweight crossover.
The C3 turbo absolutely leaps off the line. Performance is focused at the bottom end and mid range, making for eager responses at traffic pace and for overtaking. It does run out of puff towards the top end – we can't tell you the RPM as there's no tachometer – and that's just as well, as it's here that you can hear the three-cylinder engine straining too. You might encounter some turbo lag, but that's only if you leave it in a high gear and let the revs drop. The six-speed manual is slick in its shifts, making charging up and down the powerband not just easy, but fun too, though the clutch release can feel a little snappy.
The atmospheric 1.2 petrol with its 82hp and 115Nm is obviously not as entertaining, but compared to other small-capacity, three-cylinder naturally aspirated petrols, it's rather good. For a start it only has 964kg to move around, and apart from a minor hesitation getting off the line, performance, while not outright strong, doesn't feel lacking either. Refinement is pretty good too, and once again, it's only when you really rev it out that the three-cylinder noise and vibrations become an annoyance. The clutch in this car isn't as snappy as in the turbo, but the five-speed manual isn't as slick as the six-speed, and feels a bit notchy.
Special mention has to be made of the AC, which Citroen says has been 'tropicalised' or specially adapted for India. It worked a treat, cooling the cabin in no time and keeping it that way, even on a hot Goa afternoon, to the point that you will not mind that the C3 doesn't have rear AC vents. It also should be noted that the turbo engine, with an ARAI fuel economy rating of 19.4kpl, is only 0.4kpl behind the naturally aspirated 1.2.
2022 Citroen C3 ride and handling
Comfort is something French cars excel at and Citroen has even made it a core tenet of its brand. We lauded the C5 Aircross for its 'flying carpet ride' which truly feels more comfortable than anything this side of Rs 50 lakh. The more basic C3, of course, cannot deliver that level of sophistication, but that same ethos is clear in its ride quality, which is miles ahead of anything in this class.
It starts with its footprint on the road, which is quite large for the car's size, with fairly wide front and rear tracks, and a long 2,540mm wheelbase; longer than most compact SUVs! Then there are the chunky 195/65 R15 tyres – not the skinny 'eco' tyres you usually find on compact cars – and, in fact, have a wider section than those on a Honda City. The suspension set-up is pretty standard on paper – independent MacPherson struts with coil springs up front and a non-independent torsion-beam set-up with coil springs at the rear – but the execution is really robust for an entry level car.
The sense you get driving briskly over a broken road is that the suspension is doing the heavy lifting, working away hard under the wheel arches, while you are treated to a smooth and bump-free ride in the cabin. Small undulations, to steep speed bumps to huge craters – the C3's compliant suspension takes it all in its stride and smothers it out with minimal fuss. The high ground clearance means we were easily able to drop two wheels off one of Goa's narrow roads to let another vehicle by. High-speed stability, too, is superb and the steering has a part to play here as well. It's not disconcertingly light or over-assisted, as many entry-level steering racks are, and has a confident weightiness to it. It's also quite quick and direct, and doesn't require too many turns, lock to lock.
And that brings us on to the handling, which like the ride, feels tightly engineered beyond this car's expected segment. It's not as pin-sharp as say, a Ford steering, but it's communicative and predictable, allowing you to chuck the C3 around with ease. The supple suspension and high ride height do lead to some body roll, but again, that wide footprint lets the car track true in a corner. The high torsional rigidity means there is absolutely no flex, squeaks or rattles when you're really leaning on it. Overall, the tidy dynamics and punchy turbo engine are well met to deliver driving fun.  
2022 Citroen C3 expected price and verdict
It was another French car, the Renault Kwid, which shocked the market by bringing SUV-like looks and a touchscreen infotainment system to the budget hatchback segment. Citroen's approach to the C3 feels similar, albeit in a segment or two higher, wowing you with its funky crossover looks, spacious and comfy interior and huge 10-inch touchscreen.
However, in providing these attractions, Citroen has removed quite a lot from the C3 – it feels like cost cutting with a hacksaw rather than a scalpel. It's been done in obvious areas too – most notably in the manual wing mirror adjustment, which even budget cars now provide. It's a case of wildly contrasting priorities that a buyer would have to reckon with.
And it would be a shame if potential buyers wrote the C3 off before taking a test drive, because that is where it absolutely acquits itself. From behind the wheel, this feels like a much more sophisticated car than its size and features would suggest, with a strong turbo engine and superb ride and handling balance. If strong mechanicals and great comfort are what you're after in a car, the Citroen C3 does a far better job than most compact cars – hatchback or SUV – though you will have to make some sacrifices in the cabin. Now, all that's left to find out is the price.