It looks a bit like a dirt bike, gets sticky sportbike tyres, and a rather sporty engine. What is this motorcycle all about?
How often do you feel like you know almost exactly what a bike is going to be like, from nothing more than looking at the press images? Underneath the long, dirt bike-style bench seat that's slowly numbing my backside, the Hypermotard's shouty L-twin is barking away perilously close to my nether regions, making light work of reeling the horizon towards me at an alarming rate. Said L-twin is housed in a bike with a Frankenstein appearance – like the secret child of a motocrosser and a supernaked. Packaged so taut and mass so centralised that its appearance almost belies its displacement. Which is why aforementioned press images rarely show both wheels in line or on the ground simultaneously.
This Ducati's name is equal parts spine-tingling and accurate, because the Hypermotard really is like a supermoto turned up to 11 – the only one of its kind you can buy in India right now. A supermoto itself is a paradoxical class of motorcycle that's the result of taking a dirtbike and throwing on 17-inch wheels, bigger brakes and sticky sportbike tyres. This Duc's authenticity as a supermoto can be debated – it's a supermoto by inception, and not actually derived from a dirtbike – but the 'Hyper' part of its nametag? There's no arguing against that.
WELL-STOCKED STABLE
This 937cc engine is a common occurrence in the Ducati catalogue, powering no fewer than five different models in the marque's line-up. But it makes more power here than it does in any of the other bikes it propels, and the Italians seem to have shared their espressos with each of those 114 horses, because this motor feels more alive here than in any of the other bikes it services. A forward pull that's rather healthy in the lower reaches of the tachometer becomes pretty ferocious as the revs climb, and the Hyper effortlessly gobbles up its gears up to about 180kph. Beyond that are the very first signs of the acceleration beginning to trail off, which is only going to be an issue when you take this bike to the track (something that Ducati's test riders seem to do quite often and enjoy quite generously).
Angry bark from twin exhausts is addictive.
Not content with just being excellent carriage-pullers, those caffeine-fuelled horses form a pretty great baritone section, too. The Hyper's sound transforms from that distinct Ducati metallic hum at idle, to angry, brappy growls at low revs, to deep, evocative bellowing as you race towards the redline. Sharp blips from idle deliver delicious little barks from the gorgeous twin underseat end cans, which are nearly as satisfying as the machine gun-like barrage of pops and bangs you get when off-throttle. Whether it's the way it accelerates, the throttle response, or the sound it makes, everything about this Testastretta engine feels dialled up on the Hypermotard.
PAY THE DEVIL
Between eliciting the low RPM barks and the high RPM roar, you'll drain the 14.5-litre fuel tank rather quickly. Which you won't realise, due to the absence of a fuel gauge, until the bike demands a 95-octane top-up when its fuel warning light comes on. This is one of the number of compromises you must be willing to make, if you want to enjoy the potent, distilled fun-factor that this bike offers. Another one being the fact that despite the hefty Rs 14 lakh price tag, there isn't a whole lot of 'luxury' on offer here.
Remember how this bike is supposed to emulate that dirt-bike form factor? Well, it does that so well that if you were to climb aboard blindfolded, the riding position would probably tell you that you really are on a dirtbike. You're perched a vertigo-inducing 870mm off the deck, and the only thing making it feasible to plant your feet on the floor is that the motorcycle feels super slim between your legs. Even then, shorter riders will definitely struggle, and even my 5'8" self was on the toes.
Once aboard, you're pushed right up against the wide handlebar, with your feet tucked away onto the relatively rear-set foot pegs – all standard dirt-bike fare. While this position might be suitable for carving up a supermoto track, it isn't ideal at the sort of highway speeds that this engine is easily capable of sustaining. Your upper body is quite ahead, pretty much bolt upright, and the position of the 'bars makes your elbows stick out quite naturally, effectively turning you into a large human sail. Without so much as an ornamental flyscreen peering up above the TFT dash, you're left mercilessly unshielded from wind-blast, essentially capping your comfortable cruising speed at around 140kph. Any time spent beyond that will have to be in short bursts rather than a sustained stint.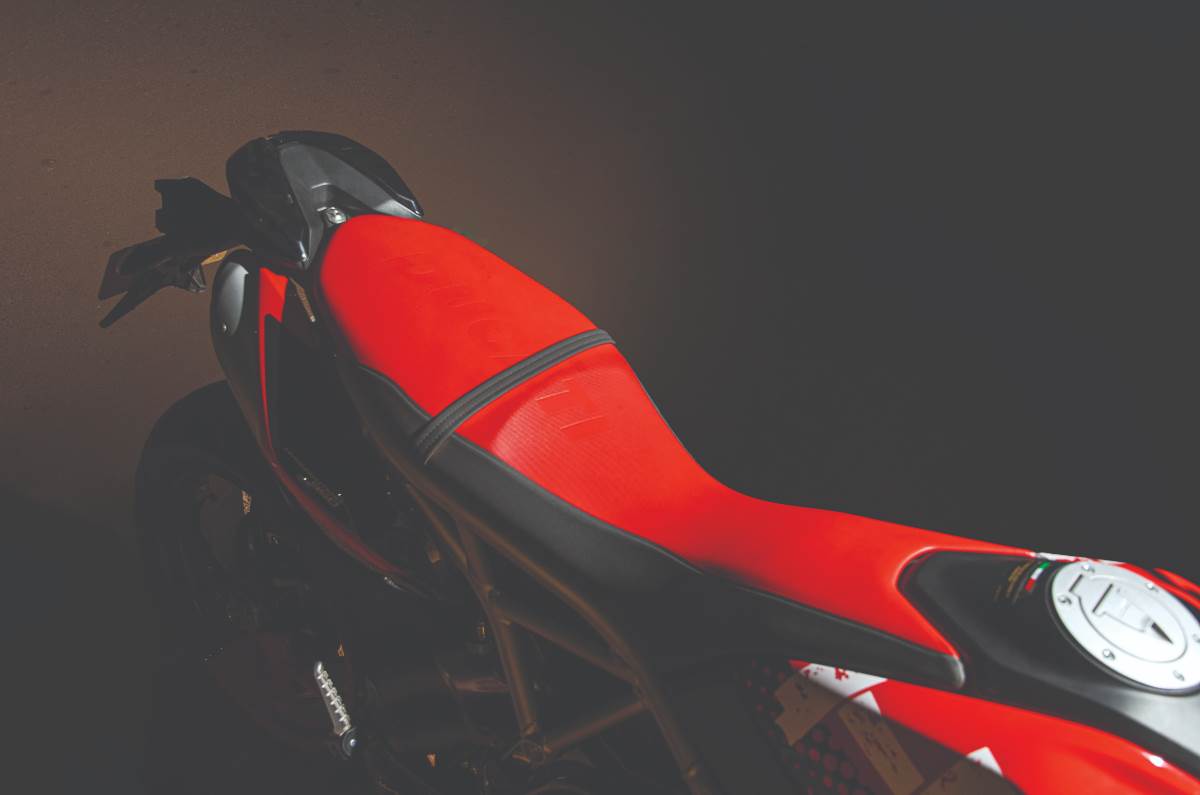 Slim, tall and firm seat quickly becomes uncomfortable.
Equally instrumental in inducing discomfort is the seat. Long, narrow, shallow, and flowing right up to the back of the fuel tank, it features barely any padding to speak of, and what little there is, is quite firm. Meaning that half an hour of being astride is all it takes for the pain to begin setting in. If the seat is two-dimensional, then the Hypermotard as a whole is one-dimensional, in its pursuit of thrills.
Because whatever you may be using this bike for, all its shortcomings pale in comparison to the smiles it puts on your face. You've really got to screw your head on a little tighter before venturing out on this bike, because you're consuming quite a vicious cocktail when you mix the flickability and the leverage offered by the wide 'bars, with the mischief-making engine at its heart. In the city, it's constantly egging you on to shrink the distances between stop lights and seize that gap in traffic before some other equally opportunistic Charlie beats you to it. There are no calm, laid-back rides on this motorcycle. And neither should you expect one from a bike that has Hyper in its name.
If you're able to grimace through the highway stint and make it to some twisties, the bike will step up and reward you for your hardship, chiefly by being an absolute riot through the corners. Yes, all the press images show a leather-wrapped looney sticking his foot out into the corner, riding the bike supermoto style. And I had a go at that as well. But truth be told, I was far more comfortable (perhaps purely out of familiarity) just riding conventionally through the twisty stuff, with both feet on the pegs and upper body leaned into the corner. When I did that, the Hypermotard was an absolute blast, with a performance ceiling clearly far higher than my own.
As slippery as they may seem on our terrible city streets, the Pirelli Rosso 3s are actually perfectly grippy tyres once applied against clean, well-laid tarmac. And all that adhesion gives you the peace of mind you need to really start enjoying the engagingly reactive chassis and engine package that the Hyper offers. Even without having a windscreen to tuck under or a sportbike-style cockpit facing you, this bike manages to serve up a tremendous sense of connection, and it's all too easy to get carried away and find yourself doing some license- and life-threatening speeds on a meandering little two-lane back road.
Just to remind you of the liberties you're taking, the bike will go into a little headshake under acceleration now and then, when you start pushing hard – this RVE variant (the only one available in India) gets special, and somewhat polarising, graphics, but no steering damper like you get on the 'S' version.
Easy-to-navigate TFT display looks crisp.
That aside, it does get a number of other safety nets, in the form of pretty good Brembo M4.32 stoppers and a rather excellent electronics suite. Standard fitment includes IMU-assisted traction control, ABS and wheelie control, three engine modes, three riding modes and a bi-directional quickshifter. All the aids intervene with a gentle hand, but truth be told, the engine and chassis behave predictably enough for you to keep most of them off, or at least at very low levels, most of the time. I particularly liked the 'Medium' engine mode, which keeps your wagon hitched to all 114 horses, but offers smoother, friendlier throttle response. The benefits are two-fold – a less lurchy ride in the city, as well as a predictable throttle that gives you the confidence to dial down traction control.
There are only a couple of small disappointments in this department. The first is that as brilliant as the traction control is at optimising drive, it doesn't allow any appreciable amount of slide even at its lowest setting, which is a bit of a bummer on a bike that's otherwise so fun-natured. The second disappointment is that ABS can't be turned off at the rear wheel. Not officially, anyway. But a little birdie tells me a quick burnout confuses the on-board computer and deactivates the system. The downside is that ABS is then also disabled at the front, and traction control is turned off as well. So I've been told.
Turning off the rear ABS on this bike is something you might want to do if you're keen on sliding the bike into a corner, and not really for off-road riding like we see on most ADVs. Because despite the way it looks, and the healthy 170mm of suspension travel at each end, the Hypermotard has no real off-roading aspirations. Sure, you've got a good deal of ground clearance – a whole 195mm – and if you really wanted to take this bike off-road, you could. But the Pirellis will neither like it nor be very supportive of it, the stiff suspension set-up feels more akin to a sportbike than an ADV, and there's the aforementioned ABS issue.
In fact, even on the road, the suspension set-up definitely feels on the firmer side, and while it never really crashes or thuds through even large bumps, it's not exactly plush either. There is a great deal of travel available and the Marzocchi fork and Sachs shock are both fully adjustable, so you should be able to mitigate this to some extent, but you're not going to end up with magic carpet ride quality.
Exposed rear wheel, bronze exhaust pipes wrapping around the engine – the Hyper would make a great wall ornament.
With the way it brings out your inner hooligan, you're going to want to spend a lot of time in this saddle. But in the time that you do spend off it, you've got a fittingly mean-looking machine to look at. Its appearance perfectly matches its evil intent, with a sinister face that's perpetually plastered with a mischievous grin. Heck, even looking at it standing still, you just know this bike wants to make you do naughty things. It isn't just the bodywork and ornamental bits either, even the mechanicals of the bike have been stylised to the point where they wouldn't look out of place in a modern art gallery. Particularly eye-catching is the exhaust system that seems almost like a metal creeper, elegantly wrapping its way around an industrial tree. Ducati often makes hefty demands of your wallet, but unerringly makes sure those demands are followed up by laborious attention to detail on its motorcycles, and the Hypermotard is no different. Materials and finish levels are top-notch pretty much throughout the motorcycle, with the exception of the mirrors, which look and feel a little more budget than they should.
TIME TO PONY UP
Even by Ducati standards, this bike makes a pretty massive demand from your wallet. Because at this price, it's over Rs 2 lakh more expensive than the Monster, which gets the same engine and is very similarly equipped and capable. More comfortable and practical, too. But where the Hypermotard categorically trumps the Monster is in putting big goofy grins on your face. In terms of sheer cool quotient and fun factor, pretty much nothing else comes close at this price point. So, if you are fortunate enough to have a more sensible machine or two already parked in your garage, and want a bike that does nothing more than deliver giddying levels of enjoyment and laughs, you'd struggle to do better than the Ducati Hypermotard 950.