The Autocar India buyer's guide to four-wheeler EVs, where you can compare price, range and performance.
With rising fuel prices, more and more people are opting for electric cars. The sales numbers, especially of models like the Nexon EV, and the launch of several electric cars in recent months are proof that Indian buyers are going the EV way. 
Today, there is an EV in almost every price bracket. From sub-4m sedans like the Tata Tigor to high-performance cars like the Audi e-tron GT and Porsche Taycan, there seems to be at least one EV for every pocket. 
Here is a price-based list of all the EVs on sale in India today, along with their positive and negative points. 
Electric cars, SUVs from Rs 10 lakh-20 lakh 
Tata Tigor EV 
Price: Rs 12.49 lakh-13.64 lakh 
Range: 306km (ARAI certified)
Good: Exceptionally quiet and refined powertrain; superb ride and handling; decently equipped and safe
Bad: Expensive for an entry-level EV; drive selector slow to respond
Starting from Rs 12.49 lakh, the Tigor EV is the most affordable electric car you can currently buy in India. The sub-4m electric sedan features Tata's Ziptron technology, which uses a permanent magnetic synchronous motor producing 75hp and 170Nm. A 26kWh battery pack gives the Tigor EV an ARAI-certified range of 306km, and it is capable of fast charging and can be topped from 0 to 80 percent in just 60 minutes. The EV is available in four variants, with the range-topping model costing Rs 13.14 lakh. 
For a detailed review of the Tigor EV, click here. 
Tata also sells another version of the Tigor EV, called the X-Press T, but it is only meant for fleet operators and misses out on the Ziptron technology.
Tata Nexon EV 
Price: Rs 14.79 lakh-17.40 lakh 
Range: 312km (ARAI certified) 
Good: Smooth and zippy performance; ride and handling; comfy interiors; value for money
Bad: Range not as advertised; display screens lack sufficient EV data; restricted top speed
Launched in 2020 as Tata's first all-electric car aimed at private buyers, the Nexon EV has become an instant hit amongst Indian buyers. The compact SUV already had good looks, a comfortable cabin, and a full 5-star safety rating to its credit. And the EV versions, which were relatively well priced when launched, only made the case for the Nexon brand stronger. Now, the Nexon EV is priced from Rs 14.79 lakh, going up to Rs 17.40 lakh for the top-end variant. 
It comes with a 30.2kWh battery pack that boasts of a 312km range, according to ARAI. The Nexon EV uses a permanent magnet motor that produces 129hp and 245Nm of peak torque. Tata claims that the Nexon EV can be topped up from 0-80 percent in 60 minutes via a fast charger. 
To read our road test of the Nexon EV click here. 
Tata Nexon EV Max 
Price: Rs 17.74 lakh-19.24 lakh 
Range: 437km (ARAI certified)
Good: Longer range than standard Nexon EV; new safety and premium features
Bad: Difference between actual and advertised range; knees-up seating position at rear
For those seeking a longer range, Tata recently introduced the Nexon EV Max, priced from Rs 17.74 lakh. With a larger 40.5kWh battery pack, the Nexon EV Max has an ARAI-rated range of 437km. In our real-world range test, the Nexon EV Max managed 263km – 57km more than the standard Nexon EV. However, it was still significantly less than the advertised figure. 
The Max produces 14hp and 5Nm more than the standard model. Tata also offers two versions – a 3.3kW AC charger that comes as standard and a 7.2kW version that is optional. You can take a closer look at the differences between the Nexon EV and the Nexon EV Max here. 
You can read our impressions of the Nexon EV Max here or watch the video review here.  
Electric cars, SUVs from Rs 20 lakh-40 lakh 
MG ZS EV  
Price: Rs 21.99 lakh-25.88 lakh 
Range: 461km (as per ICAT) 
Good: Range; practicality and well-built cabin
Bad: Regen not too effective; expensive
MG recently introduced the facelifted ZS EV, which gets a larger 50.3kWh battery pack and some cosmetic changes. MG claims a range of 461km (as per ICAT) for the EV and it is powered by a front-axle mounted electric motor that produces 176hp and 280Nm of torque. According to MG, the ZS EV can sprint from 0-100kph in 8.5sec. Prices for the ZS EV start at Rs 21.99 lakh and go up to Rs 25.88 lakh for the top-end variant. 
To read our review of the MG ZS EV, click here. 
Hyundai Kona Electric  
Price: Rs 23.84 lakh-24.02 lakh (ex-showroom, Delhi)
Range: 452km (ARAI certified)
Good: Nippy performance; good city driving range; zero local emissions
Bad: Cramped cabin; unexciting interiors; long charging time with conventional power outlet
Hyundai was amongst the earliest entrants in the premium EV space with the Kona Electric. Launched in 2019, the Kona Electric gets a 39.2kWh battery pack, which gives it an ARAI-rated range of 452km. The battery sends power to a permanent magnet synchronous motor that produces 136hp and 395Nm of torque. 
You can read the review of the Kona here. 
Electric cars, SUVs from Rs 40 lakh-80 lakh 
Mini Cooper SE 
Price: Rs 47.20 lakh 
Range: 270km (WLTP cycle) 
Good: Fun to drive; oozing with character; zippy performance
Against: Limited usability; expensive
The Mini Cooper SE is a unique offering in the premium end of the EV market, thanks to its iconic design. Packing a 32.6kWh battery and an electric motor producing 184hp and 270Nm of torque, the SE comes with a promise of sporty performance and Mini's legendary go-kart-like handling. On a full charge, the Cooper SE can deliver a real-world range of 160-180km. 
Click here for our detailed impressions of the Mini Cooper SE. 
Kia EV6 
Price: Rs 59.50 lakh-64.59 lakh 
Range: 528km (WLTP cycle) 
Good: Outstanding performance; driver-oriented cockpit; innovative storage spaces
Bad: Knees-up rear seating; shared touch panel for infotainment and HVAC
Kia's first EV in the Indian market – the EV6 – is a stylish, premium crossover. Launched at a starting price of Rs 59.95 lakh, the EV6 in India comes with a sole 77.4kWh battery pack. It is available in a single-motor rear-wheel-drive guise making 229hp and 350Nm of torque and in a dual-motor all-wheel-drive guise making 325hp and 605Nm. The maximum range for the EV6 is 528km on the WLTP cycle. The EV6 is based on the Hyundai Group's E-GMP platform, which will also underpin the upcoming Hyundai Ioniq 5. 
You can read our review of the Kia EV6 here.
BMW i4 
Price: Rs 69.90 lakh 
Range: 590km (WLTP cycle) 
Good: Price; claimed range
Bad: Ground clearance; legacy interiors
BMW launched their second EV in the Indian market, the i4, with a WLTP range of 590km – the highest amongst all luxury EVs in India. The long-range is possible due to a large 83.9kWh battery pack. It powers the rear-axle-mounted electric motor, which produces 340hp and 430Nm of torque. BMW says the i4 can sprint from 0-100kph in 5.7sec and reach an electronically limited top speed of 190kph.
BMW has priced the i4 at Rs 69.90 lakh, which makes it cost Rs 4 lakh more than the straight-six powered BMW M340i and Rs 5 lakh pricier than the more premium 5 Series. Currently, there are no direct rivals to the i4 in our market. 
Electric cars, SUVs from Rs 80 lakh-1 crore  
Mercedes-Benz EQC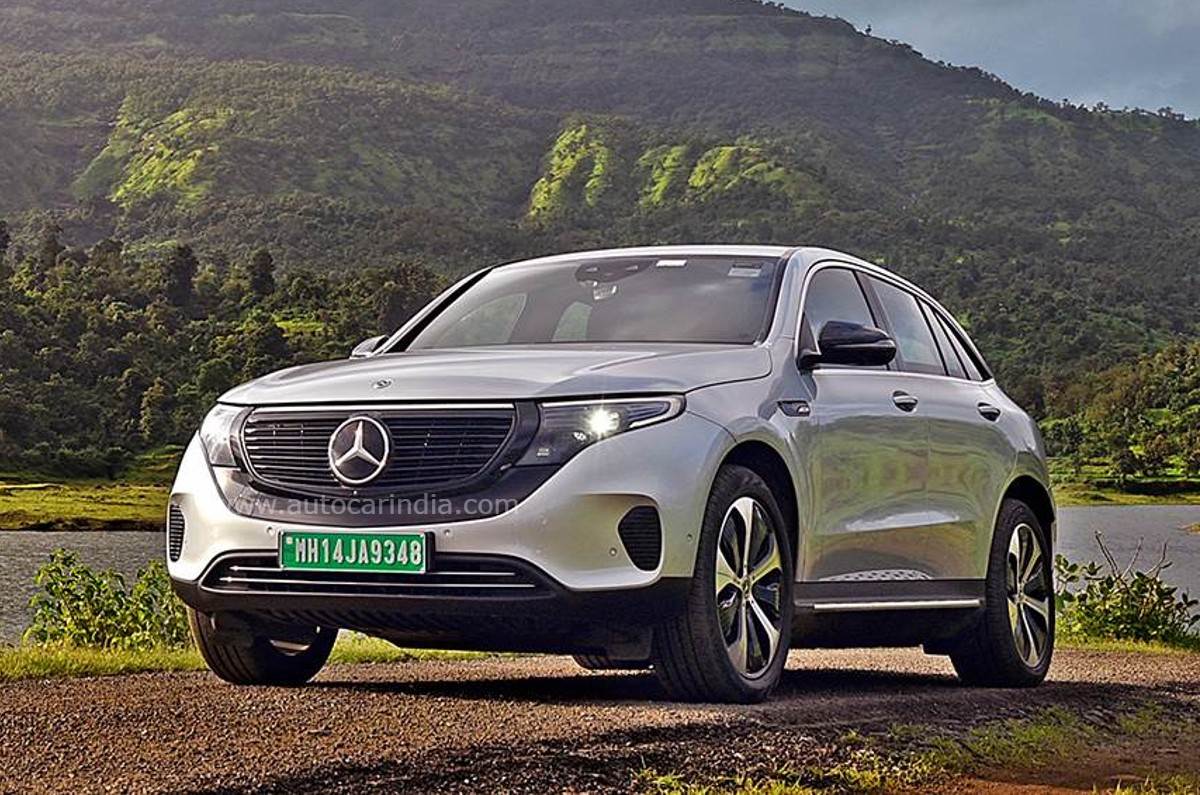 Price: Rs 99.5 lakh 
Range: 420km (WLTP cycle) 
Good: Performance; refinement; comfort 
Bad: Price; low ground clearance
Mercedes' first stand-alone electric car was also India's first luxury EV when it launched in 2020. Based on the same platform as the GLC, the EQC packs an 85kWh battery that gives it a WLTP-certified range of 400km on a single charge. The battery sends power to two electric motors – one on each axle – and combined they produce 408hp and 765Nm of torque. 
To read our review of the EQC, click here. 
Audi e-tron 
Price: Rs 99.99 lakh-1.08 crore 
Range: Up to 484km (WLTP cycle) 
Good: Smooth; strong performance; space and practicality; seamless regen function
Bad: Some missing equipment; styling a bit too conventional; limited outstation usability
The e-tron comes with two body styles – SUV and Sportback. Audi is also offering two variants in the e-tron – the 50, which gets two electric motors that produce a combined 313hp and 540Nm, and the 55, which also has a dual-motor layout producing 408hp and 664Nm. The lower powered version is available with a 71kWh battery pack that has a range of 264-379km (WLTP combined). The more powerful version comes with a bigger 95kWh battery pack and a WLTP range between 359-384km. 
You can read our comprehensive review of the e-tron here. 
Electric cars, SUVs from Rs 1 crore-1.5 crore
Jaguar I-Pace 
Price: Rs 1.06 crore-1.12 crore
Range: 470km (WLTP cycle) 
Good: Fun to drive; impressive range
Bad: Fiddly infotainment system; pricey
Jaguar's radically styled EV comes with a 90kWh battery pack that gives it a WLTP range of 480km. Power is sent to dual electric motors that make 400hp and 696Nm of torque. The I-Pace, with its cab-forward design, stubby nose and relatively low ride height, looks quite unconventional. The I-Pace was crowned the World Car of the Year in 2019, along with two other titles. 
You can read our detailed review here.
BMW iX
Price: Rs 1.13 crore
Range: 446km (ARAI certified) 
Good: Luxurious; minimalist interior; driving dynamics
Bad: Pricey; polarising looks 
The iX was BMW's first EV for India and it sets itself apart from other luxury EVs with its bold design and interiors that look like they belong to a concept car. The iX SUV is the flagship EV in BMW's portfolio and gets a 76.6kWh battery pack, giving it an ARAI-certified range of 446km. India gets the sole XDrive 40 variant, which uses dual electric motors that produce a combined 326hp of power and 630Nm of peak torque. The iX is priced at Rs 1.13 crore in India. 
Click here to read our review of the BMW iX. 
Porsche Taycan
Price: Rs 1.5 crore-2.3 crore 
Range: Up to 484km (WLTP cycle) 
Good: Fun; playful handling; comfy ride
Bad: Straight-line performance; range drops quickly
The Taycan comes to India in two body styles – the Taycan sedan and the Taycan Cross Turismo estate – and has seven variants in total. The standard rear-wheel-drive Taycan makes 408hp, while the top-spec Taycan Turbo S generates up to 761hp and 1,050Nm of peak torque, which makes it the most powerful EV on sale in India. The lower variants of the Taycan pack a 79.2kWh battery as standard, while the larger 93.4kWh battery pack is optional. The higher-spec Turbo and Turbo S variants are available solely with the 93.4kWh unit. 
We recently drove the standard RWD Taycan on Indian roads and you can read our impressions here. A few years back, we had also driven the Taycan Turbo S. You can check that review here.
Electric cars, SUVs from Rs 1.5 crore and above
Audi e-tron GT 
Price: Rs 1.80 crore-2.05 crore 
Range: Up to 500km (WLTP cycle) 
Good: Performance; green image
Against: Price 
Built on a bespoke electric, the e-tron GT comes in two variants. The standard model produces a combined 475hp and 630Nm of torque, with a boost mode taking the power up to 530hp. There's also the performance-oriented RS version that makes 646hp. It uses a 2-speed transmission with a short first gear for acceleration and a long-ratio second gear for efficiency. Both the models get a 93kWh battery pack, for which Audi claims a range of up to 500km for the standard e-tron GT and 481km for the RS e-tron GT, as per the WLTP cycle. 
The e-tron GT's stunning design, quick performance and keen handling impressed us when we drove it. For our review of the e-tron GT, you can click here and for our review of the RS e-tron GT, click here.
All prices, ex-showroom, India.
Also see: