Much like bonsai plants, the Ohvale GP-0 has many of the features of a full-size race bike, just miniaturised. So, of course, we could only send our most miniature rider to test it.
Published On May 13, 2022 07:00:00 AM
Nothing embodies the phrase 'big things come in small packages' quite like the motorcycle you see in these pictures. If you are a keen follower of motorsport on two wheels, then you know that everyone from up-and-coming pre-teen racers to Valentino Rossi himself is currently training on a brand of Italian minibikes called Ohvale. To find out just what it is about these bikes that's making th likes of MotoGP world champion Fabio Quartararo make a beeline for them, we tried one out in its natural habitat: a go-karting track. But in a few months' time, it could be you riding one of these machines, because the very first FIM MiniGP India Series is set to kick off soon, with the aim of finding India's first MotoGP star. The championship will be open to budding racers aged 10 to 14, with the top 2 finishers being flown to Valencia in October for the World Final, scheduled to take place alongside the MotoGP season finale.
If you don't fall within that age bracket, you needn't be too bummed, because the brand has also begun selling its motorcycles to anyone in India who wishes to buy one. If the size of these bikes has fooled you into thinking they're some sort of toy, the price tag will certainly shatter those illusions. The model line-up ranges from 110cc single-speed to 160cc and 190cc 4-speed machines, with prices starting at the Rs 7 lakh mark and going up to around Rs 11 lakh. The bike we rode was the GP-0 160 4-speed EVO, which produces 15hp, rolls on 10-inch wheels, and will cost you Rs 8.20 lakh. And all these numbers are before you factor in 28 percent GST. A large part of these eye-watering figures is down to our import duties, but even without those, the Ohvale line-up starts around the ¤4,000 mark (Rs 3.3 lakh) in its homeland.
The exquisitely machined rearsets are adjustable.
Once you get up close, though, you understand just why that is so. Yes, it's small in size, but everything about this bike is exquisite. Right from the materials used to the build quality and finish levels, and the spec of the hardware is absolutely top notch. It looks and feels exactly like you'd expect a hand-built Italian race bike to. The spec sheet is also pretty impressive: a 4-piston monobloc caliper upfront, an Arrow exhaust system, a fully adjustable monoshock and upside down fork (exclusive to the EVO variant; only preload is adjustable on the standard bike's fork).
First up, the obvious question. Will you fit on it? The short answer is yes. Obviously, space is at a premium, but the actual rider's triangle is surprisingly roomy and you have more space than you'd think. Doubtless, taller riders will feel a little cramped in the leg region, but ergonomics are adjustable (rearsets and clip-ons can be moved), and if Valentino Rossi can contort his near 6-foot frame onto this bike, you'll probably manage too. Besides, it's not the sort of thing you're going to be spending long hours on – these bikes aren't street-legal so usage will be limited to short stints on go-kart tracks.
The exquisitely machined rearsets are adjustable.
With the obvious difference in dimensions – especially the smaller wheels – it would be unreasonable to expect the little Ohvale to behave like a full-sized motorcycle. The way it tips into corners and can be flicked around is unlike anything else, and until you recalibrate your inputs to account for this lightness and reactivity, the bike can feel  twitchy and unstable. But that's part of what makes these bikes such fantastic training tools. The wiggles and wobbles that you'll experience in your initial laps aren't down to an inherent instability of the motorcycle – it's simply the bike highlighting and magnifying your poor inputs as a rider. Shift your body around just a little too aggressively or at the wrong time, and you will unsettle the bike. Any unnecessary force through the handlebar, and the bike will very loudly tell you that you're doing it wrong. All the minor infringements that a larger, heavier motorcycle will forgive and overlook, this bike will highlight. Conversely, it will reward your good inputs just as generously as it punishes the bad ones.
 
Start applying the correct riding techniques – use your legs to grip the bike, use your core strength to support your upper body, apply only necessary and adequate force to the handlebars, etc – and you'll have a massive grin on your face as you effortlessly enjoy the razor sharp handling and tremendous grip from the sticky bespoke PMT slicks. Really the only way to get a quick lap time on this bike is to be smooth, precise and basically textbook in your riding style. And once you master that technique and manage to go fast on this bike, I have no doubt that you can transfer that technique over to a full-sized motorcycle. A few laps on this bike, and you understand exactly why it's the training tool of choice for some of the best circuit racers in the world. Whether you're just starting out with track riding, or a master of the craft, there's always a big chunk of learning and a great deal of enjoyment on offer aboard one of these pocket rockets.
The 'rocket' part of that tag might seem a little far-fetched, with an air- and oil-cooled 160cc single producing 15hp. But, in reality, it feels more than adequate, and you're rarely left wanting for power in the tight and twisty confines of a go-kart track. All the controls feel exactly as you'd expect from a race bike – there is barely any play to speak of in the throttle, and once you twist it, response is super crisp, and fuelling from the Dell'Ortocarburettor is absolutely spot-on. If you're foolish enough to treat this bike like some sort of toy, a high-side crash is a distinct possibility, as many videos on Instagram will spectacularly demonstrate. But learn to be smooth with it, and you'll appreciate the chunky power delivery and meaty spread of drive across the rev range; you can even get away with being a gear too high sometimes. The shift pattern on the superbly precise 4-speed gearbox is all-down, which, not entirely coincidentally, is exactly what a modern-day MotoGP bike uses, just two gears less. The excellent braking set-up also does its bit to help you emulate your MotoGP heroes. Bite and modulation are available in spades, giving you the confidence and precision you need to start trail-braking all the way to the apex of tight corners.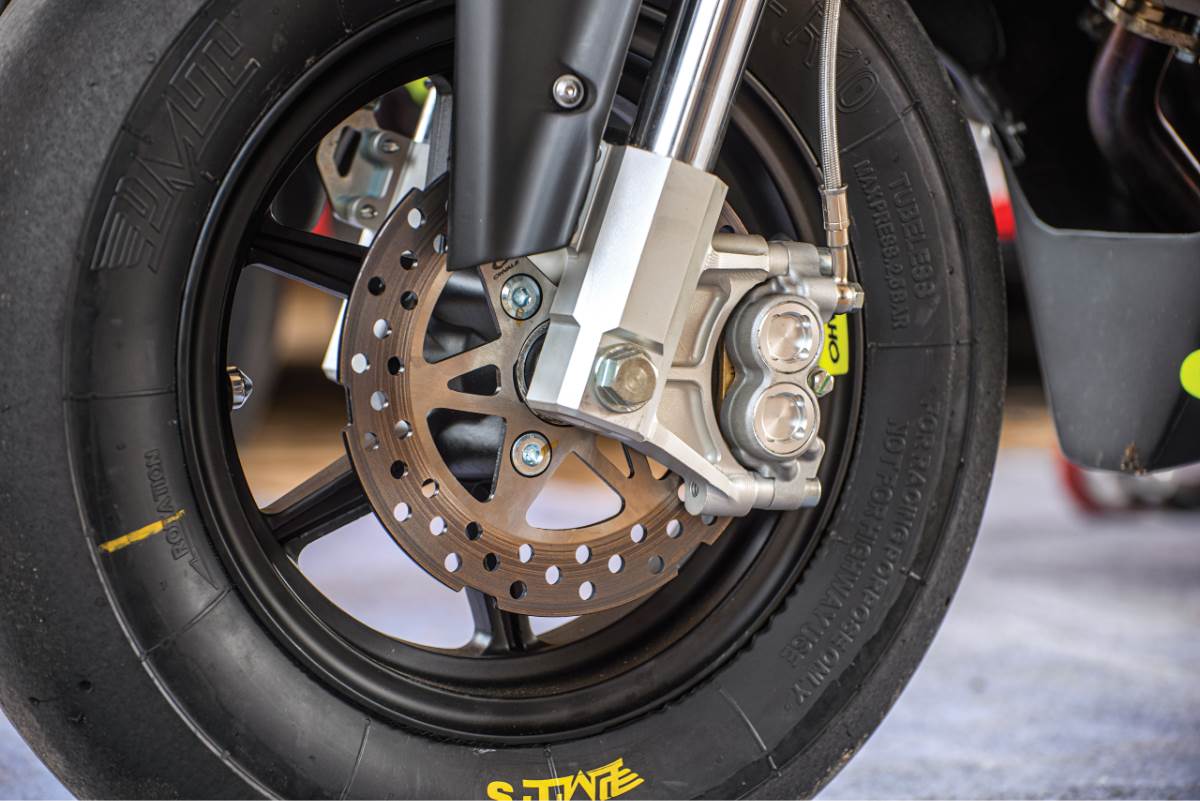 There is absolutely no getting around the fact that these motorcycles are an expensive proposition. In the form we rode it in, this motorcycle will cost you upwards of Rs 10.5 lakh by the time it's parked in your garage, and that seems like a very difficult figure to justify, at least on paper. That same amount, or less, could buy you exponentially quicker, more powerful motorcycles. But if you're serious about improving your track skills, the Ohvales will teach you more about track riding in a day than most big bikes will in a month. Then there's also the fact that it's usable on a far greater number of tracks (any decently sized karting circuit will do), while learning with a fraction of the risk (falls will be smaller and slower, and the bikes are designed to hold up well in the event of a crash). If you do have the luxury of being able to afford and justify one of these, there is absolutely nothing else like it on the market right now, and the rewards and enjoyment you get from riding one of these is truly unique.
 
Copyright (c) Autocar India. All rights reserved.