Ola Electric's modern Futurefactory lies at the forefront of the company's ambitions to upend how the automobile industry works. Rishaad Mody gets to visit.
Published On Jun 11, 2022 07:00:00 AM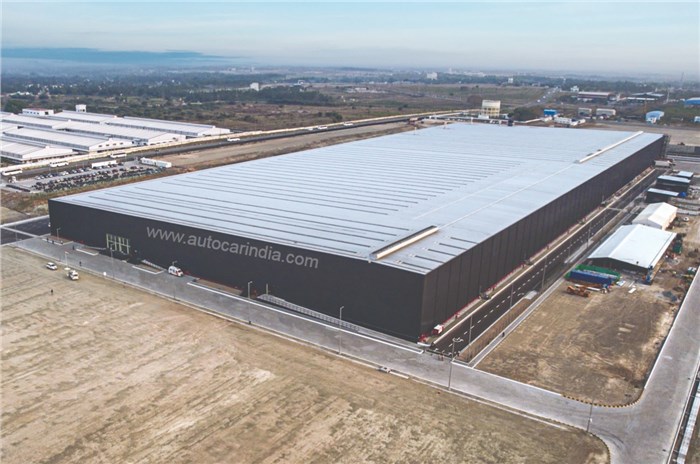 Ola Electric says it has 500 acres of land and can scale up to an annual capacity of 10 million units.
There are two things Ola Electric has in abundance – a well-known disdain for established auto industry timelines and a huge amount of funding to support that. Those two forces came together in a spectacular manner in the making of the company's brand new plant they call the Futurefactory. This facility went from being an empty piece of land in Krishnagiri district, Tamil Nadu to a functioning manufacturing unit in a matter of eight months. That's impressive, no matter which way you look at it, even if the initial days of manufacturing were in pretty low numbers.
We visited the plant on a Saturday, when there are two working shifts instead of three, but even so, many hundreds of scooters were made that day. The company says that it's approaching a capacity of 1,000 scooters a day and that its current installed capacity is half a million units per year. That number, we're told, is restricted thanks to battery shop constraints. The plant currently has one manufacturing line, but Ola has 500 acres of land, which is more than enough to scale all the way up to their enormous ambitions of ten lines and an annual capacity of ten million units per year.
The entire factory workforce is comprised of women and this kind of empowerment deserves applause.
The moment you walk into the facility, two things will stand out, or the lack thereof. It's surprisingly quiet for a manufacturing plant and with huge low-speed-high-volume fans installed all over the place, the air inside was humid, but far from unpleasant. This despite the searing summer heat and the fact that this whole building exterior is in a dark colour. Company founder Bhavish Aggarwal who led us around the plant also pointed out that there are PM2.5, PM10 and decibel measurements taken at six different locations. He then showed us a two-acre space that they plan to turn into an indoor forest area which seems like a wonderful idea. I wonder how they will be able to maintain the plant's near-clinical levels of cleanliness, because with the greenery generally come the birds and insects.
Another fantastic initiative is that almost all the employees, aside from some senior management, are women. Right from the security guards who ushered us in to the staff on the assembly line, to those at the paint and weld shops, and even the worker who rides the completed scooter off the line and onto the test dyno, everyone was a woman. This kind of empowerment deserves applause.
The battery packs are assembled in house in a fully automated process.
As you would expect from a brand new factory, especially one that has 'Future' in its name, a vast number of the processes here are automated. Perhaps the most visually impressive are the autonomous Novus Carry robots that tow trolleys filled with the required tools and sub-assemblies to the various stations on the assembly line. These robots are timed to arrive in perfect coordination with the speed of the line's movement and they function using LiDAR technology, so they know where they are and can immediately stop if someone were to cross their path.
Automated processes can also be seen in the battery pack assembly. Imported cells are sorted, arranged in the battery pack casings and then connected to each other using an advanced process called wire bonding. This is an ultrasonic friction welding process that uses no external heat to make the 244 connections between the cells in each 23kg battery pack and it takes place at room temperature. Ola claims to be the only two wheeler OEM in India using this alternative to the typical spot welding process and that it is otherwise used only by premium four-wheeler companies like Tesla.
The battery pack casing material that Ola has chosen to use is a special plastic that they claim is seven times more thermally conductive than conventional plastic. Nevertheless, this material is still several times less conductive than aluminium. The Ola S1 also has no active battery cooling method like some of its rivals, but the company lines the inner section of the pack with a thermally conductive paste.
Fully assembled battery packs await inspection before being installed in scooters on the manufacturing line.
For the chassis, 49 individual metal components come in from external suppliers, but the actual chassis welding is done in house. Following this, the frames are chemically treated for rust prevention before going through an advanced paint booth. There are 16 plastic body parts that get painted and the robotic painting arms are fed with ten lines of colours. These arms can quickly change colour which is probably why Ola is easily able to offer customers such a wide range of colours. The plant also has an advanced water recycling system.
As we walk through the plant, there are numerous instances where Aggarwal's sheer joy at his creation is clear to see and this facility is indeed something to be proud of. Of course, as advanced as a factory may be, it's ultimately only the product that customers will experience, and Ola still has significant issues in this regard.
The invited media had the rare opportunity to interact with the company founder after the visit was complete. The question I chose to ask was that while the product is undoubtedly impressive, even game-changing in many regards, there were also numerous issues, including the inability to consistently provide the promised performance in Hyper mode for more than a few minutes without thermal issues.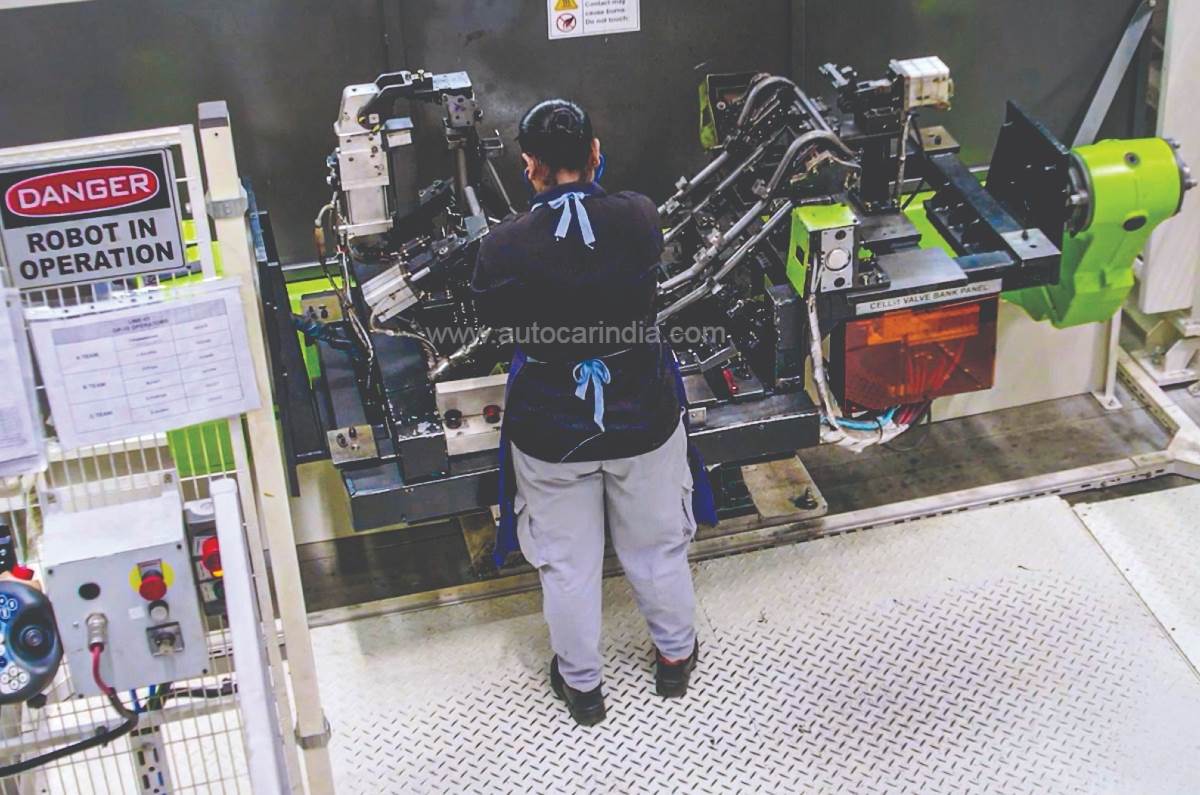 Ola's electric scooter chassis are all welded in the Futurefactory.
The response I got was to the tune that any automobile, whether ICE or electric, will face performance degradation and why we don't ask companies like Ather and others the same question. This went back and forth a couple of times, with me reasoning that we have test data to show that the Ather tested alongside the Ola had no such issues, but no clear answer was provided before the line of questioning was handed over to someone else.
Throughout the session, whenever a tough question was asked, it was generally brushed off with a response that effectively stated, we are already market leaders in the EV space and while there is some noise being created now because we are disruptors, that noise will soon die away.
The unfortunate truth, however, is that while there are many happy Ola owners, there are also scores facing issues with customer support, either during the unique direct purchase process, or with problematic scooters. A look under any of the tweets shared by the company and its founder will reveal just how many upset customers are out there.
LiDAR assisted robots move along the assembly line bringing tooling trolleys at just the right time.
On the very day I write this, Hormazd's brand new S1 Pro that has run less than 100km refused to start. He left it unused for ten days with 74 percent battery charge remaining, but came back from an overseas trip to a scooter with an absolutely flat battery where the all-important TFT screen wouldn't turn on. We hear that other customers who have faced a similar issue have had the entire battery replaced under warranty.
Ola has got many things right with its first EV, including the specs, features, comfort, promised performance and, most importantly, the price. Another big deal is Ola Electric being one of just four companies to qualify for the government's Production Linked Incentive (PLI) scheme for Advanced Chemistry Cell (ACC) Battery Storage.
All built in one day: Ola told us in end-April that it was approaching a capacity of 1,000 units a day.
But it would appear that no amount of financial might or outspoken bravado can cover the fact that the testing and validation period for a new automobile cannot be impatiently rushed through, especially in a riding environment as tough as ours. And yet, in the midst of the most rapid senior management exodus in recent industry history, the company is already talking about bringing its first car out in 2023, and starting a battery cell manufacturing plant in the next two to three years.
Ola Electric has all the makings of being a game changer, a force for positive change in the automobile industry. But to achieve that, it needs to focus a whole lot more on its existing product as well as the customer experience, which is something that is still to be seen.
Copyright (c) Autocar India. All rights reserved.