Say a big hello to the big new Scorpio N, Mahindra's all-new body-on-frame SUV that will help carry it way into the future. Revealed roughly 20 years after the original Scorpio was launched, the new Scorpio N shares no common parts with the current-generation Scorpio and Mahindra says it is bigger and better in almost every area. So much bigger, in fact, Mahindra calls it the Big Daddy of SUVs. So here are nine important tech and design highlights of the new Scorpio N you absolutely have to know. 
1. Mahindra Scorpio N is significantly larger, but lower 
Measuring 4,662mm long, 1,917 mm wide and built on a 2,750mm wheelbase, the Scorpio N is a substantial 206mm longer and 97mm wider than the earlier version. It has a 70mm longer wheelbase and, importantly, is significantly lower than the regular Scorpio. The overall height stands at 1,870mm versus the older model's 1,995mm, which should be good for overall stability and handling.    
2. Mahindra Scorpio N gets a new lighter chassis
Body-on-frame SUVs like the Scorpio N need to have the stiffest but lightest ladder frame chassis possible, and Mahindra has uprated the chassis on the Scorpio N. The new chassis is 10 percent lighter, at 213 kilograms, according to Mahindra, and for greater stiffness, 81 percent of it is now made of high-strength steel. Chassis apart, Mahindra also says it has also lowered the weight of the body by 13 percent, to 293Kgs.  
3. Mahindra Scorpio N gets a lighter suspension, variable dampers
The unsprung mass of the suspension, the parts not supported by the springs, has been reduced by 35 percent by using alloy parts. This improves ride and handling. At the rear, a new five-link suspension has been used and to aid stability, there's also a Ford Endeavour-like Watt's linkage that prevents the rear axle from moving laterally (side to side) under load. It also gets Frequency Dependent Dampers that turn supple over high-frequency bumps and stiffen around corners. 
4. Mahindra Scorpio N gets a 203hp petrol and 175hp diesel

Mahindra's 2.0-litre, four-cylinder mStallion petrol makes 203hp at 5,000rpm and 370Nm of torque. Versions equipped with the 6-speed torque converter automatic gearbox make a slightly higher 380Nm. Petrol versions will be rear-wheel drive only. The 2.2-litre mHawk diesel engine comes in two states of tune – 138hp (base variant) and 175hp. In its higher 175hp state of tune, the engine makes 370Nm of torque on the 6-speed manual, and 400Nm on the 6-speed automatic. 
5. Mahindra Scorpio N gets four wheel drive system
While the Scorpio N remains a fundamentally rear-wheel drive vehicle, 4X4 versions are available. While there's no petrol 4X4 yet, diesel versions do get four-wheel drive option. Known as 4Xplor, the new system includes a low range as well as terrain modes for the first time. These include normal, grass/gravel/snow, mud/ruts and sand. 
6. Mahindra Scorpio N's design incorporates several 'stings' 
What's a Scorpion without its sting? And Mahindra designers have used several in the new Scorpio N. There is a pair up front in the C-shaped brackets of the fog lights, and then around the side, designers have included a chrome-like 'flick-up' tail with a sting that extends from the shoulder line all the way around to the top of the window line. Neat.   
7. Mahindra Scorpio N can be bought in two seating configurations.
The Scorpio N will be offered in two seating configurations. While both will have three rows of seats, there is no version with sideways-facing seats. The standard version will get two seats up front, a three-seater bench on the second row and two seats on the third row. The 6-seat version has captain's chairs for the middle row, where both comfort and access to the third row would be better. 
8. Mahindra Scorpio N safety tech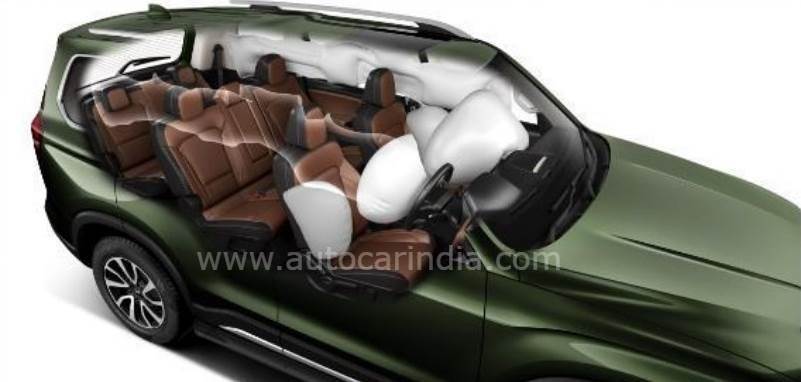 The Scorpio N gets six airbags, front and rear camera, front and rear parking sensors, traction control, hill hold control, and hill descent control. Electronic Stability Control, which prevents the SUV from skidding, is a big and important addition, and along with it comes Roll-Over mitigation, Brake Disc Wiping and Brake Prefill, which saves precious seconds before a collision. A tyre pressure monitoring system and driver drowsiness warning are included too.  
9. Mahindra Scorpio N tech features
The Scorpio N gets a long row of features. There are LED headlights, an electric sunroof, dual-zone climate control, keyless entry and go, cruise control, an 8.0-inch touchscreen, wireless Android Auto and Apple CarPlay, Alexa compatibility, wireless phone charging, connected tech, including remote engine start, and an 12-speaker Sony audio system. Cooled seats and a digital instrument panel are missing. 
Prices for the Scorpio-N start at Rs 11.99 lakh (ex-showroom) for the base Z2 petrol version, with the range-topping  Z8L priced at Rs 19.49 lakh. Do note that these prices are only for the manual versions while the prices of automatic and 4X4 variants will be announced on July 21. Bookings for the Scorpio N open on July 30.
Also read: