You can't go to a showroom and buy one, which begs the question: Will anyone buy a scooter without being able to touch and feel it? Well, that's the very reason I bought the Ola S1 Pro, my first scooter in 30 years.
Love them or hate them, there's no doubt that the upstart start-up, Ola Electric, has undoubtedly disrupted the two-wheeler EV market, and its audacious direct-to-home (D2H) sales model is more revolutionary than the bike. Does it work? None of our typical long-term tests would give the entire picture. So, to find out, I had to buy the Ola Pro S1, and that's exactly what I did.
Registered bike delivered to office, formalities completed in 15 minutes.
When bookings opened in July 2021, I quickly put down Rs 499 to reserve my scooter, and waited. And waited. Finally, eight months later, I took delivery of my Coral Glam red Ola S1 Pro. Yes, it was a very long wait, but to be honest, I don't hold that against Ola, because with the automotive world engulfed in a microchip shortage, it's not uncommon to see waiting periods long enough to have a baby. What could have been better is communication. There was radio silence after I paid the advance of Rs 20,000 on September 16, and I had no idea of how long my delivery was going to take. This was corroborated by the angst on social media for the lack of a satisfactory response and follow up from the company.
It's only after I made the full payment (Rs 90,793) on January 27 this year, and the Rs 59,550 FAME-II subsidy (subsequently credited back to my account) that I began to hear from the company on a more regular basis, via the app, email and telecalls. After coming home to physically take my signatures on the RTO forms (a process that is not digital yet), the scooter was delivered to my office on March 28.
Passcode unlock is unique and removes the need for a key.
The bike team popped down for the big moment. Big, because this is the first time a scooter was home delivered, or, in this case, office delivered. It rolled out of a small tempo; the Ola reps were prompt in taking my signatures and explaining the features of the scooter. All of this in 15 minutes flat. The scooter came fully registered, with two helmets, a 5A charger and a scooter cover as part of the price.
If all deliveries were smooth as mine (and social media suggests many are not), Ola Electric could make a Kodak out of dealers. But, let's be realistic, far-flung regions of the country can't be logistically as well served as Mumbai, and delivering or servicing a scooter in remote areas could be a challenge, especially when the numbers go up.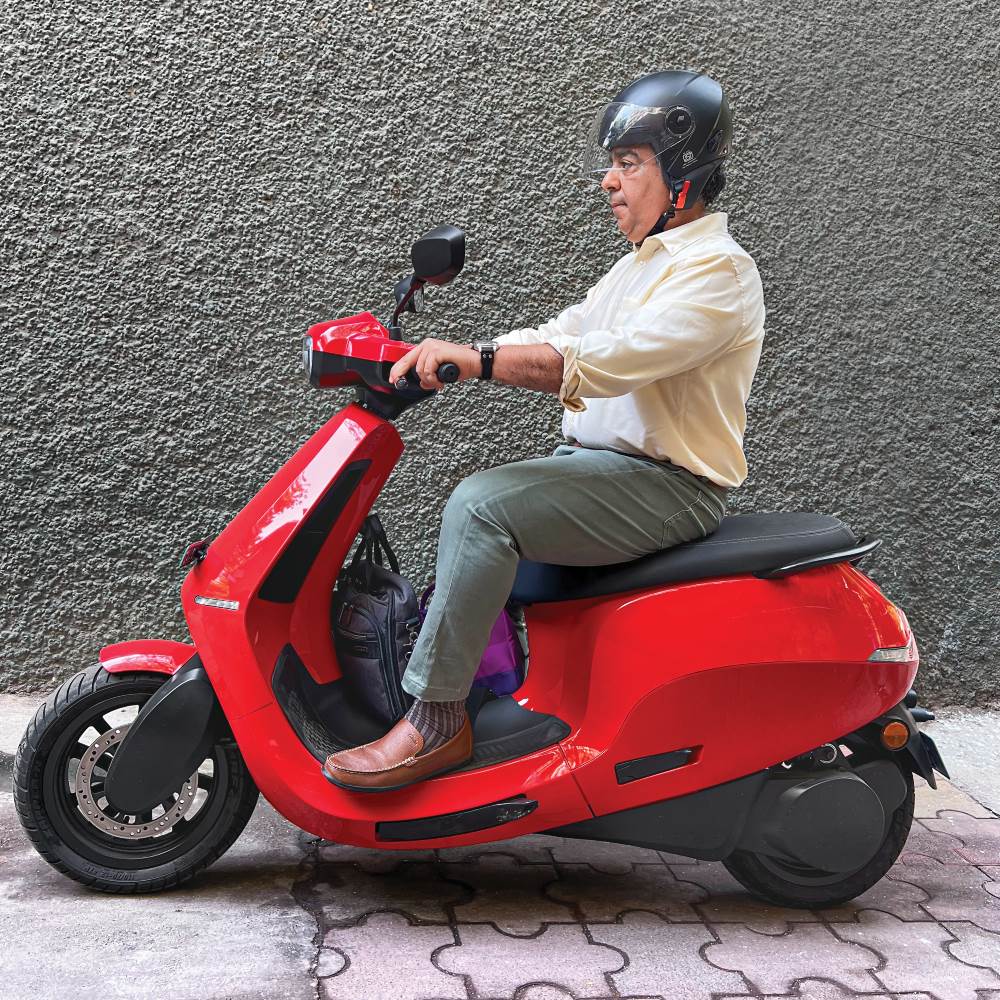 Miss not having the promised hill-hold feature on the steep slope at home.
Back to the scooter. It's a pretty high-tech product and I love the fact that it has no key. Passcode punched in, the scooter comes alive and is ready to go. Hyper mode is my default setting as my office to home run of just 7km doesn't worry me with the fast rate this mode eats the battery. Still, a range of 135km on the 7.0-inch screen, when fully charged and in Normal mode, is pretty good. I've hardly ridden the Pro S1 since I got it, but initial impressions are of a quick and incredibly easy to ride scooter, with instant torque to zap through traffic. The ride is a bit hard and I can feel every bump, but then I've come from 23-inch wheels and air suspension (drove the new Range Rover before I jumped on the S1 Pro) to 12-inch wheels, and from California's Napa Valley to Byculla's messed up roads. Hence, I will hold my final judgement on ride quality for another report.
Saddle flexes and doesn't align with lock easily.
Niggles? Living on a steep slope, I miss the hill-start feature that was promised (via OTA), but still not delivered. The seat doesn't shut easily because it's long and hinged right in the front, which results in a lot of flexing of the saddle. As a result, the seat hinge doesn't always line up with the lock, especially when the scooter is on the side stand, as the seat's weight drags it a bit off-centre and you have to wiggle it to align it with the lock.
To be honest, besides the infuriatingly long wait, buying and owning the Ola S1 Pro has been a pretty painless experience.