Three customers in three different states have reported that their single-sided front fork has broken.
Electric two-wheeler market leader Ola Electric has found itself in the spotlight once again, after a customer took to Twitter to report that his scooter's single-sided front fork has broken.
Sreenadh Menon from Guruvayur, Kerala, shared a picture of his blue Ola scooter with the front wheel (along with a small portion of the fork) completely broken. The front fork appears to have sheared at the point above the front tyre to the point of complete breakage, and the only thing still tethering the wheel to the scooter is the hydraulic front brake hose.
This was met with responses from at least two other customers claiming to have faced the same issue, and sharing similar pictures of their own. A red Ola scooter from Karnataka and a black one from Andhra Pradesh have both been shown in an almost identical state, with the front wheel broken away from the scooter and the front fork sheared and broken.
While we have no way of verifying exactly what transpired in these cases, three instances of near-identical issues in three different states does suggest that these may not be random isolated incidents. It is possible that there could be something wrong with the scooter's front fork, either in terms of design or material quality. The S1 Pro uses an unconventional single-sided front fork design, but this isn't a part that is built by Ola in-house – it is supplied by Gabriel, a large, reputed supplier of suspension components in India.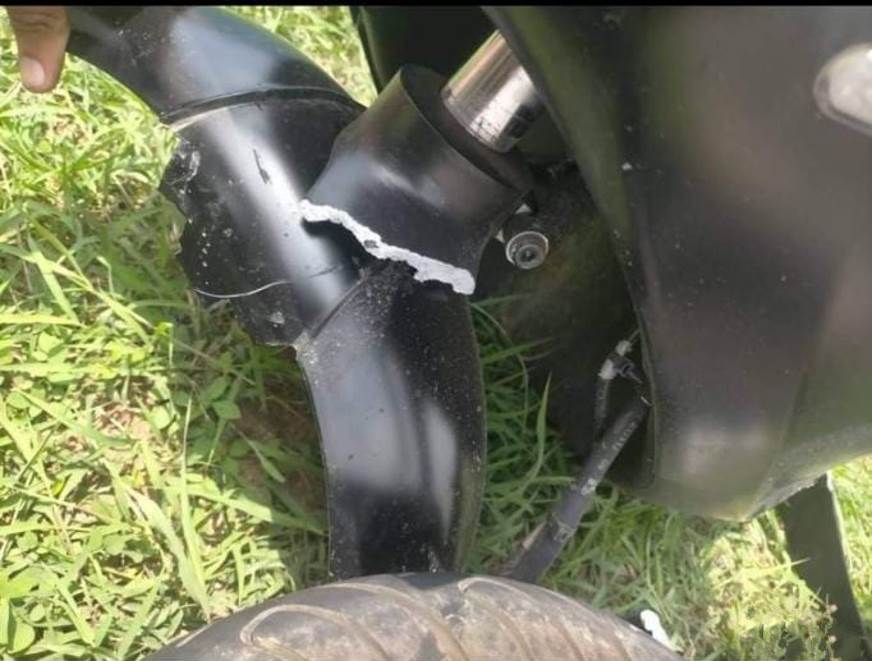 As of writing this, 34,522 Ola scooters have been registered on the government's VAHAN portal. Now that three separate cases have been shared online, we reached out to Ola for its official statement regarding these cases. In response, the company said, "Vehicle safety & quality standards are of paramount importance at Ola. Ola today has more than 50,000 scooters on the road. So far, our scooters have traveled over ~45 million cumulative kms on Indian roads. The recently reported incidents of front fork breakage are due to isolated high impact accidents. All our scooters undergo rigorous quality and performance assessment across different terrains and riding conditions in India."
This is the second serious flaw with the Ola S1 Pro after a few users shared instances of the scooter unexpectedly reversing without any speed limit, even when the TFT display shows that the scooter is in a forward riding mode. This is something we experienced as well, when we rode the Ola S1 Pro with its main rival the Ather 450X. The company has yet to make a statement regarding this issue.