It's a rare opportunity to ride with some of the country's fastest motorcycle riders and have them teach you how to improve.
Published On Jun 27, 2022 07:00:00 AM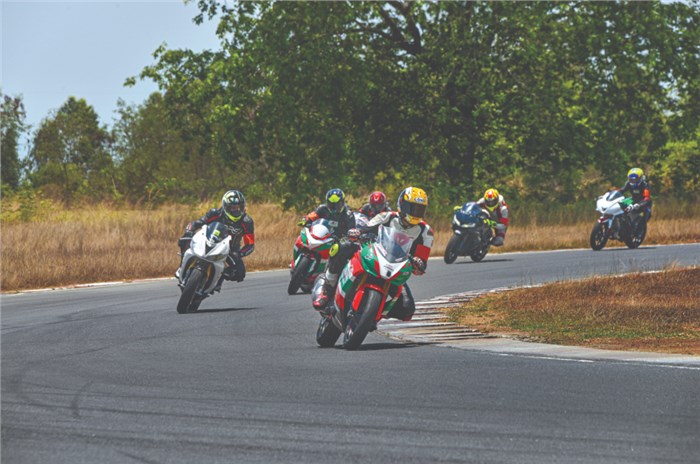 Coaches first demonstrate the correct technique for the students and then follow them individually to see if the lesson is being implemented correctly.
There were six sessions per day over the two-day event. Lessons were taught in the pitlane and then you'd get to practise them on track.
The one thing I have learned when it comes to riding motorcycles is that there is always more to learn. No matter how good a rider you believe you are, you can always be better. And I find that a visit to the racetrack never fails to reinforce this theory.
I've attended a few riding schools over the years, but RACR promises to be a little different. This is the only Indian riding school I can think of where pretty much every coach is a national level racing champion. Believe me, no matter how fast you think you are, these guys are way faster!
I like to think of myself as a fairly quick rider, but I know full well that there's a yawning gap between a professional racer's lap times and my own. To be as fast as these folks, you need to learn like they have, by relentlessly training, pushing beyond the limits and being okay with hurting yourself and your bike in the process. I have too much of a self-preservation mindset to be able to learn that way and that's why I'm completely at peace with not being that quick.
The RACR advantage
But when you get the rare opportunity to be on track with such skilled riders, have them watch your every move, and then report back to you in the pitlane about where you can improve – that's gold. This is exactly what I experienced while attending the two-day Level 3 training session at RACR.
Rajini's Academy of Competitive Racing, or RACR, is a school run by 10-time national champion and motorcycling legend Rajini Krishnan. The Level 1 and 2 school is what you'll have to attend first if you've never done this before, while Level 3 is the more advanced course. RACR sessions are conducted regularly at India's three premier race tracks – the BIC, the Kari Motor Speedway and the MMRT in Chennai.
Ten-time national champion Rajini Krishnan started RACR in 2015 and, as you'd expect, he's an absolute wealth of knowledge when it comes to pushing a motorcycle to the limit!
This session was held at Chennai and we had Supersport 300-400cc champion and all-round great guy Ami van Poederooijen training us in the pitlane classroom. He wasn't riding this weekend because he's still recovering from a nasty crash from the last season – these racers, I tell you! The lessons we learnt in the pits were put to practice on the track and we had six riding sessions per day, with 2015 national champ VishwadevMuraleedharan being my on-track coach.
The actual lessons being taught here are quite similar to those I've experienced in other schools, and that's no surprise because the fundamentals cannot change. I'll leave it for you to discover the details of these lessons on vision, body position, control and much more for when you attend the school yourself, but we'll talk about how those lessons were taught.
All the students in Level 3 had to have passed through Level 1 and 2 already, but many of them were still quite cautious and shaky out on track. On the other hand, we also had two young aspiring racers below 14 years of age who already compete on dirt bikes, but are now looking to try circuit racing.
All of us had different levels of pace and that was something the coaches were easily able to work around. I was riding one of the RACR instructor bikes, which is a completely stock Apache RR 310, except for some race bodywork, deactivated ABS and fantastic TVS ProTorq Extreme tyres.
Know your place
Day One came as a bit of a slap to the ego. Once Vishwarealised I was quicker than the other students, he spent some time riding with just me per session at a much higher pace. Try as hard as I could to keep up, he'd start to disappear very quickly. I was falling back in every corner and watching the sheer speed at which he could throw the bike into the entry of a corner damn near fried my brain.
One of the biggest eye-openers was having the coaches decode a recorded lap of your riding and show you exactly what can improve.
Vishwa and Ami are both very analytical, detail-oriented riders and it was fantastic talking to them in the pitlane about my confusions, doubts and sheer disbelief at how fast someone else could be on the exact same bike. It's easy to say, "Oh, I'm not fast enough", but the harder part is breaking it down into why and then trying to fix that. That's where the coaches make the difference and as always, it always comes down to the fundamentals.
Watching me ride, Vishwa could recognise that there were some basic things I wasn't doing consistently. In some corners, my counter-steer inputs (one of the greatest things you'll learn at a riding school) weren't fast enough. In other corners I wasn't using the screwdriver throttle grip (another life changing lesson) well enough, and in a few places, I just wasn't using the full width of the track. All techniques I already knew, but there it is…
Go Pro
The second day began with the coaches following us and recording a lap of our riding, which would then be analysed in the pitlane. This was an eye opener. Despite my cramping, unfit muscles screaming that they were contorted to the limit, the footage said otherwise. The feedback was that I could crouch down even more on the straights and get my upper body down even further in the corners. If someone simply told me that without the proof, I'd have probably dismissed it, but the camera never lies.
The rest of my day was spent slowly, but surely working on the issues pointed out to me. Learning to turn in faster, release the brake earlier, carry more corner entry speed and to do all of this slowly, step by step, without overwhelming my brain. By the end of the two-day session, I had two personal triumphs. The first was that I didn't scare myself even once and never had one of those, "Oh $#!*, I nearly crashed there" moments.
The second one was much sweeter – in one of the last sessions of day two, I asked Vishwa how I looked when he was following me and he replied that his tyres were quite worn and that he couldn't safely keep pace with me. Yes, yes, yes! I managed to outpace a racer on old tyres who wasn't pushing and didn't want to take any chances – what a win!
Seriously though, if you have a thirst to improve as a rider, RACR is a great place to quench it. Their prices are competitive, you can rent suits and bikes if you need to and the coaches are literally at the top of their game. Yes, a riding school is an expensive proposition, but it's also one of the most rewarding things you can do on two wheels. Go for it!
Images by Shajahan
Copyright (c) Autocar India. All rights reserved.