We loved the Skoda Slavia when we drove it. But can it better the long-standing benchmark – the Honda City
If you're ever been in the market for a midsized sedan, chances are you've at least had a good look at the Honda City, even if you've not ended up buying one. For over 20 years, the City has defined what a midsized sedan should be and it's been the model others in the segment are judged against. Today, too, the City has a target on its back and taking aim is the new Skoda Slavia. The Slavia might be the newbie here, but it's no underdog coming from a brand that has a rich heritage of making very desirable sedans.
Before we proceed with the comparison, a word on the versions in consideration first. Just as the petrol-only Slavia range has no like-for-like rival to the City diesel, there's no Honda alternative to the more powerful Slavia 1.5 TSI. For this contest, we've taken the City petrol CVT and its nearest Slavia equivalent in powertrain and price, the 1.0 TSI AT.
Technical Details
Skoda Slavia 1.0 TSI AT Style
Honda City 1.5 i-VTEC CVT ZX
L/W/H
4541/1752/1507mm
4549/1748/1489mm
Wheelbase
2651mm
2600mm
Engine
3cyl, 999cc, turbo-petrol
4cyl, 1498cc, petrol
Power
115hp at 5000-5500rpm
121hp at 6600rpm
Torque
178Nm at 1750-4500rpm
145Nm at 4300rpm
Gearbox
6-speed auto
7-step CVT
Kerb Weight
1240kg
1153kg
Ground clearance (unladen)
179mm
165mm
Boot capacity
521 litres
506 litres
Fuel tank capacity
45 litres
40 litres
Tyres
205/55 R16
185/55 R16
BRAG AND BAGGAGE
First things first. If your decision to go sedan is driven by the image they portray, you'll like what you see here. Both sedans are near-identical in size and, hence, large by class standards and deliver that all-important 'big car' feel you'd associate with the three box body style. It's the chiseled Slavia that, to my eyes at least, looks fresher and more appealing. It's sharply cut and that visual link to pricier Skoda sedans is clear. What does spoil the stance a bit is the prominent gap between the tyres and wheel arches, but there's no denying that the Slavia is a handsome car. The City has the more classic shape, and there's just the right amount of flash at the grille and lights to establish it as something premium. Yes, the design is evolutionary, but is that a bad thing? I don't think so. What doesn't work, though, are the City's undernourished 185 section tyres.
Both can accomodate large suitcases with ease. Slavia offers added flexibility with split/fold rear seats.
Both models score well in an area sedans are just expected to deliver in – luggage room. You'll be surprised by how many items of luggage the City's 506-litre and Slavia's 521-litre boots can each accommodate. The Slavia's boot does offer that little bit more space and brings the flexibility to carry long/awkwardly shaped items thanks to the 60:40 split folding rear seat backrest.
ON THE INSIDE
The Slavia and City have their unique highlights inside. The Slavia experience starts with that reassuring sound on door shut we've just come to expect from VW Group cars, and there's a very up-to-date, European vibe to the interior too. The dashboard is clean cut yet stylish (we aren't sold on the copper inserts though), the 2-spoke steering looks upmarket and there's a nice use of materials and textures throughout, even if there are no soft touch surfaces. Elements like the large 10-inch touchscreen, touch-operated AC controls (indents make them easy to use on the go) and digital instruments help the interior look current. Just wish the digital instrument's screen was larger and ran the width of the cluster. Slavia drivers will like their large seats and the very cool (literally so) inclusion of seat ventilation.
Slavia looks new-age and very European on the inside. Colours and textures used to good effect.
The City's front doors open to reveal sumptuous front seats, and they are just as comfy as they look. The cushioning is brilliant and what you'll also appreciate is the excellent driving position and great all round visibility thanks to the low dash cowl. Crisp digital instruments with customisable displays, and climate control knobs that rotate with satisfying clicks are other things that'll catch your attention inside the City. It is a premium-looking space too with leather inserts on the dash and doors upping the ambience. It's just that the soft materials sit amidst hard plastics, and then there's elements like the scratchy roof lining that isn't in keeping with the City's pricing.
Rear seat offers sofa-like comfort. Light colours lend an airy ambience inside.
Where the City has the edge is in rear seat comfort. For one, the rear section of its cabin comes across as an airier space, a feeling helped by the larger windows and greater use of lighter materials. Then there's the space on offer. Yes, the City has the shorter wheelbase of the two, but it's as generous as the Slavia in kneeroom, and actually feels more accomodating for three than the physically wider Skoda. The highlight, however, is the City's rear seat itself. It looks rich, is superbly padded and offers sofa-like comfort. The seating position is great for average-sized adults, but taller occupants will find that the upward sloping floor (designed to serve as a natural footrest) results in a slightly knees-up seating position.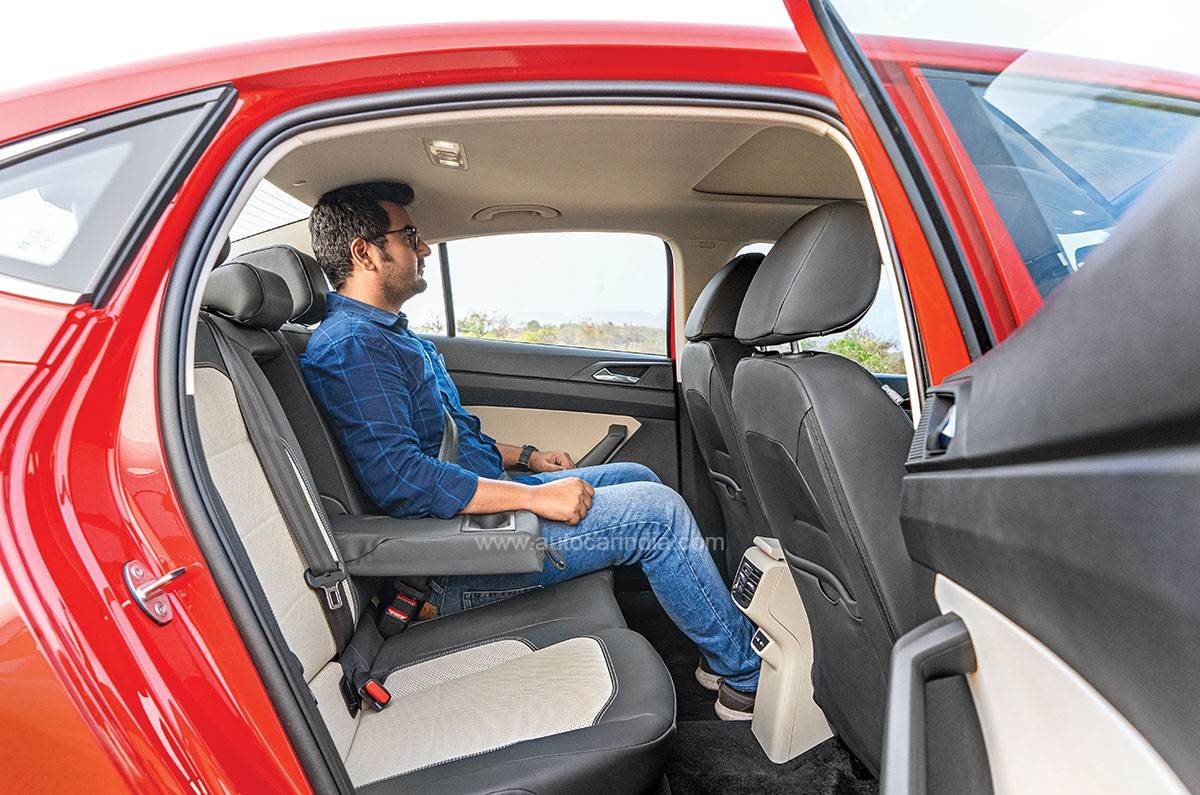 Rear seat is supportive, but contoured for two; there's lots of legroom on offer.
You sit lower in a Slavia and it's that little more of a drop down onto its rear seat. While not as cushy as the City's, the Slavia's rear seat is also nicely cushioned and offers good thigh and back support, slightly upright backrest notwithstanding. The well-positioned centre armrest (as opposed to the City's that's too low) aids comfort, and there's ample legroom too. There's marginally more headroom on the Slavia and taller occupants will like the inclusion of adjustable headrests at the back where the City makes do with large, fixed ones. It's when you're travelling five up that the middle passenger will have to make greater compromises in a Slavia thanks to the higher tunnel and the contouring of the seat.
City's air-con knowbs work with satisfying clicks. 
Of the other things, both cars offer plenty of room for storing small items, including pouches for your phone on the front seatbacks. We did find the City's air conditioning quicker to cool the cabin, though the Slavia gets temperatures in check shortly too.
LOAD 'EM UP
In their top-spec versions, both sedans are generous in what they get you. Auto LED headlamps, keyless entry and go, paddleshifters, sunroof, auto climate control and rear AC vents are some of the comfort features on both, while safety kit includes six airbags, ESC, traction control and ISOFIX child seat mounts.
Equipment
Skoda Slavia 1.0 TSI AT Style
Honda City 1.5 i-VTEC CVT ZX
Airbags
6
6
ESC
Yes
Yes
ISOFIX child seat mounts
Yes
Yes
LED headlamps
Yes
Yes
Touchscreen
10-inch
8-inch
Android Auto/Apple CarPlay
Wireless
Wired
Connected tech
Yes
Yes
Paddleshifters
Yes
Yes
Lane Watch Camera
No
Yes
Front seat ventilation
Yes
No
Sunroof
Yes
Yes
Auto climate control
Yes
Yes
Rear AC vents
Yes
Yes
Rear sunshade
No
Yes
Split fold seats
Yes
No
You do get certain extras on both with the Slavia's being more functional in nature. The Skoda's effective ventilated front seats, wireless Android Auto/Apple CarPlay, wireless phone charging, larger, slicker and more vibrant touchscreen, as well as the punchier sound system are features easy to get used to and things you'll appreciate every day.
Slavia's front seat ventilation is a big plus. 
Exclusive to the City is a handy retractable rear windscreen sunshade, auto up/down for all four windows (ironically offered on older Skodas, but not the Slavia) and it's also the Honda with the more comprehensive connected tech suite that, among other things, allows remote pre-cooling. A useful feature on our chaotic roads is the City's Lane Watch Camera that relays a feed of the left side blindspot on the main screen. Sadly, the touchscreen is dull in daylight and the side camera resolution is average – the latter is something that's true for both the City and Slavia's rear view cameras.
GET MOVING
A cursory glance at these cars' acceleration and kickdown numbers will suggest there's really not much between the two in performance. What the numbers don't reveal, however, is how differently the two go about the business of delivering the performance.
The City has the more responsive powertrain and the readier access to power makes it the friendlier car to drive in town. Honda's 121hp and 145Nm, 1.5-litre, four-cylinder, naturally aspirated engine is quick to react to small taps at the accelerator allowing you to ease your way past other vehicles, or make that traffic light. The 7-step CVT plays its supporting role well to get the most out of the engine, at least at lower speeds. You do hear more of the City's engine at all times and things get particularly loud when you press down hard on the accelerator, say when you want to overtake at higher speeds. Do so, and the rubber-band effect CVTs are notorious for – a sharp rise in revs with a less proportionate increase in road speed – comes into the picture to suck the fun out of the experience. What follows is a disconnected feel with the car, and even the paddleshifters to work through the seven steps of the gearbox only help so much.
Quite the opposite is the Skoda Slavia that feels its best on the open road. It's got the smaller engine, but turbocharging and direct injection help the 1.0-litre, 3-cylinder TSI unit punch well above its weight. Its 115hp is good, but it's the 178Nm of torque that's the star figure here. There's a thick slug of power from the mid-range right till 6,000rpm, and there's fun to be had exploiting it. The 6-speed torque converter automatic transmission is also quick to shift when you're driving with vigour, and you'll be tempted to make the most of the paddleshifters too. Keen drivers will sure find a better fit in the Slavia.
Performance
Skoda Slavia 1.0 TSI AT Style
Honda City 1.5 i-VTEC CVT ZX
PERFORMANCE
Acceleration (from rest)
Acceleration (from rest)
0-20kph
1.32s
1.41s
0-40kph
2.80s
3.32s
0-60kph
4.92s
5.45s
0-80kph
7.78s
8.19s
0-100kph
11.16s
11.85s
0-120kph
15.61s
16.79s
0-140kph
21.98s
24.10s
ACCELERATION IN GEAR
20-80 (kickdown)
6.60s
7.18s
40-100 (kickdown)
8.39s
8.57s
FUEL ECONOMY
City
10.5kpl
12kpl
Highway
13.4kpl
16.4kpl
It's in stop start, and slow moving city driving conditions that the Slavia plays second fiddle to the City. You have to contend with some lag at very low rpm, and the gearbox's programming to upshift early also entails some waiting when you do want quick power. You do learn to work around the Slavia powertrain's characteristics, but low speed power delivery is not as ready as the City's.
RIDE STUFF
Both cars will shield you well from the happenings beneath, but it's the Slavia that does the better job overall. It's got the quieter suspension and rounds off the bumps that crucial bit better too. The Slavia feels solid and tightly put together on the worst of roads, where the City can feel clunky on occasion. At higher speeds too, it's the Slavia that's more settled and more relaxing with significantly better noise insulation. You'll hear lots more road noise in the City even at moderate speeds.
Driving position is spot-on in the City. Cabin is pleasant and features soft touch surfaces. 
There's no contest when it comes to handling. Sure, the City changes direction well, but the Slavia is at another level when talking agility, confidence and sheer sense of connect at the steering wheel. At lower speeds, you won't have reason to complain in either, though the Slavia's steering is that little easier to twirl.
PRICE TO PAY
The Honda City CVT is available in three variants with prices starting at Rs 12.63 lakh, with this top-spec ZX version coming in at Rs 14.98 lakh. The Slavia 1.0 TSI AT, on the other hand, is available in two trims with prices starting at Rs 13.59 lakh, and this fully loaded Style costing Rs 15.39 lakh.
The City not only sports the lower price tag (albeit a digestible Rs 43,000), but also promises to be cheaper to run. In our city and highway test loops, the City CVT delivered 12kpl and 16.4kpl, respectively, easily bettering the Slavia's 10.5kpl/13.4kpl figures. And, going by the service cost estimators on the manufacturer's websites (hoorah for transparency!), you'll also spend a bit less on your City's service. Servicing your City CVT over five years will cost about Rs 28,500, while the figure is near Rs 40,000 for the Slavia 1.0 AT. Do note, the Slavia has a 15,000km service interval to the City's 10,000km interval, so service costs could equalise for buyers with lots of running. In terms of warranty, the Slavia comes with a standard four year or 1,00,000km plan, while the City gets you three years/unlimited km warranty. 
HEAD VS HEART
The Honda City has some inherent strengths. A responsive engine and gearbox make it a great city car, rear seat comfort is excellent, and it's also the City with the numbers on its side when talking buying and ownership costs. As is well established, the City is a car you can't go wrong with, and if you take a cold, hard look, it's the more level-headed buy.
Thing is, the City doesn't move you like the youthful and energetic Slavia does. The Slavia's lively engine and crisp handling make it the more engaging car to drive, and the one you'd look forward to take on long drives. It also has the new-age features you'd want and does well for itself on rear seat comfort too. Then there's that European build, the plusher ride and superior refinement that only help distance the Slavia from the City. The Skoda scores in the subjective parameters that typically have outsized weightage when deciding on a midsized sedan.
Price and verdict
Skoda Slavia
Honda City
Variant
1.0 TSI AT Style
1.5 i-VTEC CVT ZX
Price (ex-showroom, Delhi)
Rs 15.39 lakh
Rs 14.98 lakh
Verdict
Punchier and more exciting Slavia also feels more contemporary
A safe and sensible buy, but down on wow factor
Rating
9/10
8/10
Spend time in both and, like us, you'll find it's the Slavia that lures you, and the one you'd want to have to your name.