Despite what the name might suggest, the Triumph Tiger Sport 660 is strictly a road bike.
This is Triumph's latest motorcycle for India, and it has a very familiar sounding name – the Tiger Sport 660 – but this Tiger is unlike any other that the company has launched in India to date. 
The Tiger Sport name is something that Triumph has used in the past for a road-biased, ADV-style bike that was sold overseas. However, the new Tiger Sport 660 is the first of these bikes to be sold in India and in this case, it is based on Triumph's latest and smallest capacity machine, the Trident 660. To make matters even more confusing, this motorcycle is also completely unrelated to the Tiger 850 Sport that is currently available in India – the 850 makes similar power to the 660, but it is based on the same platform as the bigger, more off-road capable Tiger 900.
Triumph Tiger Sport 660: design, features and quality
The biggest difference between the new Tiger Sport 660 and its sibling, the Trident 660, is evident in what you see – this is a much bigger looking bike. With its larger fairing, 17-litre fuel tank and extra height, the Tiger Sport catches the sort of attention the compact Trident can only dream of. 
It looks sharp from the front, with a triangular face and sleek LED headlamps that would be easy to mistake for a Japanese motorcycle. The rear section is more familiar to the Trident, but this bike gets a longer subframe, which results in a much more spacious rider seat.
The pillion seat, however, isn't as large as some might expect, considering that this is meant to be a sport tourer, but there are some pannier attachment slots neatly integrated into the tail. However, the belly pan and engine protectors you see on this bike are both optional extras.
With its huge handlebar risers, the Tiger Sport's riding position is upright, open and spacious. The windscreen worked decently well for me in its low position, although we'd have to spend more time at highway speeds to know for sure. With a seat height of 835mm, it's a little tall, but the bike doesn't feel as large or top heavy like a Kawasaki Versys 650. At 206kg, the Tiger Sport is also the lightest bike in its class.
The Tiger gets a similar colour TFT display as the Trident 660.
The display layout is a little different to the Trident 660, but the actual screens are very similar. The Triumph website lists this as a TFT display, but it is quite a simple looking unit that is mostly black and white, with only a little colour seen here and there. This bike also has the optional Bluetooth connectivity module, which enables functions like music control and navigation assists. 
In terms of features, it's a similar story to the Trident, with self-cancelling indicators, two riding modes (Road and Rain) and a switchable traction control system. 
Quality levels are acceptable for the price, although the windscreen did tend to rattle a little when riding on rough roads.
The Tiger Sport certainly feels more premium than the Trident, but there are a few issues. For one, the 'intake' between the headlamps is fake and I don't know how I feel about fake air intakes on a sporty motorcycle. Then there's the push and pull windscreen adjust mechanism that feels a bit hard to use, and it's definitely not easy to slot into the exact spot that you want. A little further back, the clutch cable is routed right over where your hand would normally go to find the ignition key. There's also the fact that even at this price, the clutch lever is non-adjustable, and I found that it extended a bit too far out. And finally, there's the seat cover that doesn't fit flush against the rider's seat but is stretched tight in the air above it.
Triumph Tiger Sport 660: engine and performance
With that out of the way, let's get to what is undoubtedly the biggest draw of this motorcycle – its engine. The 660cc, three-cylinder engine is taken straight from the Trident and has exactly the same power and torque and even the same gearing. That's actually quite a good thing because when we rode the Trident, we appreciated what a strong mid-range it had and how effortless it was to ride at any speed. That character really suits a bike like this. 
When compared with its 650cc rivals, it not only makes more power, but also a little bit more torque. And it's the sheer tractability of this engine that you will enjoy most. The low-speed throttle response is quite smooth and the low- to mid-range performance is superb – you really can ride about in as high a gear as you like. We often found ourselves in sixth gear at 35kph or even climbing some of the hilly stretches around Dehradun and Mussoorie with the engine in fourth or fifth gear the whole time. Our bike had an optional quickshifter installed (again, at this price, it should have been standard), which only added to the sense of ease and enjoyment
We spent our whole day in the hills, where the Tiger's short gearing was a joy. However, if you plan to spend a lot of time at high speeds on the highway, you might want to look into making some changes to the sprocket sizes because I suspect the RPMs could get quite high at fast cruising speeds.
Nevertheless, this tractability makes the Tiger Sport easy and effortless to ride in most situations. It's also a great sounding engine; its sporty exhaust sound is going to be one of the bike's big draws. 
The Tiger has the same gearing as the Trident 660.
However, like the Trident, the engine feels buzzy when you cross 6,000rpm and there's quite a bit of vibration in the handlebar and pegs. The motor also produces a noticeable amount of heat, and the clutch lever is on the heavy side. 
Overall, this smaller triple definitely isn't as smooth and free-revving as the motor in the Street Triple 765. Thankfully, the wonderful mid-range means you really won't be revving it out too high most of the time.
Triumph Tiger Sport 660: chassis, comfort and handling
The Tiger Sport's chassis is quite similar to the Trident's, but it has slightly sharper steering geometry, a longer wheelbase and a different swingarm. The change that will mean the most to customers, however, is that the suspension is different. This bike gets more travel, and it also has a very convenient remote preload adjuster. Now, with this extra suspension, you'd expect this motorcycle to be a nice plus, something like the Versys 650 which is one of its rivals. And to some extent, it is. But it's not as good as we hoped it would be.
With 150mm of suspension travel at both ends, the Tiger Sport has a similar set-up to the Versys 650. And on smooth roads, it has a nice soft and floaty feel that many will like and expect from their touring machine. Unfortunately, it doesn't deal with bigger bumps and potholes as well as we'd like, and it tends to thud through rather than absorb. It's not horribly uncomfortable by any means and the bike has enough ground clearance to get you through rough and broken roads without stress, but it's just not as impressive as the Versys 650 in this area. The suspension also has no adjustability, apart from preload at the rear.
With its 17-inch wheels and superbike-wide tyres, this is no off-road machine, but as far as handling goes, there is quite a lot of potential for fun. The bike feels easy, encouraging and willing to make direction changes without much effort. You can push it quite hard and have a good time, but if you're the sort of rider who enjoys riding aggressively and pushing the bike to the limit, this is not the motorcycle for you. That's when the soft suspension starts to bounce, reminding you that this is a bike that prefers being ridden quickly, rather than as fast as possible. 
Special mention must go to the excellent Michelin Road 5 tyres that give you so much feel and confidence that you can continue to push even when the suspension starts to get unsettled.
As for the brakes, they reflect the character of the motorcycle. They're not very sharp or immediate, but once you pull further on the lever, there's a good amount of power and feel available. 
Triumph Tiger Sport 660: Should you buy it?
Ultimately, the Tiger Sport 660 makes for a comfortable, yet engaging sports tourer, but it feels a little too expensive, especially when you consider that the suspension is good, but not 'Tiger good'. At an introductory price of just under Rs 9 lakh (ex-showroom), it already costs more than the Kawasaki Z900 and is currently just Rs 20,000 less than the Triumph Street Triple R. Yes, both are naked bikes, but they're also far much more capable, better equipped and produce about 40 horsepower more.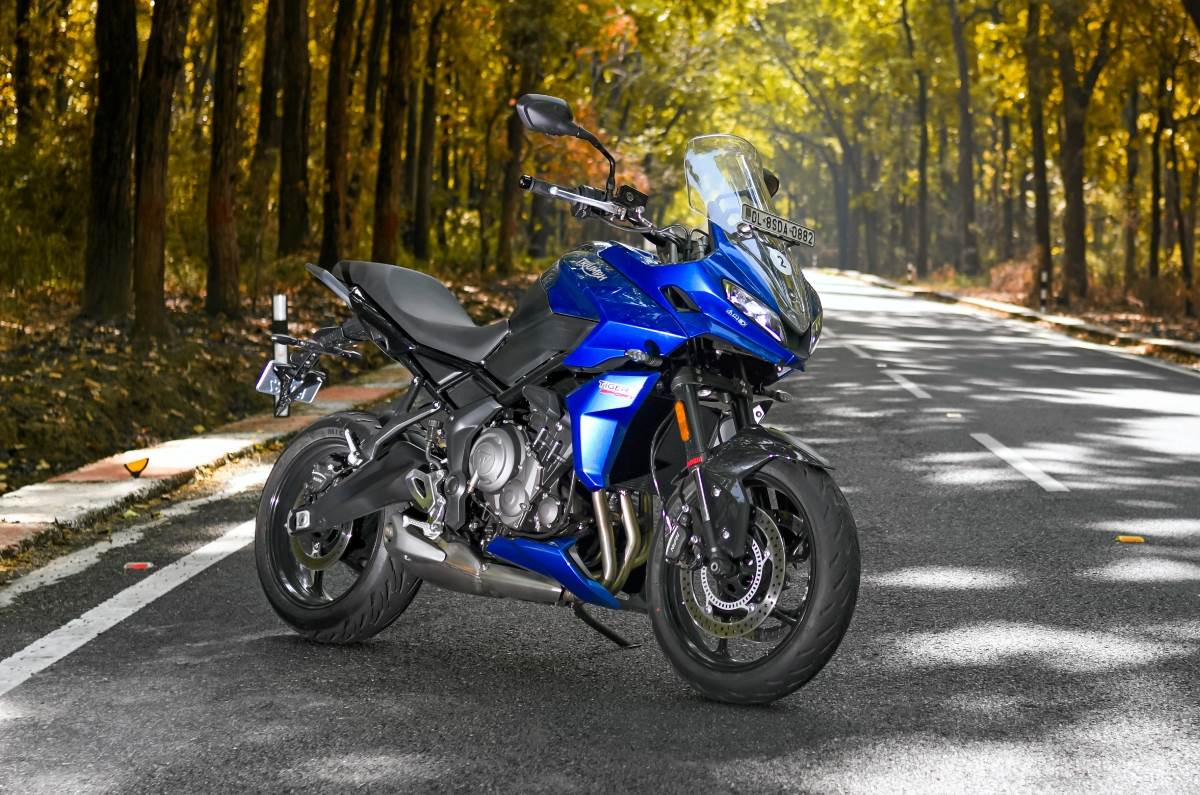 This motorcycle is a little more expensive than we hoped it would be. Then again, it fits neatly into the market, around Rs 2 lakh above the Kawasaki Versys 650 and around the same amount below the BMW F900XR, which are both road-biased, ADV-style tourers. 
At a similar price, you could also have Suzuki's excellent (and, unfortunately, also highly overpriced) V-Strom 650, but that bike has a 19-inch front wheel and it's more of an adventure motorcycle. The Tiger Sport is strictly a road bike and it's all about the three-cylinder engine and the looks that it has to offer. 
Also see: