Dreaming of a big bike? A used Suzuki Hayabusa should tick all the boxes for you.
Good for: Collectible, performance, versatility
Look out for: Rattly plastics, warning lights, accident history
The Suzuki GSX-1300R Hayabusa is perhaps the single most recognised big bike in the world. Having etched its name into motorcycle history books as the fastest production motorcycle in the world – at the time of its launch – the Hayabusa today enjoys a cult following, for all the right reasons.
Should you really buy a used Hayabusa?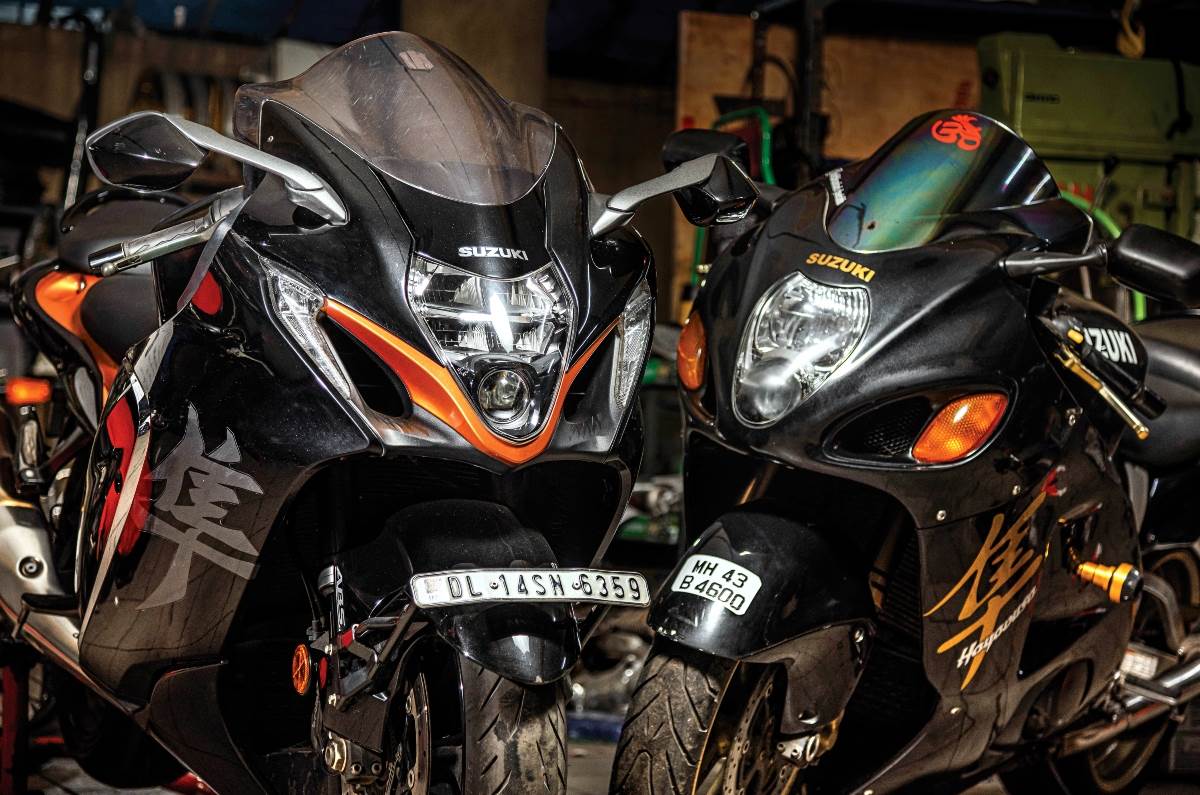 The latest-gen Suzuki Hayabusa (left) and the first-gen model (right).
Yes, for a few good reasons. Firstly, the latest-gen Hayabusa is in limited supply in India, which results in enormous waiting periods for those looking to buy them brand new. Secondly, the latest 'Busa is perceived as a bit 'soft' in comparison to its predecessors, given that it is laden with the best of rider assists and is, therefore, not as irreverent as the two generations before it. Lastly, given the success of the Hayabusa in India, you really do have quite a few options to pick from in the used bike market. The fastest bike in the world for Rs 5 lakh? It's quite possible!
Which Hayabusa model should you buy?
Although the Hayabusa was globally released in 1999, it was the second generation that officially made its way to India in 2009. Yes, a decade after the world had already experienced Hayabusa magic! While big bikes with an Indian invoice are naturally the preferred choice, more than a handful of the 'unofficial' bikes were registered legally owing to their desirability and value as collectibles.
For sheer posterity, and to own a page of motorcycling history, it's the first-gen Hayabusa you should be aiming for. Of course, the first-gen bikes are now over two decades old – so they will come with their share of problems to solve – but if you're keen and insistent on going down the path of nostalgia, no other generation of the Hayabusa will satisfy you as much.
The second-gen model was still very much a Hayabusa in character, and barring revised (and to some, more palatable) styling, this 'Busa lost nothing in soul and spirit. From 2013 onwards, the second gen 'Busa also came equipped with ABS (Can you believe it? A 320kph bike with no anti-lock brakes!), which may be preferable to those of you who want old-world speed, but with the safety net of a perfectly modern motorcycle.
What should you look out for?
Given the friendly, approachable demeanor of the Hayabusa, most bikes are ridden extensively. Be it in the city or on really long rides – or even on a racetrack – the Hayabusa is a delightful companion that ensures you miss no opportunity to have fun. As a result, most Hayabusas you will find are likely to also be high-mileage examples.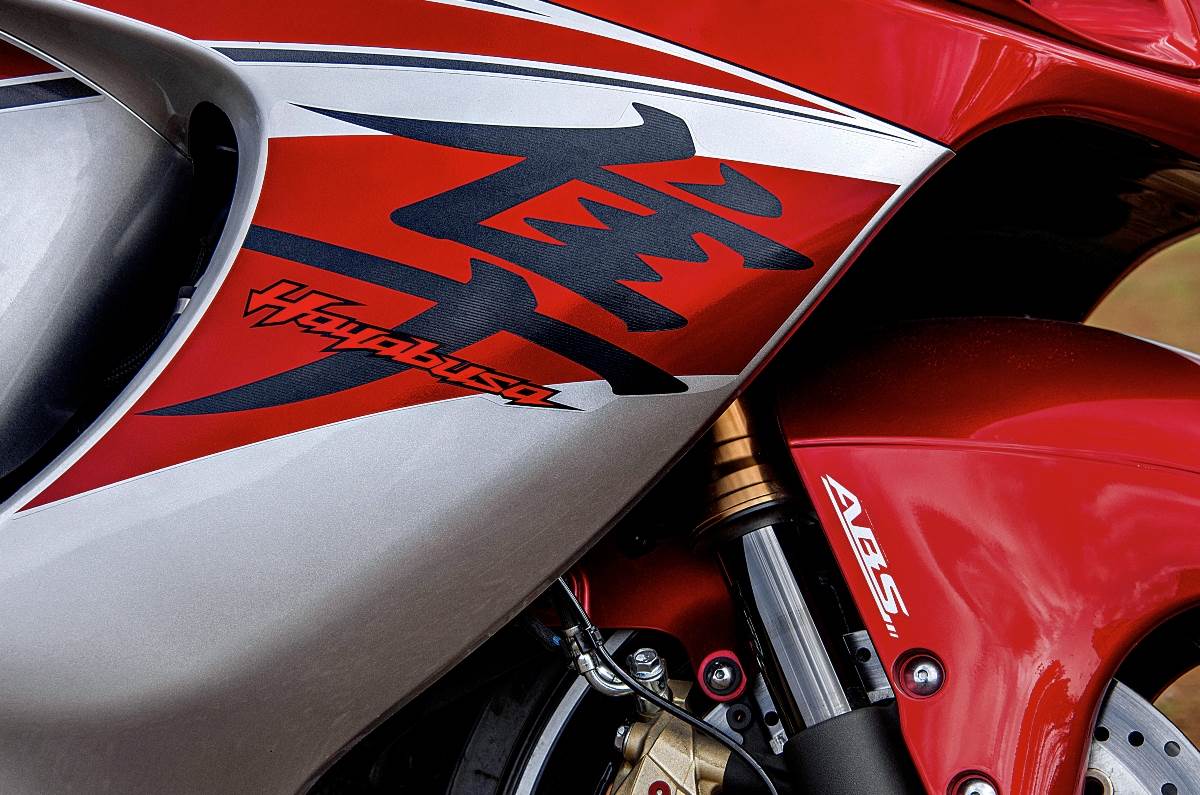 Check for any rattles from the fairing.
Firstly, give the bodywork a thorough examination. Mounting points for the fairing are prone to cracking given our unruly road conditions, and rattly bodywork is a sign of one or more of these points having given way. Mending broken plastics is tough and expensive, and be prepared to shell out ample dough for replacement parts – which may not necessarily be available off the shelf. While most Hayabusas are old enough to warrant a repaint given their age, do your best to understand whether the fresh coat of paint was preceded by an incident. You may not get the answers you're looking for, but hey, it's a great point to knock a few grands off the asking price anyway!
The parts bin
Take all warning lights extremely seriously. The Hayabusa is among the machines that showcased the pinnacle of motorcycle engineering and fixes require time, money and absolute meticulousness. Also, given its effortless acceleration, there's all the more reason to ensure your Hayabusa is in perfect mechanical condition. While the international market has ample supply of spares, getting your hands on them (especially for the first gen) may be an expensive affair. Spares for the second gen, however, are in decent supply even in India.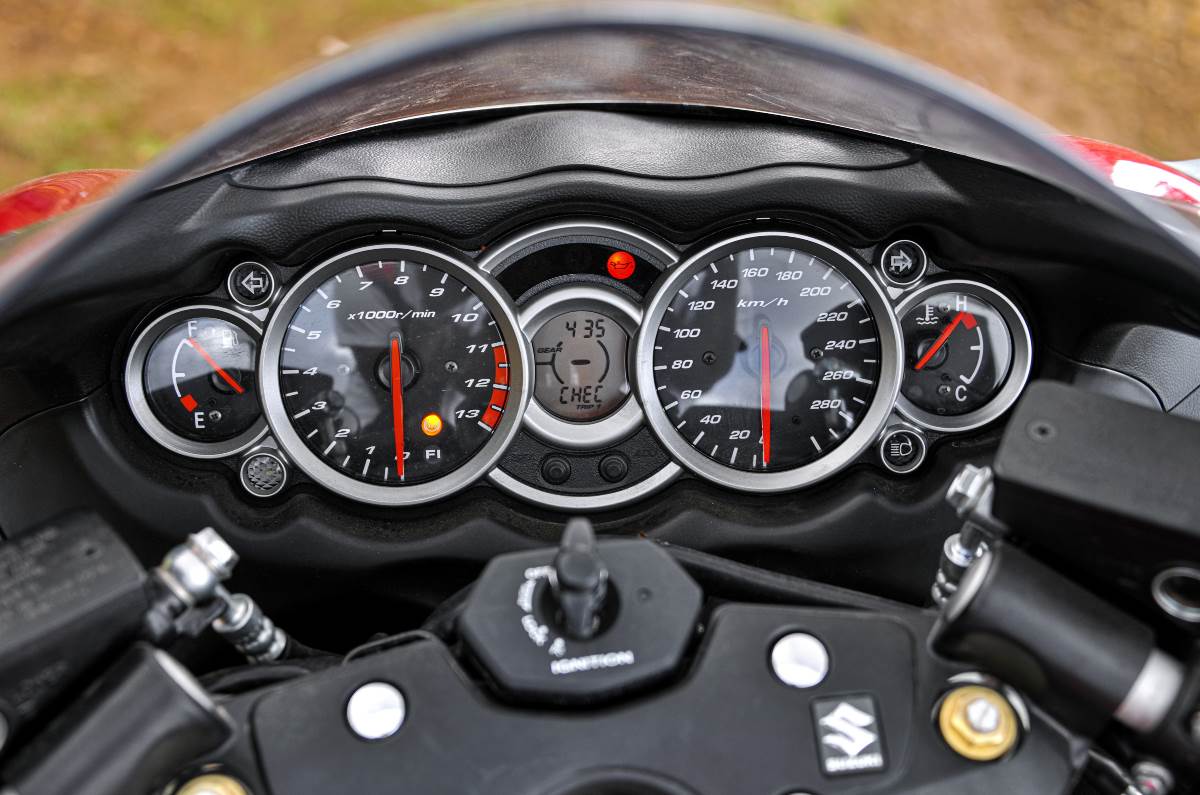 Pay close attention to any warning lights on the dash.
Crucially, while it may be tough to determine this without the supervision of a mechanical expert, do thoroughly examine the accident history of the bike. Again, given the high-performance nature of this machine, don't settle for a structurally compromised bike, tempted by a mouth-watering low price tag and the opportunity to fulfill a boyhood dream. Also, given the recent restrictions on tyre imports, ensure yourself a steady supply of fresh rubber – the Hayabusa eats them as if it were going out of fashion! Hey, how's that for a befitting '90s cliche?