After over half a decade of having a little playground all to itself, the Royal Enfield Himalayan now faces its most direct competitor yet. We investigate.
Two old rivals square off in the modern age, promising to offer adventure – just as they did all those years ago. Their methods of going about it, contrasting, just as they were all those years ago. Once a maker of two-stroke pocket rockets that harassed the thumpers of their day, Yezdi today wields a tool called the Adventure – a liquid-cooled, 30hp, 30Nm adventure tourer – to take on Royal Enfield. The old foe's Himalayan – seemingly the knife in this gunfight – remains faithful to the company's manual for building motorcycles: a long-stroke, air-cooled single.
Its handicap status, earned by a modest 24hp power figure, is somewhat negated by the torque department, where it betters the Yezdi slightly. Around the two dissimilar engines, the adversaries have built very similar motorcycles; at least according to the metrics on the spec sheets. With keys in slots and backsides on saddles, a cookie is about to crumble.
MIGHT IS RIGHT
You don't need to be the keenest reader to know that I'm stating the obvious here, but it's the new challenger that's the noticeably quicker motorcycle. The Yezdi Adventure has all the verve and vigour that you'd associate with a newcomer. Our faithful old VBox agrees with me, dutifully telling us that it completes the 100kph sprint almost 2 seconds quicker than the Himalayan. But since we're endeavouring to go beyond the spec sheet, now is probably a good time to tell you that the Enfield's engine isn't a complete write-off. Far from it, in fact.
Long-standing power deficit notwithstanding, the LS410 remains a gem of an engine, retaining its state-of-mind altering quality. A trait that's afforded by the effortlessness with which it delivers heaped spoonfuls of torque. And most of those are served up in the accessible realms of its unpretentious analogue tachometer. A trait that makes it a rather forgivable motorcycle off-road. Struggling to make a gearshift in this standing-up riding position that's still alien to you? That tractability has got you covered, just as it has when you're trundling around the city, battling its slightly heavy clutch. It has high-speed strengths, too, achieving an air of serenity at an effortless, vibration-free 100kph cruise. Although anything much more than this is noticeably laborious for the motor.
If speed is your drug of choice, then the Yezdi Adventure is the preferable syringe. It can sit pretty at speeds where the Himalayan begins to run out of breath, so if your definition of adventure involves riding quickly to facilitate seeing more places, here's your answer. Just know that the engine will match your thirst for speed with its thirst for fuel. It isn't as unstressed as its rival either, demanding larger oscillations of the imaginary tachometer needle (it has an all-digital cluster) to achieve its speed, and letting you know with haptic feedback once you're in its higher reaches. That said, the vibrations aren't quite as inhibiting as they are on its sibling, the Scrambler, and they only make themselves felt upwards of 6,000rpm.
RIDE OUT THE STORM
Differences tackled, it's time to dive into an area of similarities (or at least so it seems on paper). The two spec sheets absolutely mirror each other when it comes to wheel sizes, wheelbase, suspension travel and ground clearance. There's little to differentiate them in terms of tyres and weight either. There's lots to differentiate them from the saddle, though.
Never breaking character for an instant, the Himalayan's unhurried demeanour is always at the fore. You're greeted by slightly lazy, heavy steering; and if you try to brute force your way past it, the bike will let you know by going into a gentle weave when cornering hard. Neither of these bikes are meant to be corner-carvers, of course, but the Yezdi is a far more willing playmate if the sight of some inviting twisties lets your enthusiasm get the better of you.
RE wasn't kidding when it said its bike was meant to take on all roads and no roads – the Himalayan makes good use of its ample suspension travel to keep you well isolated from whatever may be underneath. And when that ceases to be a road, the Himalayan does a good job of maintaining its composure off-road. You'll be the one put to the test instead – the heavy feel at the handlebar means you'll need to muscle the bike around a little to keep it on track. Aiding you in this labour is a riding position that's roomier than its rival's (something that makes the Himalayan the slightly more comfortable steed, both on the road and off it).
Lest its zippy performance should tire you out, Yezdi has given the Adventure an even more plush and comfortable suspension set-up than the Himalayan (though it's the RE's seat and riding position that's better at fending off fatigue). More bumps steamrolled, fewer jolts to your backside and less windblast are what you'll feel on the Adventure, along with a much sharper braking set-up. But once the tarmac ends, its softness gives it an affinity for scratching its belly on big rocks (sounds like a Jungle Book character, eh?) The good news is that its lighter steering means you should be able to place the bike more precisely and avoid said rocks in the first place.
THE IMITATION GAME
We've managed to tip-toe around it thus far, but the elephant in the room is now trumpeting rather loudly, demanding to be addressed. And so we must concede that the Yezdi Adventure looks uncannily similar to the Himalayan. Perhaps disappointingly so. After all, its predecessors looked very little like the Enfields that they squared up against. So why should this bike flatter its opposition with imitation? But while squinting at them from a distance may give you the illusion of indistinguishability, a closer look reveals some key differences.
For one, the shape of the Yezdi's fuel tank is noticeably different, and more closely resembles those of its own predecessors. Nod its head and you'll see that the instrument cluster and headlight turn along with the handlebars, unlike the easier to read, and more informative, but slightly awkward-looking arrangement on the Himalayan. Overall, the Yezdi's design comes across as a little more rounded and proportionate, while the Himalayan can look a tad straight-cut and polarising. But perhaps Yezdi's designers have let their imaginations run wild a touch too much, especially when it comes to the metal framework around the front of the motorcycle. Particularly annoying are the metal tubes on top of the fuel tank, which do little to contribute to crash protection, but add unnecessary weight and make it rather painful to mount a tank bag.
Dive in even closer, though, and the RE has a definite upper hand. The Himalayan itself isn't the best finished product in the Enfield stable, but its quality and finish levels are still a distinct notch above the Adventure. Modern-day Yezdi motorcycles have developed a reputation for having bolts come loose and fall off, and our Adventure test bike did its part to uphold that reputation.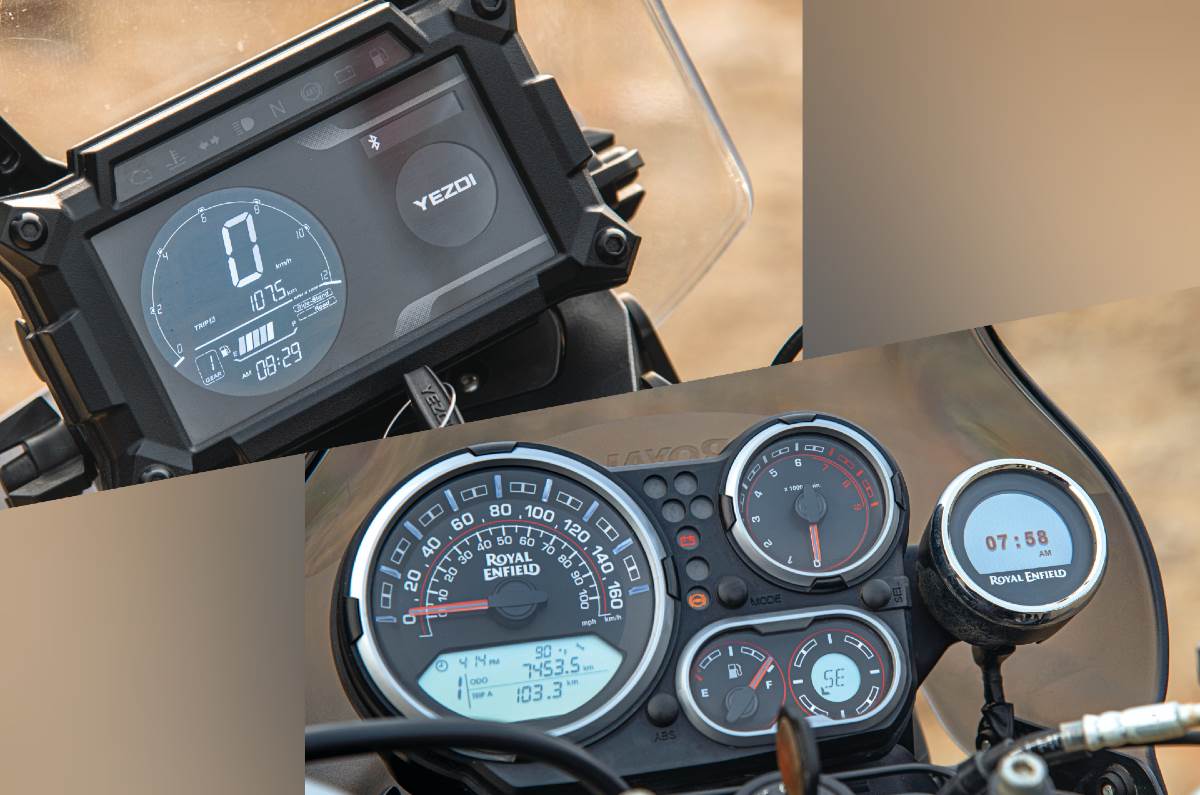 On paper, it does seem to claw back some ground when it comes to features – it matches the Himalayan's Bluetooth-enabled navigation capabilities, and ups the ante with an LED headlight and fully digital instrumentation. But its cluster isn't the best laid out or the most legible unit around, and the RE's halogen headlight seems to perform a little better than the Adventure's LED unit. Both bikes get dual-channel ABS that can be turned off at the rear wheel, but the Yezdi also gets a more sensitive Rain mode.
The similarities carry over to the price list as well, where both motorcycles are pretty much neck and neck, with the Himalayan just a few thousand rupees more expensive.
(AD)VENTURING AHEAD
So, which way have the crumbs of the cookie fallen? With all the differences in their spec sheets, you'd expect either one of these to emerge as a clear winner over the other. But while the differences on paper do translate into two very different motorcycles in the real world, the fact is that they're both great all-round packages, and you're not going to end up disappointed with either one. Choosing between them comes down to picking the bike whose identity more closely matches yours.
The Yezdi is undoubtedly the quicker, more dynamically capable motorcycle here, at least on tarmac. Speed comes more effortlessly on this motorcycle, and if that's what you're looking for, this is the bike for you. Just know that you will have to work this tool to get the most out of it.
The Himalayan, on the other hand, subscribes to a more laid-back pace of life, and is the more comfortable and accommodating bike of this pair. It's no slouch, but in comparison to the Yezdi, it feels more unhurried – and the joy is in sitting relaxedly, easily accessing the ample torque in the bottom-half of the tachometer. As a result, it's a more forgiving motorcycle, and better suited to those new to off-roading, though you will have to be mindful of its weight.
Then, there's also the fact that the Yezdi is a very new platform, and, in that sense, it still has to prove itself in terms of quality and durability. And this being a new company, its sales and service network is also considerably smaller than Royal Enfield's. The Himalayan has already gone through a process of iterative fine-tuning and is today a well proven product backed up by a more widespread service network.
Still, with a gun to my head, if I had to choose my preferred bike to ride, I'd pick the gun in this gunfight. Because the Yezdi Adventure is that little more involving, quick and fun to ride, while still being a comfortable and capable ADV.